Panini America's Scott Prusha talks Basketball Hall of Fame Weekend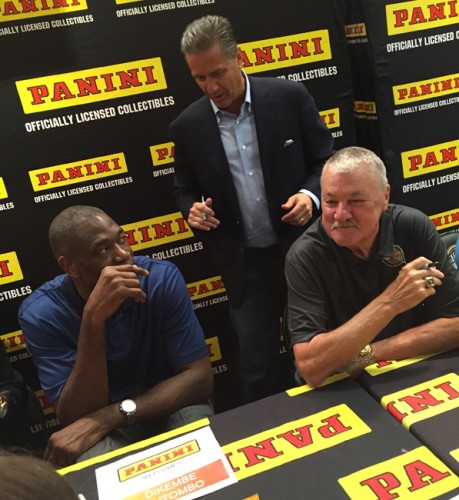 By Stephen Laroche | Beckett Basketball Editor
Panini America's Scott Prusha was proud to represent his company at the Naismith Memorial Basketball Hall of Fame's 2015 Induction Weekend and had the privilege of spending time with its newest members as they signed for fans.
He spoke with Beckett Basketball upon his return to the office about the exciting event
How important is Panini America's involvement with the Hall of Fame weekend and does it bring the company closer to some of its collectors?
Panini's had a very strong relationship with the Naismith Memorial Basketball Hall of Fame since we entered the NBA trading card market in 2009. By working close together, we have been able to offer collectors some unique collectibles.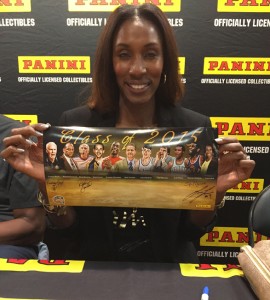 How was the public's response to the opportunity to meet the Class of 2015?
The response was incredible, some really amazing people are in this class. Coach Calipari brought about every player he ever coached, Dick Bavetta told jokes about being a ref and Dikembe Mutombo waved his finger all weekend. Spencer Haywood is going to make you smile and laugh no matter what.
Were there any particular moments with the new inductees that stood out for you?
With the strong NBA collector base in Australia, I got the chance to talk to Lindsay Gaze about the popularity of the sport down under. He had some great insight on the growth of the sport as he was right there in the thick of things.
Also, to establish some perspective, how many years have you been involved in Induction Weekend events?
We have been working with the Hall since Panini became involved in the NBA, and over the last three years, we have really jumped in with both feet and done some amazing things together. This marked the third year we were able to bring the entire class out to do a signing session for the public.
The card set for inductees carries over from year to year and features several individuals who do not normally appear on basketball cards. How important is it for Panini to continue this tradition and what type of feedback do you get from those that are lucky enough to receive them?
It's incredibly important to us to be able to honor each class member with their very own Hall of Fame trading card. Based on the feedback from each, it's becoming as big a part of the weekend as getting your jacket or ring. To see that Hall of Fame logo on the card (and for some, it's their first card) is almost as important as getting your rookie card, one you will never forget.
Stephen Laroche is the editor of Beckett Basketball and Beckett Hockey magazines. Have a comment, question or idea? Send an e-mail to him at slaroche@beckett.com. Follow him on Twitter @Stephen_Laroche.