Panini VIP Party creates moments before memorabilia
By Chris Olds | Beckett Sports Card Monthly Editor | Commentary
Gather a crowd of high-spending collectors, group-breakers, dealers, distributors and other industry executives in Chicago's Soldier Field on a Saturday night and you'll see a sea of backpacks, plenty of pack-ripping, some impressive cardboard and plenty of smiles. Even some tears.
Fathers and sons, husbands and wives — they were all in on the fast and furious frenzy that was ripping packs at the Panini America VIP Party. But all of those in attendance also had the chance to create moments of their own that didn't involve handling a single card or a single autograph once they entered the home of the Chicago Bears.
Each of them had the chance to create some moments with some of the biggest names in the sports world — and on this evening selfies and snapshots were clearly in demand.
In fact, they were priceless.
The biggest arrival — one that literally moved a sea of people down the length of the suite and created the biggest crowd — was that of "The Baddest Man on the Planet" Mike Tyson. The retired boxing legend (and video game icon — that's how I know him best and I could take him) had nearly all of those in attendance lining up for the simplest of things … a photo with the champ. Other guests in attendance caught the interest of the collectors — Hall of Famers Ryne Sandberg, John Smoltz and Kareem Abdul-Jabbar, for example — but none packed as much punch as Tyson.
All eligible attendees at the show received 500 gold packs made just for the event and they were packed with autographs, memorabilia, redemptions for full items and plenty more. Those hoping to play autograph hound ultimately didn't as the signatures of those they met were available as part of a party photo portfolio as they exited the event late in the evening. That's a genius move that helps create memorable moments — a snapshot, a brief chat, a glimpse at an athlete they have watched for years but have never met before instead of a few seconds in an autograph assembly line.
In some cases, they were intense reactions. One scene? A Duke fan in tears when she was surprised to see Jabari Parker in person. Why? Her party companions didn't tell her he would be there. Another scene? A priceless few seconds seeing the biggest Atlanta Braves fan I know see Smoltz for the first time. It was a sequence where her face lit up immediately due to the surprise and that genuine reaction led to blushing after we realized how much it truly meant. (It's one I'll remember for a long time.)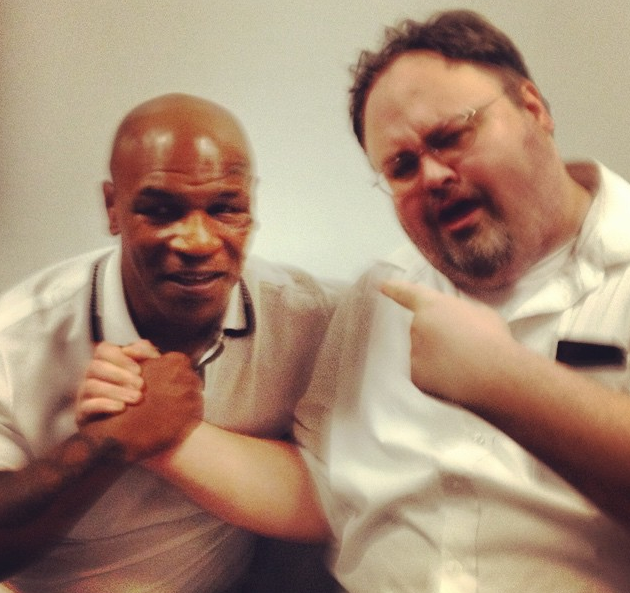 My moment was one that was pure fun than personal. (My personal one from last year might not be topped.) This time, though, a simple photo opp with Tyson created the souvenir that might define my 2015 National Sports Collectors Convention experience the best. The sequence of events included a strong handshake, a simple comment that went without a reply — kind of the anti-Joe Namath — but I was happy.
Sure, my moment is a tad blurry and in need of even more Instagram enhancement, but there aren't any filters that could improve upon Panini America's premiere event in the hobby. It was a moment that I'll remember more clearly a long time from now, one that will spark more of a reaction than any autograph could. Yet, ironically, I feel like I need to go find one now. (Put it on my last-day NSCC to-do list.)
Based on the reactions I saw throughout the evening — and that's without all the autographs and game-used memorabilia wrapped in gold mylar because there were inevitably plenty more there — I probably wasn't alone.
Memories were made one snapshot at a time.
Chris Olds is the editor of Beckett Baseball and Beckett Sports Card Monthly magazines. Have a comment, question or idea? Send an email to him at colds@beckett.com. Follow him on Twitter by clicking here.