Panini America reveals photo variations for 2011 Playoff Contenders Rookie Cards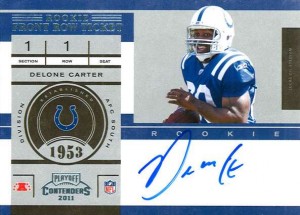 By Susan Lulgjuraj | Contributing Editor
If you look closely at the Rookie Tickets in 2011 Playoff Contenders Football, you might have noticed a slight difference in the photos of the same player.
There are small discrepancies, but Panini America has made variations to all 36 cards in the subset.
Want to know exactly what you're looking for? Well, check out the photo gallery with pics below. Click on the images twice for a full-size look.
In some of the pictures, you might have to look really hard to find the subtle changes. It could be a removed logo, a missing arm band or a clothing alteration. It's like one of those touchscreen games where you have a limited time to find the five differences between two pictures.
But don't worry, you're not being timed here.
As an example, look at the pictures for Indianapolis Colts' Delone Carter. In one pic, everything is great as he runs with sunlight splashing him. However, in the next pic, the sunlight is missing from his hand not carrying the ball, and also the logo is missing from the front of the helmet.
It could be that simple.
What differences did you spot in the pictures? The pictures with the missing items are short-printed.
Later in the week, we'll detail the differences in a post as we figure them out.
Susan Lulgjuraj is a contributing editor for Beckett Media. You can email Susan here. Follow her on Twitter here.