Panini America and Southern Hobby Send Cards to Kid Collector Anthony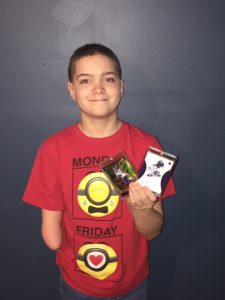 Last week we told you the story of Anthony from Adams, NY who is missing part of his right arm. His sports heroes are former MLB pitcher Jim Abbott and current Seattle Seahawks LB Shaquem Griffin, both professional athletes who reached the highest levels of their sport despite missing part of an arm like Anthony. His dad, Anthony Sr., told us that his Jim Abbott card collection was used as a way to inspire Anthony to play sports and never give up.
However, Anthony and his dad had not yet been able to find a Shaquem Griffin card. So, in stepped Southern Hobby, the sponsor of our Kid Collector of the Week series, and Panini America, the exclusive license holder for NFL cards. Panini sent Anthony several cards, and, most importantly, they included an autographed Shaquem Griffin card. Southern Hobby sent him a box of 2018 Panini Playoff Football as well.
"I was extremely happy to get the cards. My dad and I tried really hard to find a Griffin card but couldn't find one, so it was awesome to get one from Panini," said Anthony Jr. "I want to thank Panini and Southern Hobby. The box that Southern Hobby sent had a Baker Mayfield autograph redemption card in it!"