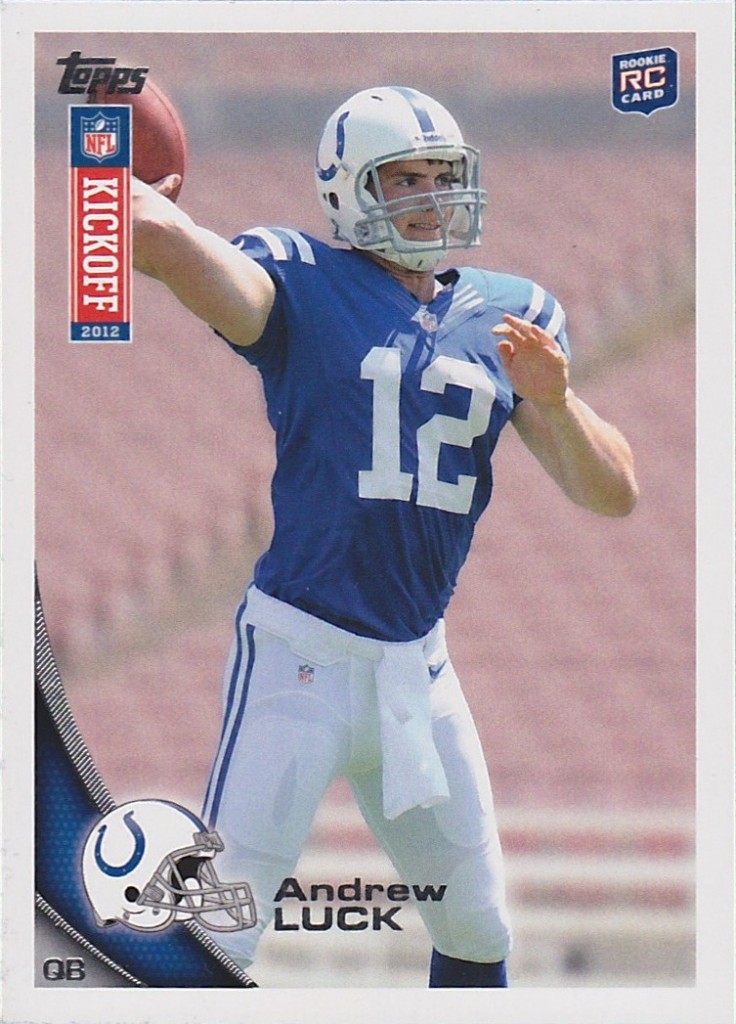 By Susan Lulgjuraj | Beckett Football Editor
The Topps NFL Kickoff Redemption officially kicked off today.
Collectors were able to redeem cards found in 2012 Topps Football products for a packs at participating card shops.
With one redemptions, I got one pack of five cards. Check out the cards after the jump.
For those of you with cards, don't sit on them too long. The promotion ends Sept. 11.
There are 50 cards in the Kickoff Redemption set with another 50 autograph subjects randomly inserted into packs. See the checklist below:
1 Andrew Luck, Indianapolis Colts
2 Bernard Pierce, Baltimore Ravens
3 Michael Egnew, Miami Dolphins
4 Nick Foles, Philadelphia Eagles
5 Cam Newton, Carolina Panthers
6 Doug Martin, Tampa Bay Buccaneers
7 Melvin Ingram, San Diego Chargers
8 Trent Richardson, Cleveland Browns
9 Kendall Wright, Tennessee Titans
10 Jerry Rice, San Francisco 49ers
11 Mark Sanchez, New York Jets
12 Brock Osweiler, Denver Broncos
13 Joe Adams, Carolina Panthers
14 Dwayne Allen, Indianapolis Colts
15 Jarius Wright, Minnesota Vikings
16 Lamar Miller, Miami Dolphins
17 Justin Blackmon, Jacksonville Jaguars
18 A.J. Jenkins, San Francisco 49ers
19 Ronnie Hillman, Denver Broncos
20 Dan Marino, Miami Dolphins
21 Nick Toon, New Orleans Saints
22 Mohamed Sanu, Cincinnati Bengals
23 Isaiah Pead, St. Louis Rams
24 Matt Kalil, Minnesota Vikings
25 Jim Brown, Cleveland Browns
26 Dontari Poe, Kansas City Chiefs
27 Brandon Weeden, Cleveland Browns
28 David Wilson, New York Giants
29 Brian Quick, St. Louis Rams
30 John Elway, Denver Broncos
31 Luke Kuechly, Carolina Panthers
32 Tony Romo, Dallas Cowboys
33 Chris Givens,  St. Louis Rams
34 Michael Floyd, Arizona Cardinals
35 Coby Fleener, Indianapolis Colts
36 A.J. Green, Cincinnati Bengals
37 T.J. Graham, Buffalo Bills
38 Russell Wilson, Seattle Seahawks
39 Mark Barron, Tampa Bay Buccaneers
40 Emmitt Smith, Dallas Cowboys
41 Robert Turbin, Seattle Seahawks
42 Rueben Randle, New York Giants
43 Ryan Tannehill, Miami Dolphins
44 Alshon Jeffery, Chicago Bears
45 Stephen Hill, New York Jets
46 DeVier Posey, Houston Texans
47 Ryan Broyles, Detroit Lions
48 LaMichael James, San Francisco 49ers
49 Patrick Willis,  San Francisco 49ers
50 Robert Griffin III, Washington Redskins
Susan Lulgjuraj is the editor of Beckett Football magazine. You can email Susan here with ideas, comments and questions. Follow her on Twitter here.