6 Overlooked Star Wars Trading Card Sets Worthy of a Second Look
If you collected just the base sets of all the Star Wars trading cards Topps has released since 1977, you'd fill plenty of binders. They've released dozens of products over the decades with no signs of things slowing.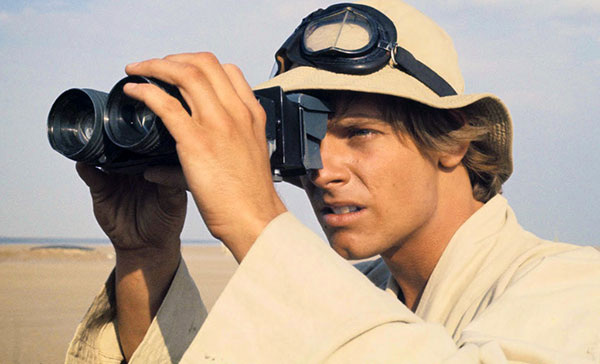 Invariably, some are hits. Others seemingly died a quick death and are largely forgotten today. But not all of these are deserving of that status. Here are six sets of Star Wars trading cards you might want to revisit or take a look at for the first time.
Overlooked Star Wars Trading Card Sets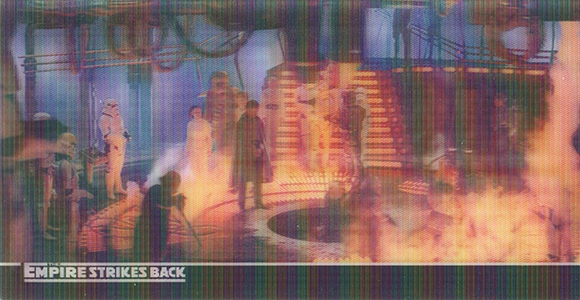 Here's a set that was a long time coming. Star Wars Widevision 3Di debuted in 1996. The Phantom Menace got a similar treatment in 2000. But both offered somewhat murky and not overly attractive 3-D perspectives. Lenticular came a long way by the time 2010 rolled around. Combine that with a Hollywood fascination in 3D and you've got a resurrected idea.
When 2010 Topps Empire Strikes Back Widevision 3-D came out, a lot of the focus was on the sketch cards. Many of those were lacking in quality, particularly when it came to using the larger dimensions. The autographs were strong but they were extremely tough to pull to make a broad impact.
What you should be looking at here is the base set. It's beautiful. Unlike the original 3Di sets from years earlier, the images are clear and have plenty of depth. The fact that they're bigger makes them even better. And, yes, they are the types of cards you really do have to see in person because an image on a screen can't come close to conveying how good they look.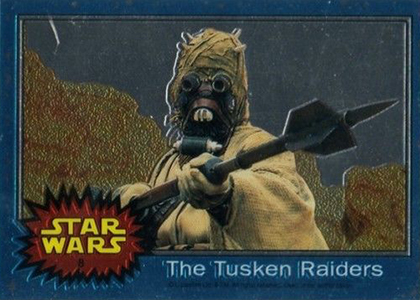 Part Topps Chrome, part Heritage, 1999 Topps Star Wars Chrome Archives brings back select cards from the original trilogy with a modern chromium spin. There's plenty of nostalgia to be found but it came at a high cost that was getting harder to justify given what it delivered.
Autographs were starting to appear in entertainment products, but they still weren't widespread. Even Refractor parallels might have made this set a little more appealing when it came out.
Today, it's still not the cheapest Star Wars product, but sets can be found at reasonable prices. If you're a fan of Topps Chrome, this is definitely worth tracking down if you find a solid deal.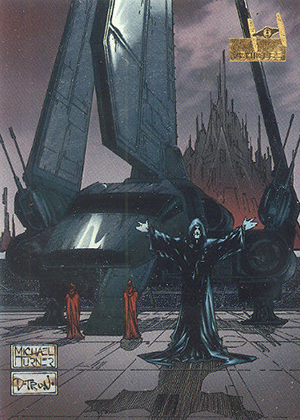 Vehicles and spaceships are a big part of Star Wars. But, for most, they don't carry as much importance as characters and specific moments. It's easy to see why 1997 Topps Star Wars Vehicles has been a tough sell since it was first released. They also came out at a time when there'd been lots of Star Wars products in the previous couple of years so exhaustion could have come into play as well.
While it takes a different perspective, it's one that is tough to justify using as an anchor for an entire release. That doesn't mean that the cards don't look good. They take an illustrated approach for the most part that has a comic sort of feel.
As a one-off, it works in the sense that it digs deep into a somewhat ignored corner of the Star Wars universe that has had just about every rock turned over, analyzed and re-analyzed over the years.
If you collect sports cards and you're into the shiny stuff, you're likely familiar with Finest. Back in the 1990s, it was the go-to brand for Topps chromium releases before it started trickling into other areas. 1996 Topps Star Wars Finest marked the first time chromium was used for base cards in a Star Wars release. Images are illustrations, which adds lots of color.
Where Chromium and Finest land, there's usually Refractors. That's exactly the case with 1996 Topps Star Wars Finest, another first for the franchise.
Until recently, Topps didn't do much with chrome and Star Wars so this set was — and still is — unique in the larger franchise canon. It was popular back when it first came out, but as autographs and sketch cards took over, it seems to have disappeared from a lot of radars.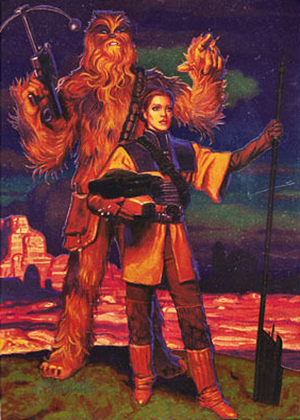 Yes, the whole Shadows of the Empire thing was a marketing gimmick came with a lot of hype that it couldn't live up to. It created a story that took place between Empire Strikes Back and Return of the Jedi and was carried across multiple forms of media — books, video games, comics, toys and, of course, trading cards. Basically, Shadows of the Empire was everywhere except as a movie or TV show.
Shadows gave us some new characters and a lot of Princess Leia as Boushh. And Chewbacca got a flat top.
In the time since, it has been pretty much forgotten. That includes the trading cards. If you have some, you might want to think about digging them out again. If you don't have and 1996 Topps Shadows of the Empire, you might want to track some down. The reason is simple and it has nothing to do with the new characters or story line. It's the art.
Fantasy legends Greg and Tim Hildebrandt painted every card. They have all the sorts of details and rich colors like you'd expect. And while Prince Xisor and Dash Rendar might be erased from Star Wars canon, there are lots of cards of familiar friends to help balance things out. Be warned, though, that piecing together a full set can be a little tricky. Chase cards exist, but rather than being numbered separately, they're numbered as part of the main set. They're not bookends either so a basic base set will have some gaps.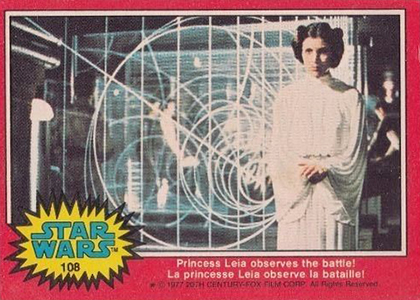 When it comes to Star Wars trading cards, the original Topps sets are tough to beat. Today's sets might have a lot more flash and sizzle, but these are the original. But they're not alone. Unless you grew up in Canada, it's easy to forget that O-Pee-Chee produced sets for the original movie. Similar to their baseball and hockey releases, they closely mirror the Topps cards in design and content. But not exactly. There are some differences beyond the additional French text.
Topps made five series for Star Wars. O-Pee-Chee did only three. Series 1 and Series 2 match their Topps counterparts. However, the third O-Pee-Chee set is a double-sized release covering the cards of Topps Series 4 and Series 5. O-Pee-Chee Series 3 also uses orange borders, matching Topps Series 5.
1977-78 O-Pee-Chee Star Wars cards are tougher to find as well. This is typically the case when you compare the two companies. So if your collecting preferences skew towards the older stuff, this might be a new challenge.
O-Pee-Chee continued to make sets for The Empire Strikes Back and Return of the Jedi.
What's your favorite set of Star Wars cards? Are there any you think are overlooked or ignored?