Your Oscar-winning autograph options are …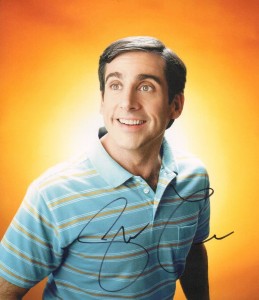 By Matt Bible | Beckett Non-Sports and Gaming Analyst | Commentary
And the Oscar goes to…
On Sunday, that phrase will be heard many times as Hollywood's elite gather to honor those who have cranked out the best film performances of the year. Yes, it's that time of year again as the  87th Academy Awards will commence from the Dolby Theatre in Los Angeles. Oh, the glitz, the glamor, and the star power of that night. And, hopefully, not a Kanye appearance in sight.
This year, an eclectic group of nominees will compete for the four best-acting categories. There are first-time nominees, such as Emma Stone and Eddie Redmayne, and seasoned Oscar veterans like Meryl Streep, who has racked up an impressive 19 nominations and three wins during her legendary career. From the youngest nominee, Emma Stone (26), and the oldest, Robert Duvall (84), we have a 40-year old virgin, Khan Noonien Singh, June Carter-Cash, and an American sniper. And, as Tony Stark would say, "We have a Hulk." Well, two actually. All in all, among these 20 nominees, there are 59 nominations and six wins.
However, the most-impressive statistic in this analyst's eyes is the number of nominees who have portrayed or will portray characters in superhero films. There are nine actors and actresses on this list: Michael Keaton (Batman, Batman Returns), Benedict Cumberbatch (Dr. Strange), Bradley Cooper (Guardians of the Galaxy), Ed Norton (The Incredible Hulk) , Mark Ruffalo (The Avengers), J.K. Simmons (Spider-Man 1-3), Felicity Jones (The Amazing Spider-Man 2), Marion Cotillard (The Dark Knight Rises), and Stone (The Amazing Spider-Man 1 & 2). Needless to say, Marvel and DC Comics are very well represented at these Oscars.
And, one doesn't have to look too far before finding a few key non-sports issues of these talented nominees. In no particular order, here are the top examples …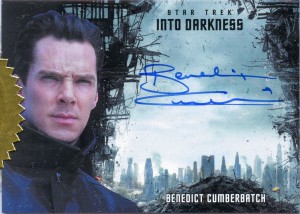 2014 Star Trek Movies Autographs Benedict Cumberbatch 9CI, $500
The Shakespearean actor is probably best known as Sir Arthur Conan Doyle's sleuth, Sherlock Holmes. However, Cumberbatch didn't achieve global mainstream prominence until he took on the role of Khan in 2013's Star Trek: Into Darkness. The above card is the only licensed autograph card of Cumberbatch. It was offered as a nine-case incentive in the 2014 Star Trek Movies set that was produced by Rittenhouse. This is Cumberbatch's first nomination and should he take home the Oscar for best actor on Sunday night, the decision to choose this card would be elementary.
—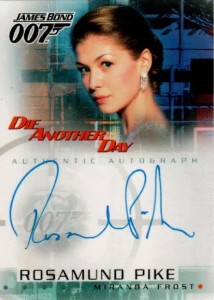 2002 James Bond Die Another Day Rosamund Pike Autograph #A5, $40
Of the 100-plus actresses who have been Bond Girls, only three have been nominated for an Academy Award. Halle Berry and Kim Basinger both won for their respective roles. Could Pike make it three-for-three? If she picks up an Oscar for her role in Gone Girl, there are a couple autograph options for collectors. The most appealing would probably be the Die Another Day autograph (above). However, if that one can't be attained, it's not the world's end. She also has an autograph in Artbox's 2005 Doom Movie product.
—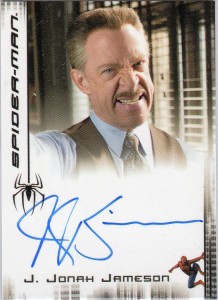 2007 Spider-Man 3 J.K. Simmons Autograph #10, $25
Initially known for his work on Broadway, Simmons has had quite a successful career as a mainstay character actor, both in television and film. However, he is probably best known for portraying Peter Parker's ill-tempered boss, J. Jonah Jameson, in Sam Raimi's Spider-Man film franchise. Simmons also doesn't have many autograph or memorabilia cards on the market. Besides this autograph, he also has an autographed tie relic card that was released as a 2-case incentive in the same product.
—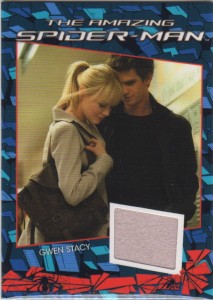 2012 Amazing Spider-Man Movie Gwen Stacy MEM #CC5, $40
You know her from such hits as Superbad, Zombieland, and The Amazing Spider-Man franchise. However, Emma Stone's role in Birdman is a bit of a departure for her. Previously known for the campy, comical and superheroic, she has evolved as a serious actress. While Emma doesn't have any autographed releases (yet), she has two relic cards that were available in Rittenhouse's Amazing Spider-Man product and they are both very affordable for collectors.
—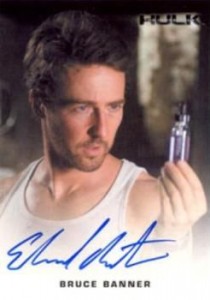 2008 Incredible Hulk Movie Expansion Edward Norton #EN1, $120
From Fight Club to American History X, Edward Norton has established himself as a solid performer that appears in both award winners and cult classics. When Eric Bana didn't sign on for The Incredible Hulk, Edward Norton picked up the reigns to portray the gifted scientist with the Jekyll-Hyde complex, Dr. Bruce Banner. Norton also has an autograph that was released as a three-set incentive in the same expansion set. The only difference is that it depicts The Hulk.
—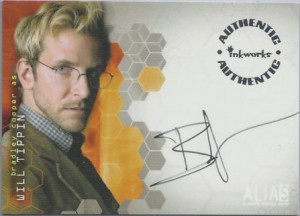 2002 Alias Season One Bradley Cooper Autograph #A4, $100
He's been hungover, a wedding crasher, and an A-Team–er. Now, Bradley Cooper is enjoying his third-straight Oscar nomination. His role as military marksmen, Chris Kyle, in the smash hit, American Sniper, has taken the country by storm. While Cooper has autographs inserted in Panini America's upcoming Americana product, his first signature was inserted into packs of Inkworks' Alias Season One. Win or lose, expect this Cooper signature card to catch the eye of many collectors in the weeks to come.
Here is the full list of nominees and their nominated roles:
Best Actor
Steve Carell (Foxcatcher)
Bradley Cooper (American Sniper)
Benedict Cumberbatch (The Imitation Game)
Michael Keaton (Birdman)
Eddie Redmayne (The Theory of Everything)
Best Supporting Actor
Robert Duvall (The Judge)
Ethan Hawke (Boyhood)
Edward Norton (Birdman)
Mark Ruffalo (Foxcatcher)
J.K. Simmons (Whiplash)
Best Actress
Marion Cotillard (Two Days, One Night)
Felicity Jones (The Theory of Everything)
Julianne Moore (Still Alice)
Rosamund Pike (Gone Girl)
Reese Witherspoon (Wild)
Best Supporting Actress
Patricia Arquette (Boyhood)
Laura Dern (Wild)
Keira Knightley (The Imitation Game)
Emma Stone (Birdman)
Meryl Streep (Into the Woods)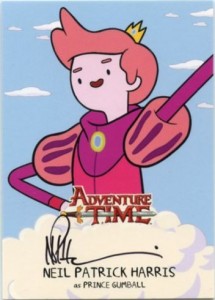 2014 Adventure Time Neil Patrick Harris Autograph #A20, $100
Here is one last gem collectors may want to pick up for the host of the 87th Academy Awards.