Original Major League Baseball Constitution and Founding Documents Being Sold at Auction
When you click on links to various merchants on this site, like eBay, and make a purchase, this can result in this site earning a commission.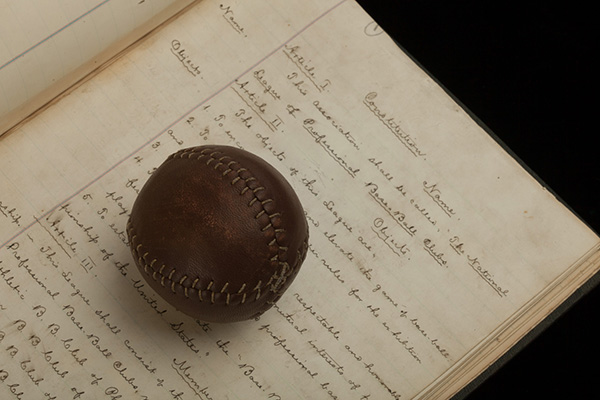 By Ryan Cracknell | Hobby Editor
Written documents might not make for the sexiest pieces of sports memorabilia. Handwriting and antiquated jargon don't have the same display appeal as a game-used jersey or the bling of a championship ring. But when you stop to think about it, documents can be the most important pieces of all. Take the Founding Documents and Original Constitution of Major League Baseball, which are being sold as part of SCP Auctions' 2017 Spring Premier Auction.
The game may have existed before the 1876 document was written but it marks the birth of Major League Baseball. It helped give the growing game the governance needed to make it stable as a professional sport.
"This, the founding document of Major League Baseball, is a central piece of Americana, inaugurating an institution that would come to be a defining aspect of American culture," said Dan Imler, Vice President of SCP Auctions.
The sale of the original Major League Baseball constitution comes a little over a year after SCP sold the original 1857 Laws of Base Ball for $3.26 million.
Baseball's long been a sport with its share of scandal. This dates back to the game's early days as a professional sport. Owners took advantage of players, players swindled owners. William Hulbert, owner of the Chicago White Stockings, helped lead a group of owners that would lead to governance of the game and help stabilize it.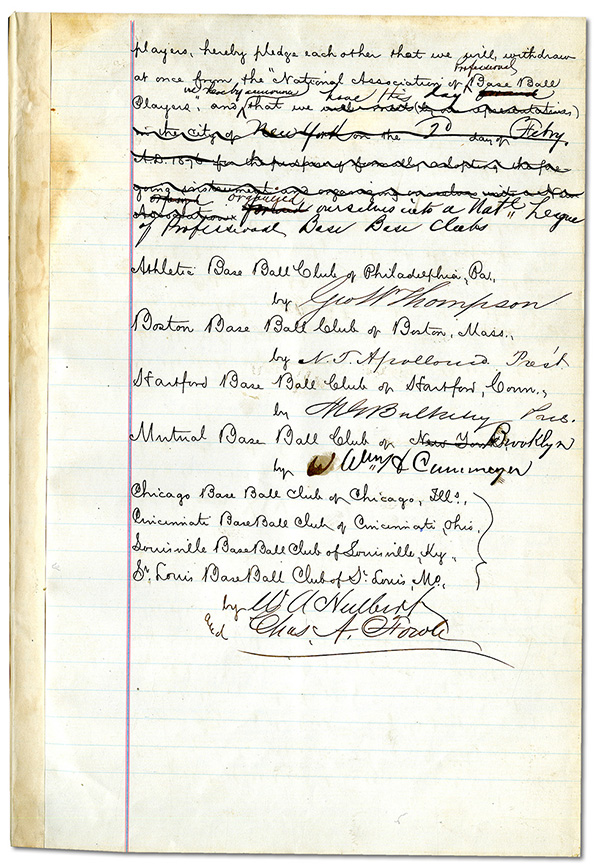 In February, 1876, Hulbert met with Albert Spalding, Harry Wright and others in New York to finalize the document and create the "The National League of Professional Base Ball Clubs," which, at the time, consisted of the Boston Red Stockings, Chicago White Stockings, Cincinnati Reds, Hartford Dark Blues, Louisville Grays, New York Mutuals, Philadelphia Athletics and the St. Louis Brown Stockings.
"We've sold some incredible baseball artifacts before – from Babe Ruth's 1920 Yankees jersey for $4.4 million to Kirk Gibson's 1988 World Series home run bat for $575,000 – but this artifact trumps them all," said Imler. "Without these documents, such objects would not exist."
Among the notes in the the 74-page hand-written document are the aims and objectives of this new league:
• to encourage, foster and elevate the game of base-ball;
• to enact and enforce proper rules for the exhibition and conduct of the game;
• to make base-ball playing respectable and honorable;
• to protect and promote the mutual interests of professional base-ball clubs and professional baseball players; and
• to establish and regulate the "Base-Ball Championship of the United States."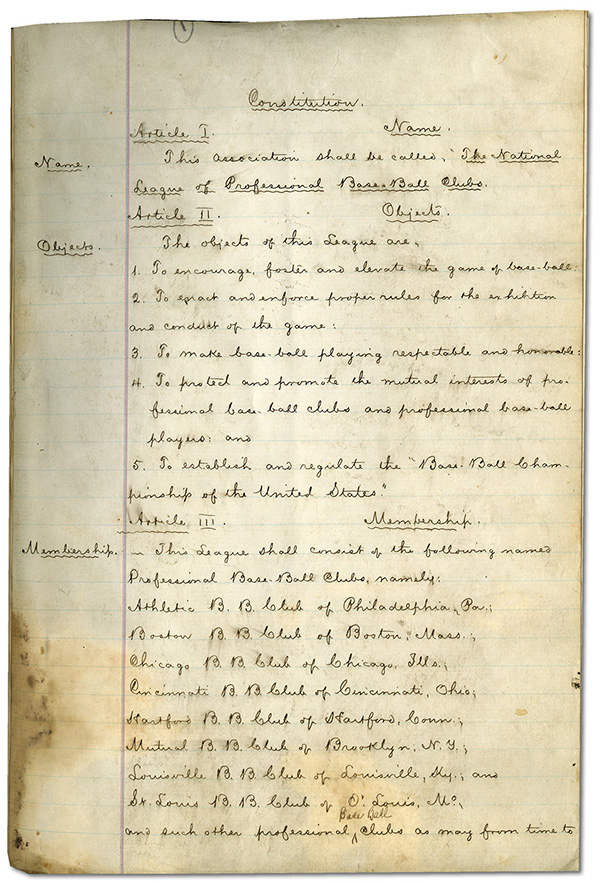 This is the first time the Founding Documents and Original Constitution of Major League Baseball has been publicly offered for sale, which makes it difficult to estimate what the final price may be. But judging by other recent sales of important sports documents, it's bound to be a massive number. In addition to the 1857 Laws of Base Ball, the 1891 Original Rules of Basketball ($4.3 million) and 1958 Original Rules of Soccer ($1.5 million) have been sold in the past few years.
Bidding in SCP's 2017 Spring Premier Auction opens on Wednesday, May 24 and runs through Saturday, June 10.
Comments? Questions? Contact Ryan Cracknell on Twitter @tradercracks.