Original 1966 Topps Batman Art by Norman Saunders, Bob Powell Up for Auction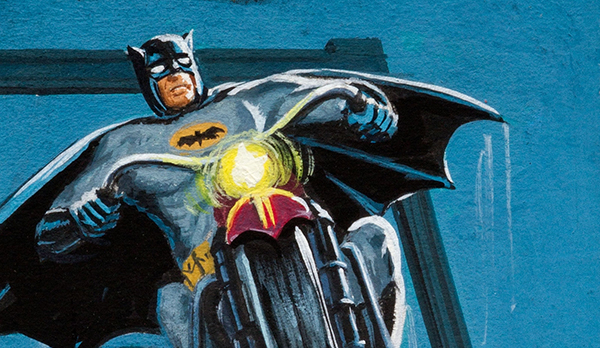 By Ryan Cracknell | Hobby Editor
A little bit of trading card history has hit the auction block. Four pieces of 1966 Topps Batman original art by Norman Saunders and Bob Powell are being sold by Heritage Auctions.
The artwork comes from the 1966 Topps Batman Black Bat, Red Bat and Blue Bat sets, sometimes referred to as Series 1, Series 2 and Series 3. They aren't exactly the dark and brooding Batman that's popular today. Rather, the sets featured a more pulpy spin on the Caped Crusader given the popularity of the Adam West show at the time.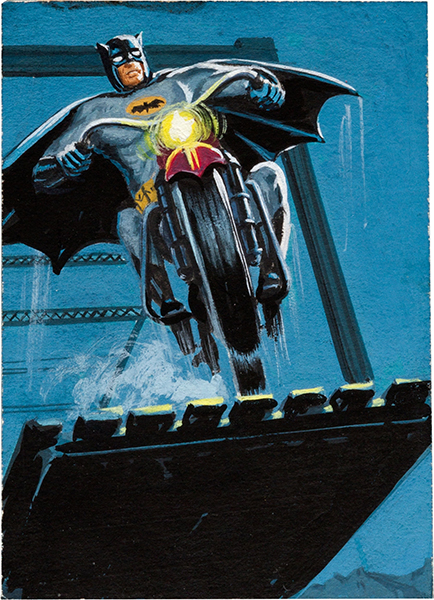 Norman Saunders and Bob Powell worked together on a few sets at Topps. Powell was responsible for the original pencils while Saunders would finish them off with his masterful painting. Besides the classic Batman line, there's another one of their collaborations you might have heard of — Mars Attacks.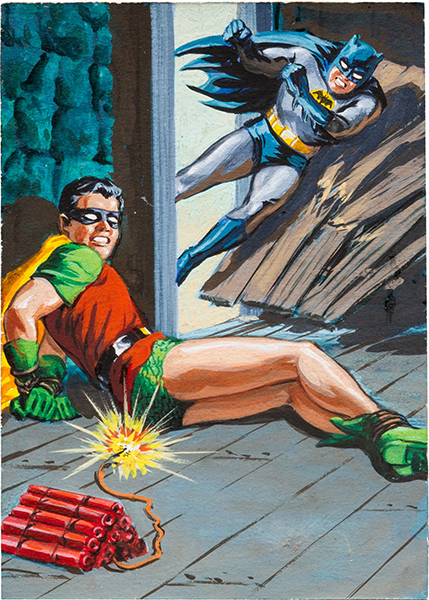 Each painting measures 3.5″ by 4.75″ and are done on Bristol board. The two Red Bat pieces as well as one from the Blue Bat set are in excellent condition.
The cards featured in the auctions are:
• Black Bat #19 Fiery Encounter (Robin, The Penguin)
• Red Bat #10A Cycling Crusader (Batman)
• Red Bat #33A Dynamite in Robin's Nest (Batman, Robin)
• Blue Bat #30B Jolsted by the Joker (Batman, Joker)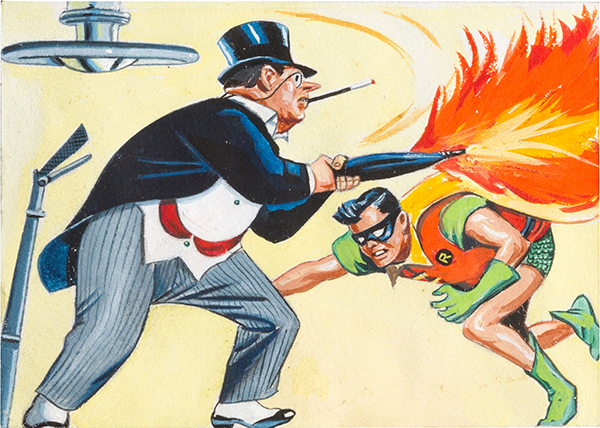 The Blue Bat piece, which features the Joker trying to thwart Batman with the help of some large machinery, was folded at some point, which has hurt its overall condition.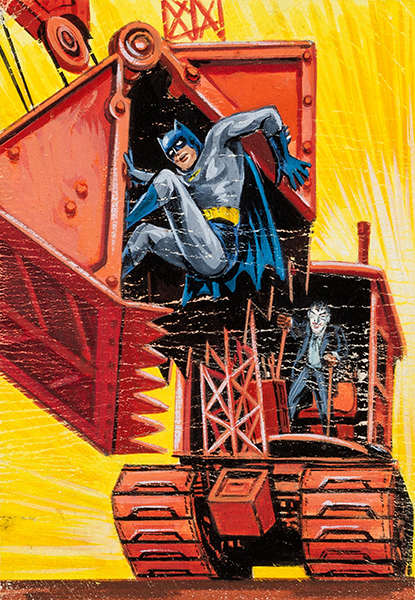 Prices on the art currently range from $1,553 to a high of $2,629, including the buyer's premium. All four pieces are part of Heritage's Comics and Comic Art Signature Auction that concludes on May 13 and 14 in New York.
Comments? Questions? Contact Ryan Cracknell on Twitter @tradercracks.