Order your Legends of Boxing magazine now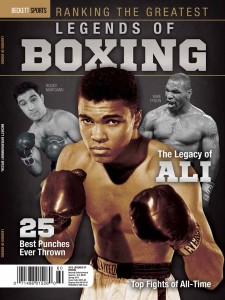 By Denis Dougherty | Beckett Media
Boxing is the undisputed champion of fascinating sports stories.
There is no other sport that can match the drama of these athletes in and out of the ring. Hollywood is so captivated by the sweet science that boxing has knocked out any other pretender in the sports movies category.
Beckett Media is captivated by the sport as well. Our Legends of Boxing magazine tells the hard-hitting stories of the 25 Greatest Legends in boxing history.
Also highlighted in the publication:
– Best punches ever thrown
– Top fights of all-time
– Biggest upsets ever
– Strange moments in boxing history
– Our favorite boxing movies
And there's much more. Check out 120-plus pages of outstanding stories and photos on your favorite boxing legends. You'll want to read this right up to the final bell.
The magazine will be on newsstands and at local hobby shops April 21 or you can order direct from Beckett by calling 866-866-5146, ext. 2754; emailing dealers@beckett.com; or going to http://www.beckettmedia.com/special-issues