Ever wanted to land memorabilia straight from prospects? That's where Onyx comes in … (updated)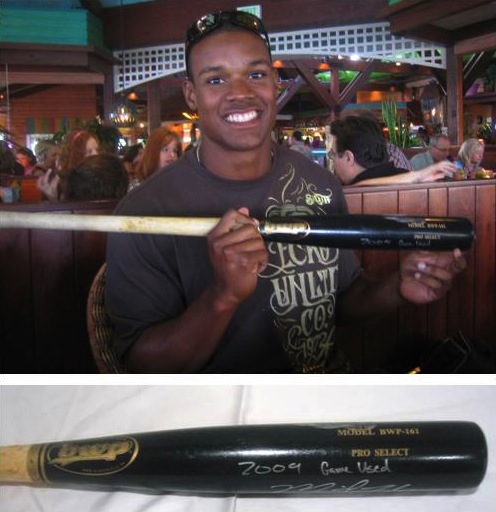 By Chris Olds | Editor
It's relatively easy to land a Derek Jeter game-used jersey or a Tiger Woods tourney-worn item these days — you just have to have the cash.
But landing an unquestionably authentic item of a promising prospect before he's a star? That takes some work — unless the prospect is a member of the Onyx Authenticated team.
The Riverview, Fla.-based company focuses on autograph and game-used memorabilia deals with promising players before they get too in-demand to be affordable for most collectors. Among its exclusive-player roster are Seattle Mariners pitching prospect Michael Pineda, Yankees spring training phenom Manny Banuelos, promising Braves prospects Julio Teheran and Randall Delgado and Yankees prospect Gary Sanchez. Past exclusives include New York Mets first baseman Ike Davis and Florida Marlins outfielder Logan Morrison. Oh, and also on its roster? St. Louis Cardinal Colby Rasmus, Atlanta Braves rookie Freddie Freeman and the New York Yankees' future hopes at catcher, Jesus Montero.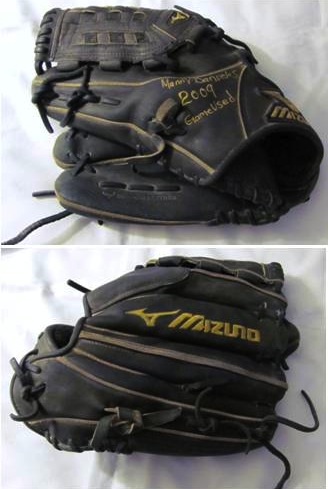 So, what does that all mean? You might be able to land an authentic game-used item now … before they (potentially) become stars … if your timing is right. A random Thursday-evening search of the site shows it previously had a Montero game-used Tampa Yankees jersey up for grabs. Same for Freeman with a game-used bat, batting gloves and cleats — also all sold out. What you will find now for players such as those, who are in high-demand are autographs, and that might be what some collectors are looking for anyway.
But for other guys, you might find what you're looking for — some with untoppable authentication. For example, Oakland A's prospect Michael Taylor is shown above holding the very game-used bat that is for sale now for $225. Tough to beat that kind of proof unless the player hands it to you himself.
Among the types of memorabilia up for grabs are fielding gloves — not a very common find for memorabilia collectors, so they're pricier — of course jerseys, batting gloves (a low-end option for many), cleats and caps. On occasion, they'll have uniform pants for some players and some other equipment (ever wanted an Ike Davis game-used shinguard?), but those aren't as heavily collected as others.
If you like the thrill of the chase in collecting — busting packs — Onyx also has something in store. Coming soon — May 3 — Onyx is launching a boxed memorabilia product called 2011 Preferred Players Collection, which will include an autographed baseball of many of the players on its roster as well as established big-league stars and legends such as Albert Pujols Joe Mauer, Roger Clemens, Nolan Ryan, Hank Aaron, Alex Rodriguez and even a minor-leaguer you might have heard of … Michael Jordan.
For a young company to make a deal with the MLB Players Association on a product line might sound like a daunting challenge, but Onyx Authenticated President Lance Fischer said it's been a smooth process.
"MLBPA has been fantastic to work with," he said. "We have been working with Evan Kaplan and Ed Cerulo at the Players Association for a few months. I think what stuck out (clinching the license) was our product packaging, relationship with the players and the integrity of our product. All of our items will now be licensed by the MLBPA."
The packaging will come into play with the product as one in every 26 boxes in the product will include a memorabilia item — jerseys, hats, gloves, cleats — from some of the top prospects mentioned earlier.
"Redemptions will be given inside certain 'game-worn' boxes along with an autographed baseball," he said. "Our turnaround commitment once we receive the redemption is only 72 business hours before the item is mailed to the customer."
Each three-box case carries a suggested retail price of $195 with each box including a pair of security seals to prevent tampering.
"We are extremely excited to enter the pack format with our product," Fischer said. "Our current packaging made for a very easy transition to market the product, plus we wanted to do something exciting and a little different with the game-used redemption approach. I feel the word 'value-added' needs to be introduced. As of today, the product is sold out, so we are looking forward to feedback from wholesale and retailers on the next few months.
"If all goes well, be ready for an even more incredible product line in August/September of this year," he said. "[Here's a] hint: Fan-experience redemptions, player visits to your hobby store, you name the inscription and more."
I, myself, focus on game-used bats — an item that's more symbolic of a slugger as well as an item that's easier to store compared to, say, jerseys or caps. (That means stay away from my presently on-sale Michael Taylors!) What game-used items do you prefer? Let us know …
Chris Olds is the editor of Beckett Baseball. Have a comment, question or idea? Send an e-mail to him at colds@beckett.com. Follow him on Twitter by clicking here.