One-Sheet Collections: Topps USA Baseball Cards of the '80s and '90s
For many, nostalgia remains the driving force behind baseball card collecting, and that's how we arrived at the idea of One-Sheet Collections.
It's a simple concept with infinite possibilities.
Take a single nine-pocket sheet and a reasonable $100 budget, and build a nine-card collection with a unifying theme.
This time around we focus on memorable Team USA cards in Topps and Topps Traded products during the 1980s and 1990s.
During the 1998 season, a case could be made that the two most sought after cards in the hobby were the 1985 Topps Mark McGwire Rookie and the 1992 Topps Traded Nomar Garciaparra Rookie, and both cards feature the player pictured as a member of Team USA.
However, those two are far from the only notable names to be included as Team USA players during that time, so sit back and enjoy this trip down memory lane.
Pocket 1: Mark McGwire
Card: 1985 Topps #401 Mark McGwire OLY RC
Beckett Value: $25
Buy on:
The 1985 Topps set was the first to include Team USA cards, and the only to feature them in the regular release rather than in the Topps Traded set. The cards highlighted the 1984 Olympic team, but only included players who were selected in the 1984 draft.
That left a few notable names like Barry Larkin and Will Clark absent from the set, but USC slugger and 1984 first-round pick Mark McGwire was included. This was the card to own during the 1998 home run race, and it remains an iconic part of Junk Wax history.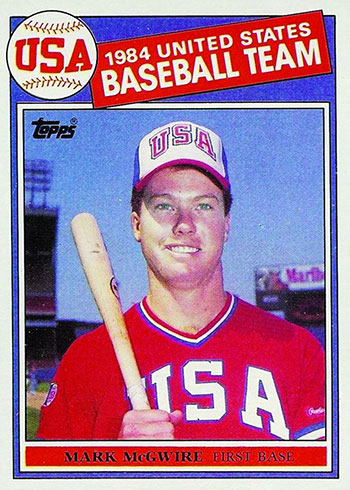 Pocket 2: Nomar Garciaparra
Card: 1992 Topps Traded #39T Nomar Garciaparra USA RC
Beckett Value: $12
Buy on:
The 1997 AL Rookie of the Year playing in the major market of Boston, Nomar Garciaparra took the baseball world by storm when he first exploded onto the scene. At its peak, this card eclipsed $100 and was one of the most sought after rookies of the late 1990s.
His peak ended up being a brief one before injuries took their toll, but the card still stands as the headliner in the 1992 Topps Traded set. Garciaparra would not be featured in mainstream MLB products again until 1995.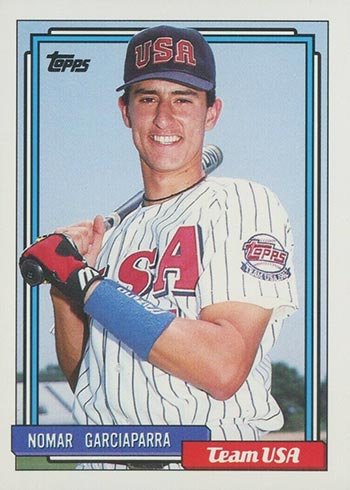 Pocket 3: Jason Varitek
Card: 1992 Topps Traded #123T Jason Varitek USA RC
Beckett Value: $12
Buy on:
The No. 14 overall pick in the 1994 draft by the Seattle Mariners, catcher Jason Varitek was traded to the Boston Red Sox before making his MLB debut along with Derrek Lowe in exchange for reliever Heathcliff Slocumb.
He ended up spending 15 seasons in Boston, earning three All-Star selections and slugging 193 home runs while also serving as team captain. He wouldn't be featured again in MLB releases until 1998.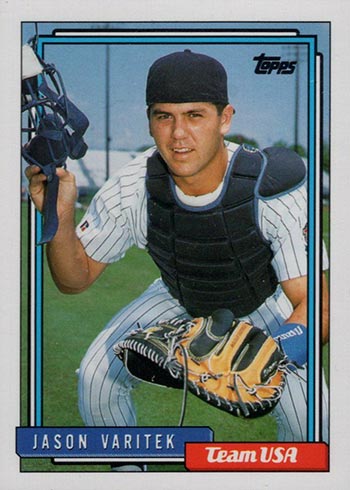 Pocket 4: Jason Giambi
Card: 1991 Topps Traded #45T Jason Giambi USA RC
Beckett Value: $8
Buy on:
The 1991 Topps Traded set was the first of three straight years in which Team USA cards were included in the update set, and Jason Giambi is the clear standout in an otherwise thin group.
The Oakland Athletics selected Giambi in the second round in 1992, and he went on to develop into one of the most feared sluggers of his era. He finished his 20-year career with 440 home runs and 1,441 RBI.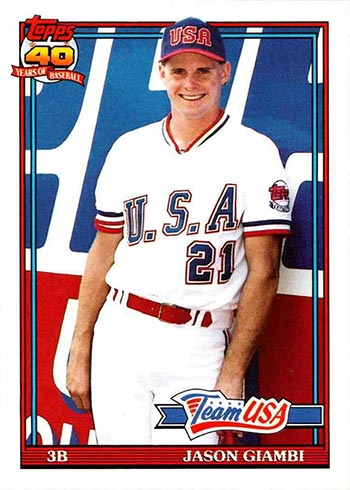 Pocket 5: Todd Helton
Card: 1993 Topps Traded #19T Todd Helton USA RC
Beckett Value: $6
Buy on:
This card could see an uptick in interest in the coming years if Todd Helton can get over the hump and earn induction into the Baseball Hall of Fame.
The longtime Colorado Rockies first baseman saw his voting support jump from 29.2 to 44.9 percent in his third year on the ballot, and justifiably so after a career in which he hit .316/.414/.539 with 369 home runs and 1,406 RBI in 17 seasons.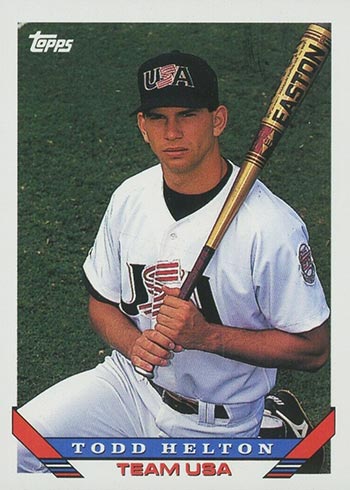 Pocket 6: Tino Martinez
Card: 1988 Topps Traded #66T Tino Martinez OLY XRC
Beckett Value: $3
Buy on:
The 1988 Topps Traded set was the final year of the XRC designation for players whose first cards appeared in traded or update sets. 
Tino Martinez was the biggest name from the 1988 Olympic team as he went on to stardom with the Seattle Mariners and New York Yankees. His only Rookie Card is in the slightly oversized 1989 Bowman set, making this a far more attractive option to ground his collection.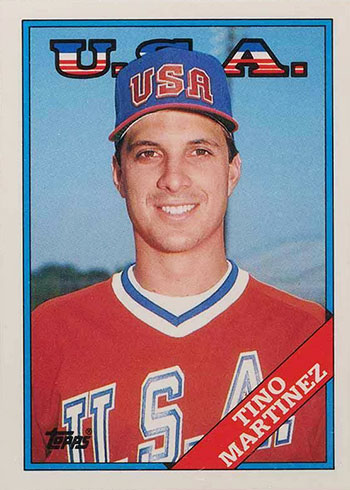 Pocket 7: Jim Abbott
Card: 1988 Topps Traded #1T Jim Abbott OLY XRC
Beckett Value: $2
Buy on:
The No. 8 overall pick in 1988, Jim Abbott was a full-time member of the California Angels rotation the following year, going 12-12 with a 3.92 ERA in 181.1 innings to finish fifth in AL Rookie of the Year voting.
This is another of the XRC cards from the brief window in the 1980s when that distinction was used, and Abbott had six different Rookie Cards in 1989 products.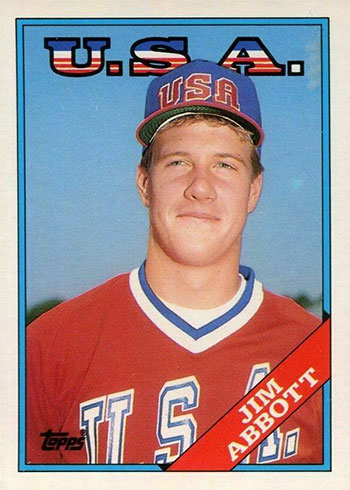 Pocket 8: Robin Ventura
Card: 1988 Topps Traded #124T Robin Ventura OLY XRC
Beckett Value: $1.50
Buy on:
Another 1988 Olympic team member, Robin Ventura was the No. 10 pick in the 1988 draft following a standout career at Oklahoma State that included a 58-game hitting streak and 1988 Golden Spikes honors for being the top amateur player in the country.
His Rookie Card was featured in the 1989 Bowman, 1989 Fleer Update and 1989 Topps sets, but this XRC remains the most valuable of his early cards.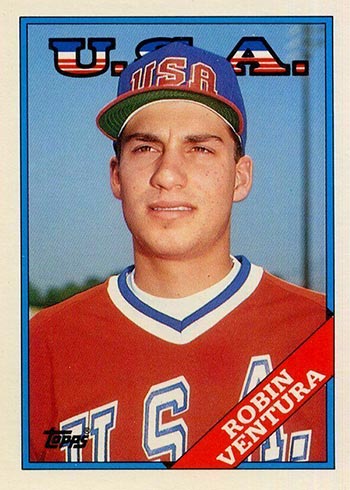 Pocket 9: Charles Johnson
Card: 1991 Topps Traded #61T Charles Johnson USA RC
Beckett Value: $0.75
Buy on:
There were a few players in the running for this final spot, including Phil Nevin, Todd Walker and Jeffrey Hammonds, but we opted for underrated catcher Charles Johnson.
After playing for the collegiate national team in 1991, Johnson was the No. 28 overall pick in the 1992 draft and the first selection ever by the Florida Marlins franchise. He made his MLB debut in 1994, and was a four-time Gold Glove winner with 167 home runs in 12 big league seasons.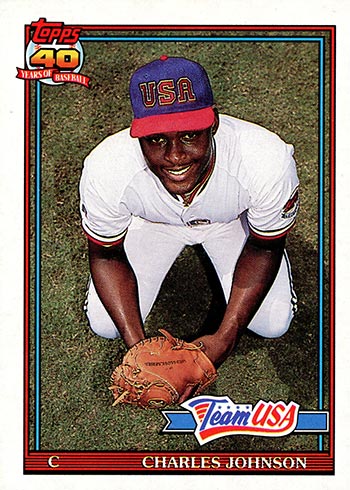 Total Beckett Value: $70.25