One-Sheet Collections: Donruss Rated Rookies Through the Years
For many, nostalgia remains the driving force behind baseball card collecting, and that's how we arrived at the idea of One-Sheet Collections.
It's a simple concept with infinite possibilities.
Take a single nine-pocket sheet and a reasonable $50 budget, and build a nine-card collection with a unifying theme.
This time around, we focus on the famed "Rated Rookie" subset and its humble beginnings.
Recent NBA and NFL products have brought the Rated Rookie logo back into the spotlight, but its origins can be traced back to Junk Wax Era baseball.
The concept was first introduced in the 1984 Donruss set, with Bill Madden of the New York Daily News tasked with selecting 20 promising rookies for the upcoming season. Those players were indicated with a ribbon of text above their name. The following year, the now legendary blue logo was used for the first time, and that's where we'll begin this week's collection.
From the 1985 release through the 1993 release, the blue Rated Rookie logo was a prominent part of each Donruss set. In honor of that, we've selected one Rated Rookie from each of those nine sets to show the progression of the subset leading up to the team's pivot to premium in 1994.
Enjoy!
Pocket 1: 1985
Card: 1985 Donruss #39 Shawon Dunston RC
Beckett Value: $1.00
Buy on:
As the No. 1 overall pick in the 1982 draft, there was plenty of hype surrounding Shawon Dunston when he first popped up in 1985 products. He never quite developed into a star, but he did make two All-Star teams over the course of a productive 18-year career.
Other Notable 1985 Rated Rookies: Danny Tartabull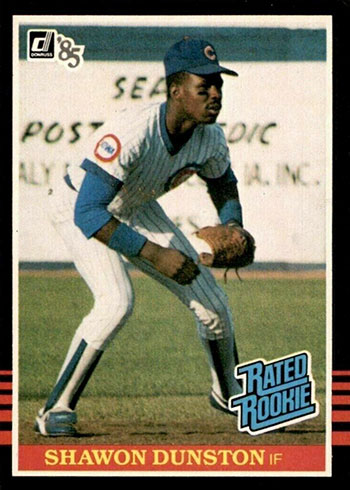 Pocket 2: 1986
Card: 1986 Donruss #39 Jose Canseco RC
Beckett Value: $25
Buy on:
One of the defining cards of the Junk Wax Era, the 1986 Donruss Jose Canseco card still carries value today. His only other rookie card came in the 1986 Fleer set and he shared it with Eric Plunk, which helps explain the card's popularity.
The 1986 Donruss set also has one of two Fred McGriff Rookie Cards. The other? 1986 Leaf (aka Canadian Donruss), which is pretty much exactly the same in appearance.
Other Notable 1986 Rated Rookies: Fred McGriff, Paul O'Neill, Andres Galarraga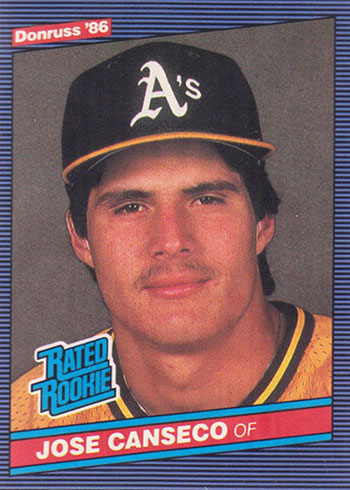 Pocket 3: 1987
Card: 1987 Donruss #35 Bo Jackson RC
Beckett Value: $5
Buy on:
The Greg Maddux rookie may be the most valuable among the 1987 Rated Rookie class, but there is little question Bo Jackson is the most recognizable card in the set.
A fourth-round pick in the 1986 draft, Jackson made his MLB debut the same year and he broke camp as the starting left fielder to begin the 1987 season.
Other Notable 1987 Rated Rookies: Greg Maddux, Mark McGwire, Rafael Palmeiro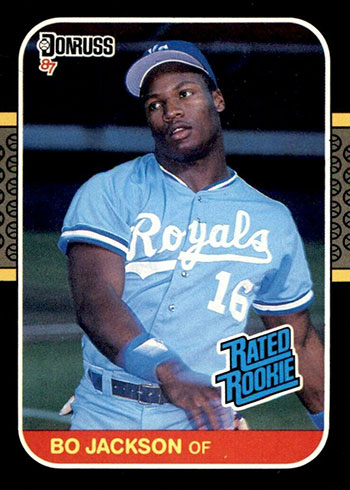 Pocket 4: 1988
Card: 1988 Donruss #34 Roberto Alomar RC
Beckett Value: $2
Buy on:
The 1988 Donruss set is peak Junk Wax and holds little value today, but there are a handful of notable rookies in the set, including Hall of Famer Roberto Alomar and longtime Chicago Cubs first baseman Mark Grace among the Rated Rookie selections.
Tom Glavine also has a Rookie Card in the set, but he was not given the Rated Rookie distinction.
Other Notable 1988 Rated Rookies: Mark Grace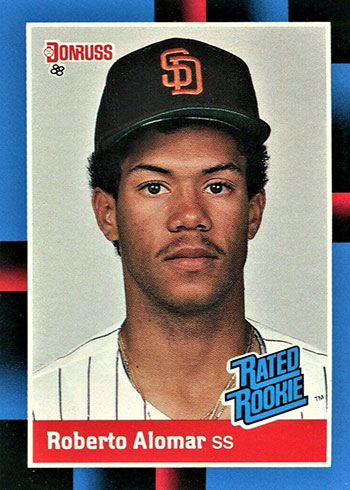 Pocket 5: 1989
Card: 1989 Donruss #33 Ken Griffey Jr. RC
Beckett Value: $12
Buy on:
It may be mass-produced, and it may be hard to find in mint condition, but the 1989 Donruss Ken Griffey Jr. card still holds a special place in any Junk Wax Era collection.
Along with fellow Rated Rookie selections Randy Johnson and Gary Sheffield, this set also has Rookie Cards of Craig Biggio, John Smoltz and Curt Schilling,
Other Notable 1989 Rated Rookies: Randy Johnson, Gary Sheffield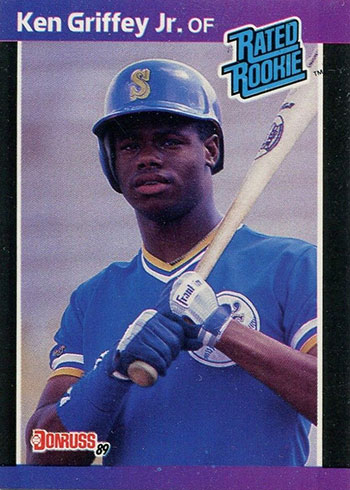 Pocket 6: 1990
Card: 1990 Donruss #33 Juan Gonzalez ERR RC
Beckett Value: $2
Buy on:
The reverse negative Juan Gonzalez rookie card is one of the most recognizable error cards of the 1990s, with the right-handed hitting slugger clearly misrepresented as a lefty hitter with the backward "19" on his jersey giving it away.
Donruss eventually corrected the error and neither card is worth much today, but it's a fitting representation of a largely forgettable set.
Other Notable 1990 Rated Rookies: Robin Ventura, Marquis Grissom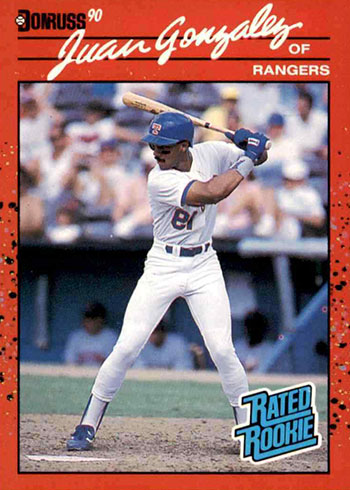 Pocket 7: 1991
Card: 1991 Donruss #430 Mo Vaughn
Beckett Value: $0.10
Buy on:
Aside from some longshot Elite Series inserts and an even longer shot Ryne Sandberg autograph, the 1991 Donruss set doesn't have much going for it.
Mo Vaughn is the most recognizable face from the Rated Rookie selection, so he gets the nod even though his actual rookie card is found in 1990 products.
Other Notable 1991 Rated Rookies: Jeff Conine, Chuck Knoblauch, Tino Martinez, Moises Alou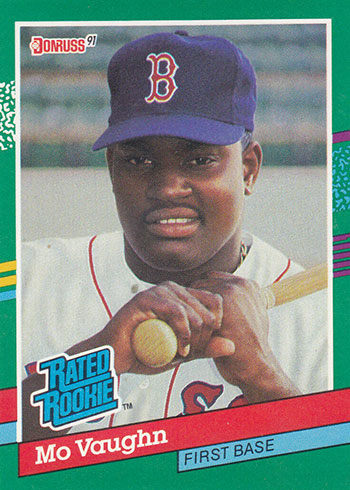 Pocket 8: 1992
Card: 1992 Donruss #406 Jim Thome
Beckett Value: $0.25
Buy on:
This card serves as a fun reminder that Jim Thome started his career as a third baseman. In fact, he was the team's everyday starter at the hot corner during the 100-win season in 1995.
Both Jim Thome and Kenny Lofton have their actual rookie cards in 1991 Bowman and 1991 Upper Deck Final Edition releases, but they were the best of the Rated Rookie bunch the following year.
Other Notable 1992 Rated Rookies: Kenny Lofton, Ryan Klesko, Eric Karros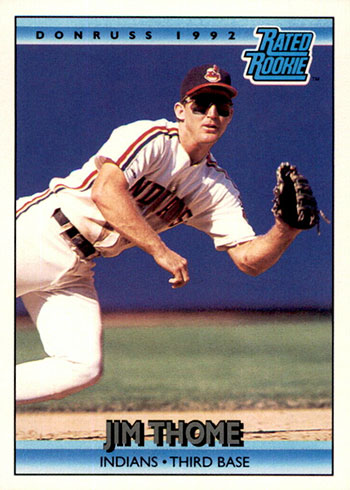 Pocket 9: 1993
Card: 1993 Donruss #721 Chipper Jones
Beckett Value: $0.50
Buy on:
Unlike many of the Rated Rookie picks, Chipper Jones had not yet made his MLB debut when he was included in the 1993 Donruss set. The No. 1 overall pick in the 1990 draft was first included in 1991 products, but this was his first Donruss card.
Tip of the cap to Donruss for hitting on both AL Rookie of the Year winner Tim Salmon and NL Rookie of the Year winner Mike Piazza among this year's Rated Rookie picks.
Other Notable 1993 Rated Rookies: Mike Piazza, Tim Salmon, Javy Lopez, Tim Wakefield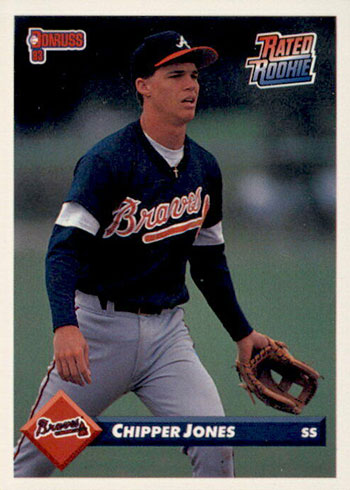 Total Beckett Value: $47.85