One-Sheet Collections: Japanese Baseball Stars
For many, nostalgia remains the driving force behind baseball card collecting, and that's how I arrived at the idea of One-Sheet Collections.
It's a simple concept with infinite possibilities.
Take a single nine-pocket sheet and a reasonable $100 budget, and build a nine-card collection with a unifying theme.
This week, we're focusing on the best Japanese-born players in MLB history.
Masanori Murakami was the first Japanese player to appear in an MLB game with the San Francisco Giants on Sept. 1, 1964. He appeared in 54 total games over two seasons before returning to Japan, and it was not until Hideo Nomo in 1995 that another Japanese-born player took the field in a MLB game.
Ahead we've highlighted the nine Japanese players with the highest career WAR, according to Baseball Reference, and selected one Rookie Card for each of them to make up this One-Sheet Collection.
2001 Topps #726 Ichiro Suzuki RC ($50)
When Ichiro Suzuki joined the Seattle Mariners on a three-year, $14 million contract prior to the 2001 season, he was already 27 years old with a .353 average and 1,278 hits over nine professional seasons in Japan. The first Japanese-born position player in the big leagues, he went on to rack up 3,089 more hits while earning 10 All-Star selections in 19 seasons.
There is no shortage of Rookie Card options for the fan favorite, but his 2001 Topps is the most recognizable of the bunch and has a reasonable enough price tag to be the anchor of this collection.
Career WAR: 60.0
Buy on: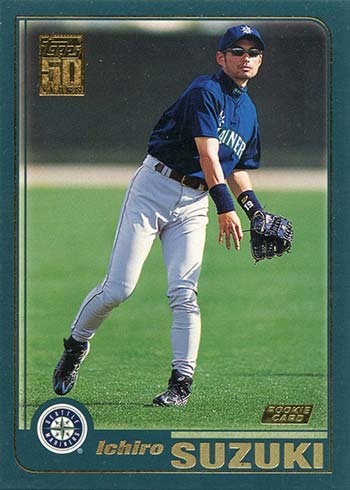 2012 Finest #35 Yu Darvish RC ($4)
The Texas Rangers paid a $51.7 million posting fee to negotiate with Yu Darvish, then signed him to a six-year, $60 million deal. He was an All-Star in each of his first three seasons with the Rangers, leading the AL with 277 strikeouts in 2013, and he has been a consistent frontline starter throughout his 10 MLB seasons. His 1,718 strikeouts rank 14th among all active pitchers.
Darvish has 21 different Rookie Cards with a wide variety of price points, but his Finest rookie is one of the better looking of the bunch and is a cost-effective choice for this collection.
Career WAR: 28.1
Buy on: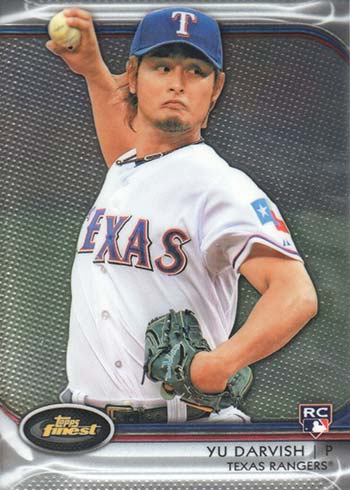 2003 Upper Deck First Pitch #271 Hideki Matsui SP RC ($5)
In his final season with the Yomiuri Giants in 2002, Hideki Matsui hit .334/.461/.692 with 50 home runs and 107 RBI in 140 games. He never matched that level of power production in the majors, maxing out at 31 long balls in 2004, but he enjoyed a productive 10-year career with a 118 OPS+ and 175 home runs. Matsui was a two-time All-Star and won World Series MVP honors in 2009.
His 2003 Upper Deck First Pitch rookie is short-printed and features a full-body shot of him mid-swing as opposed to the headshot used on his Upper Deck flagship card.
Career WAR: 21.2
Buy on: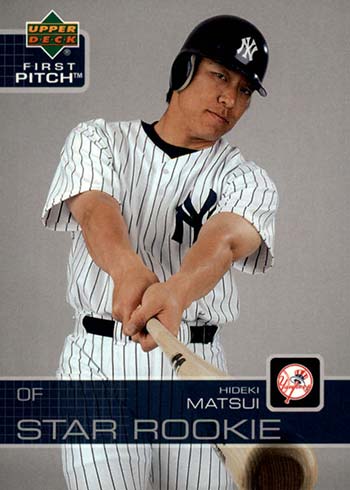 2018 Stadium Club #138 Shohei Ohtani RC ($20)
It's only a matter of time before Shohei Ohtani moves into the No. 2 spot on this list, and the 28-year-old has a chance to give Ichiro a serious run for his money if he can stay healthy. The greatest two-way player the game has ever seen, Ohtani won AL MVP last season when he launched 46 home runs, stole 26 bases and posted a 3.18 ERA with 156 strikeouts in 130.1 innings.
His high-end Rookie Cards are among the most sought after cards on the market right now, but there are some base options that are far more affordable. That includes his 2018 Stadium Club rookie which features the brand's signature borderless design and stellar photography.
Career WAR: 20.4
Buy on: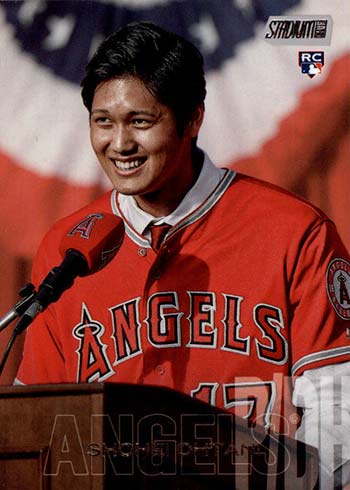 2014 Topps Gypsy Queen #346A Masahiro Tanaka SP RC ($6)
Masahiro Tanaka was 25-years old when he made his MLB debut in 2014, going 13-5 with a 2.77 ERA in 136.1 innings. He spent seven seasons with the New York Yankees, going 78-46 with a 3.74 ERA in 1,054.1 innings during the regular season and adding a 3.33 ERA in 10 postseason starts. He returned to Japan in 2021 and remains one of the best pitchers in the Japanese League.
There were 50 short-printed cards on the 2014 Topps Gypsy Queen checklist, including Rookie Cards of Tanaka, James Paxton and Billy Hamilton. That makes it one of his more valuable base rookie options.
Career WAR: 17.3
Buy on: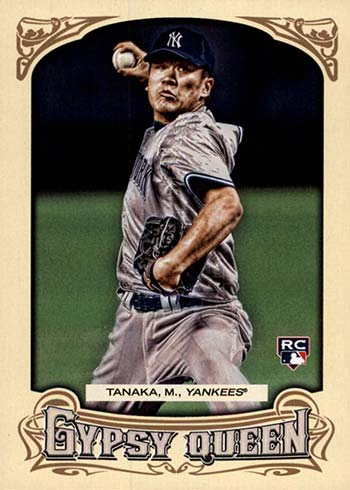 2012 Topps Allen and Ginter #53 Hisashi Iwakuma RC ($3)
Hisashi Iwakuma was already 31 when he joined the Seattle Mariners on a one-year, $1.5 million contract. He wound up spending six seasons with the M's, going 63-39 with a 3.42 ERA in 883.2 innings. The right-hander was an All-Star in 2013 and threw a no-hitter in 2015.
All of his base Rookie Cards are extremely affordable with his Topps Allen and Ginter being a nice change of base from the more basic designs.
Career WAR: 16.8
Buy on: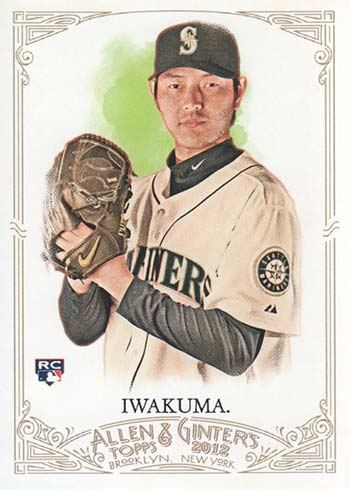 2009 Topps Chrome #203 Koji Uehara RC ($4)
A 34-year-old rookie in 2009 with the Baltimore Orioles, Koji Uehara was traded to the Baltimore Orioles at the 2011 deadline in a deal that sent slugger Chris Davis the other way. It wasn't until he joined the Boston Red Sox in 2013 that he emerged as an elite closer, racking up 72 saves in three years and saving seven games during the 2013 postseason to lead Boston to a World Series title.
The relief ace has 22 different Rookie Cards in 2009 products, and I've opted for his Topps Chrome rookie to fill his spot in this collection.
Career WAR: 13.5
Buy on: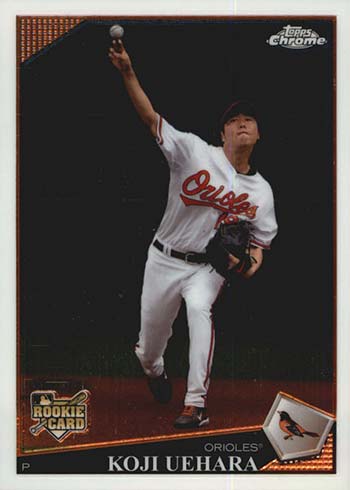 1997 Collector's Choice #258 Shigetoshi Hasegawa RC ($0.40)
The fourth Japanese-born player in MLB history when he made his MLB debut on April 5, 1997, Shigetoshi Hasegawa spent nine seasons in the big leagues with the Anaheim Angels and Seattle Mariners. He was an All-Star in 2003 when he posted a 1.48 ERA with 16 saves in 63 appearances.
He has five Rookie Cards in the 1997 Collector's Choice, Donruss, Flair Showcase, Fleer and Ultra sets.
Career WAR: 11.6
Buy on: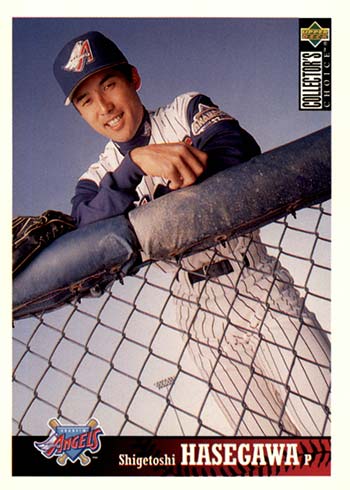 2000 Upper Deck #19 Tomo Ohka RC ($0.50)
With a 4.26 ERA and 105 ERA+ in 1,070 career MLB innings with the Red Sox, Expos, Nationals, Brewers, Blue Jays and Indians, Tomo Ohka had a quietly productive 10-year career in the big leagues.
Career WAR: 11.3
Buy on: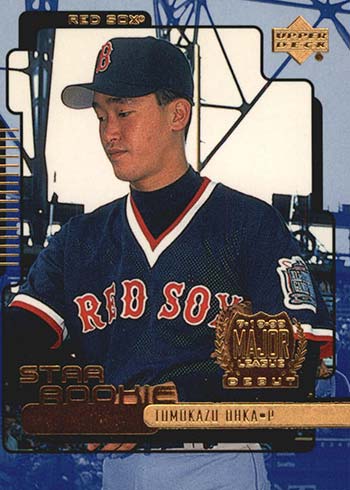 Total: $92.90