One-Sheet Collections: Home Run Leaders of the 2020s (So Far)
When you click on links to various merchants on this site, like eBay, and make a purchase, this can result in this site earning a commission.
The One-Sheet Collections idea is a simple concept with infinite possibilities. Take a single nine-pocket sheet and a reasonable $100 budget, and build a nine-card collection with a unifying theme.
Pitching wins championships and the value of good defense can't be overstated, but home runs still drive the baseball card market, and the increased focus on launch angle has left no shortage of long balls over the past few seasons.
This week's collection will focus on the current home run leaders of the 2020s. We are just three seasons into the 2020s, one of which was an abridged 80-game schedule, but these are the sluggers who have separated themselves from the pack so far this decade.
2017 Bowman #32 Aaron Judge RC ($12)
2020s Home Runs: 110
Only 35 players have at least 62 home runs since the start of the 2020 season, and that's how many Aaron Judge hit just last season to set the single-season AL record. So it should come as no surprise to see him in the No. 1 spot on this list. With a nine-year, $360 million extension in tow, he will now take aim at the hallowed New York Yankees franchise leaderboards.
Since his 1st Bowman stuff is well outside the price range of this exercise and his Topps flagship rookie is a shot of him playing defense, his underappreciated Bowman paper Rookie Card gets the nod for this collection.
Buy on: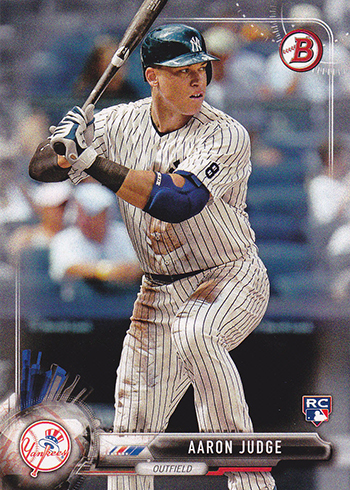 2019 Topps Chrome #204 Pete Alonso RC ($12)
2020s Home Runs: 93
While his record-setting 53-homer season came before the start of the 2020s, Pete Alonso still ranks among the game's most productive sluggers over the past three years. He is coming off a 40-homer, 131-RBI campaign that saw him finish eighth in NL MVP voting, and the Mets will be counting on him to anchor their run production once again.
The 2019 Topps Chrome checklist is headlined by Rookie Cards of Fernando Tatis Jr. ($60) and Vladimir Guerrero Jr. ($40), with Alonso checking in at a much more affordable price point.
Buy on: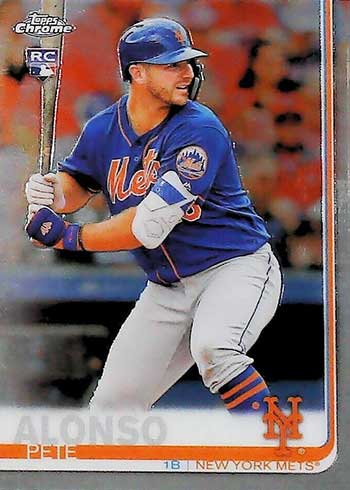 2019 Topps Heritage #504 Vladimir Guerrero Jr. RC ($12)
2020s Home Runs: 89
It's saying something when a 23-year-old posts a 132 OPS+ with 32 home runs and 97 RBI and it is considered a down year. Vladimir Guerrero Jr. set the bar awfully high with his 2021 performance when he hit .311/.401/.601 with 48 home runs and 111 RBI to finish runner-up to Shohei Ohtani in AL MVP balloting.
It might not be the most valuable, but his 2019 Topps Heritage Rookie Card is a strong contender for the best photo on any of his first-year options.
Buy on: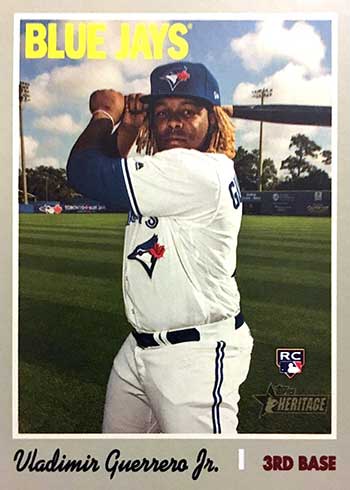 2014 Bowman Chrome Draft #CDP2 Kyle Schwarber ($2.50)
2020s Home Runs: 89
Playing for his fourth team in three years, Kyle Schwarber signed a four-year, $79 million deal with the Phillies last offseason and launched an NL-leading 46 home runs in his first year with the team. He also struck out 200 times while playing below-average defense in left field, but there is little question he is one of baseball's top power threats.
I love Schwarber's 1st Bowman card because it's a reminder that he was originally drafted as a catcher by the Cubs before quickly shifting to the outfield to get his bat into the lineup.
Buy on: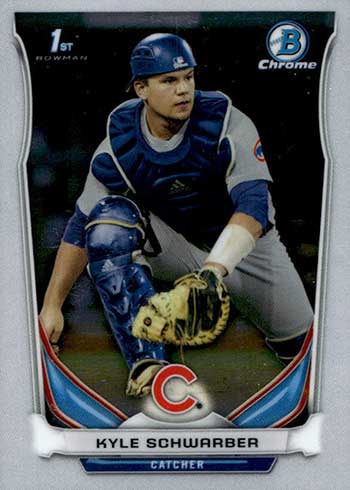 2018 Topps Gypsy Queen #89 Shohei Ohtani RC ($20)
2020s Home Runs: 87
Just how otherworldly good at baseball is Shohei Ohtani? Last season, he tied for 11th in the majors with 34 home runs as a hitter and ranked sixth in the majors with 219 strikeouts as a pitcher. As long as he stays healthy, he should continue to be a fixture on offensive and pitching leaderboards for the foreseeable future.
Despite his precipitous rise to superstardom, Ohtani still has some affordable options among his 62 different Rookie Cards. I wanted one that pictured him hitting for this collection, and I've always been partial to the Topps Gypsy Queen design.
Buy on: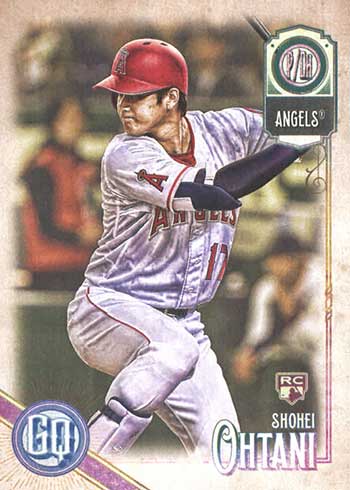 2012 Bowman Chrome Draft Draft Picks #BDPP20 Matt Olson ($12)
2020s Home Runs: 87
Matt Olson had big shoes to fill when he was traded to the Braves and quickly signed to an eight-year, $168 million extension to replace the departed Freddie Freeman at first base. With 44 doubles, 34 home runs and 103 RBI, he made a seamless transition to the National League, and he is one of two Atlanta players on this list.
Olson actually has two 1st Bowman cards as he was pictured as a member of the U-18 Team USA squad in 2010 and a member of the Athletics in 2012. I've gone with the second option which carries a slightly higher price tag.
Buy on: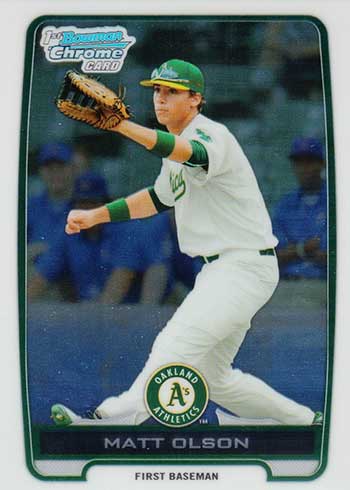 2013 Topps Heritage Minors #180 Jose Ramirez ($10)
2020s Home Runs: 82
Jose Ramirez has finished in the top six in AL MVP voting five times in the last six years, including a fourth-place finish in 2022 when he posted a 148 OPS+ with 44 doubles, 29 home runs, 126 RBI, 90 runs scored and 20 steals. The addition of Josh Bell in free agency should help provide him with some additional lineup protection.
Ramirez does not have a 1st Bowman card, so I've instead gone with a minor league offering from Topps. He remains extremely underrated and affordable relative to his consistent offensive production.
Buy on: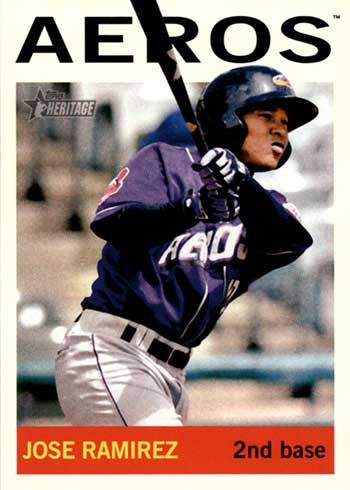 2012 Topps Chrome Refractors #124 Salvador Perez ($6)
2020s Home Runs: 82
After setting the single-season home run record for catchers with 48 long balls in 2021, Salvador Perez dealt with some injuries last season. The 32-year-old still managed to sock 23 homers in 114 games, and he now ranks 15th all-time among catchers with 223 home runs as he enters the second season of a four-year, $82 million extension.
Perez only has three Rookie Cards in the 2011 Bowman Draft, Bowman Chrome Draft and Bowman Sterling sets, so I've opted instead for the Refractor parallel of his first Topps flagship card.
Buy on: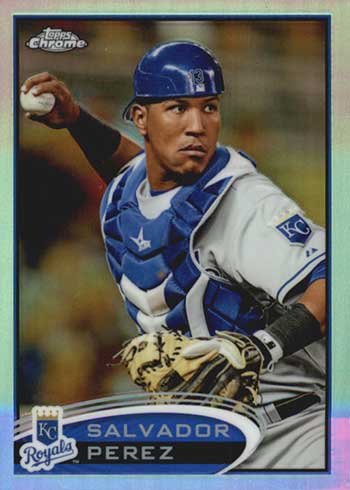 2019 Topps Gold Label Class 1 #60 Austin Riley RC ($10)
2020s Home Runs: 79
Austin Riley put together a breakout 2021 season with 33 home runs and 107 RBI. He cemented his place as one of the game's top young sluggers last year when he hit .273/.349/.528 with 39 doubles, 38 home runs and 93 RBI. The Braves rewarded him with a 10-year, $212 million extension that could keep him in Atlanta through the 2033 season.
At a time when there are premium products far and wide, Topps Gold Label still feels like an ultra-premium option thanks to its thick card stock and eye appeal.
Buy on: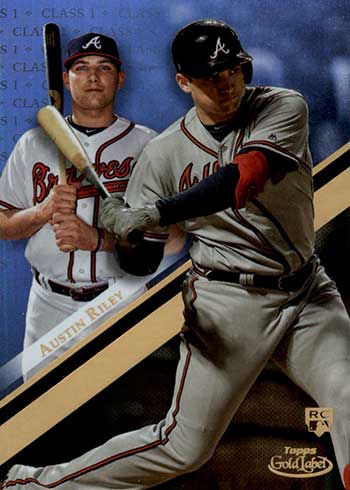 Total: $96.50