One-Sheet Collections: Cy Young-Winning Relievers
For many, nostalgia remains the driving force behind baseball card collecting, and that's how we arrived at the idea of One-Sheet Collections.
It's a simple concept with infinite possibilities.
Take a single nine-pocket sheet and a reasonable $100 budget, and build a nine-card collection with a unifying theme.
This time around we focus on the nine relief pitchers who have won Cy Young honors.
The first reliever to ever take home the hardware was Los Angeles Dodgers right-hander Mike Marshall during the 1974 season, and in the years since eight other bullpen aces have joined him.
The last to do it was Eric Gagne, also pitching for the Dodgers, during the 2003 campaign. Will we ever see another reliever who wins top pitching honors in his league?
For now, these nine games make up an exclusive club and are the focus of this week's One-Sheet Collection.
Enjoy!
Pocket 1: Mike Marshall
1974 Topps Traded #73T Mike Marshall ($0.75)
Buy on:
Marshall was already four teams and six seasons into his MLB career when he joined the Los Angeles Dodgers in a deal that sent All-Star center fielder Willie Davis to Montreal prior to the 1974 campaign.
After finishing runner-up in NL Cy Young voting in his final year with the Expos, he took home the hardware in his Dodgers debut. Appearing in an MLB record 106 games, he went 15-12 with a 2.42 ERA, 1.19 WHIP and 21 saves while tossing 208.1 innings without starting a game.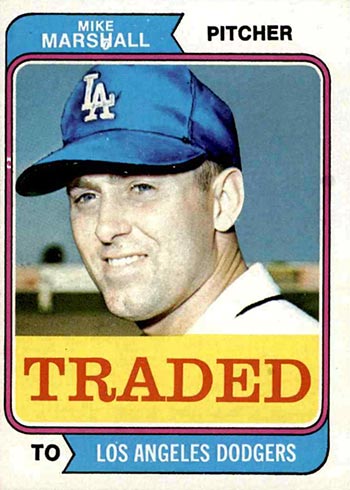 Pocket 2: Sparky Lyle
1977 Topps #598 Sparky Lyle ($0.75)
Buy on:
While the trio of Reggie Jackson, Thurman Munson and Graig Nettles led the way offensively for a 1977 New York Yankees team that went on to win the World Series, Lyle was an equally important piece of the puzzle and he edged out Jim Palmer (Orioles) and Nolan Ryan (Angels) for Cy Young honors.
The left-hander appeared in 72 games and went 13-5 with a 2.17 ERA and 1.20 WHIP while racking up 26 saves, earning his third and final All-Star selection in the process.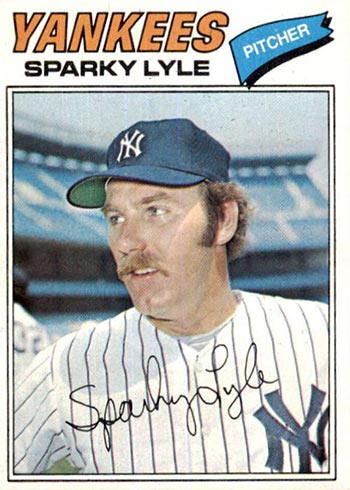 Pocket 3: Bruce Sutter
1979 Topps #457 Bruce Sutter ($2.50)
Buy on:
Armed with a split-finger fastball that befuddled hitters, Sutter was a revelation in the Chicago Cubs bullpen during the second half of the 1970s. During the three-year span from 1977 through 1979, he tallied 95 saves while posting a 2.23 ERA and 10.1 K/9.
During the '79 season, he led the NL with 37 saves and logged a 2.22 ERA with 110 strikeouts in 101.1 innings. That was enough for him to narrowly beat out Houston Astros knuckleballer Joe Niekro for NL Cy Young.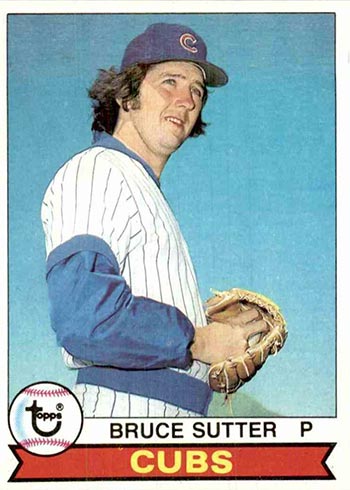 Pocket 4: Rollie Fingers
1981 Topps Traded #761 Rollie Fingers ($1)
Buy on:
The Milwaukee Brewers acquired Fingers, catcher Ted Simmons and right-hander Pete Vuckovich in a seven-player deal with the St. Louis Cardinals prior to the 1981 season. All three of those players would be integral in the team's run to the AL pennant in 1982.
In his first year with the team in '81, Fingers won AL Cy Young and MVP honors when he recorded 28 saves with a 1.04 ERA and 0.87 WHIP in 47 appearances during the strike-shortened season.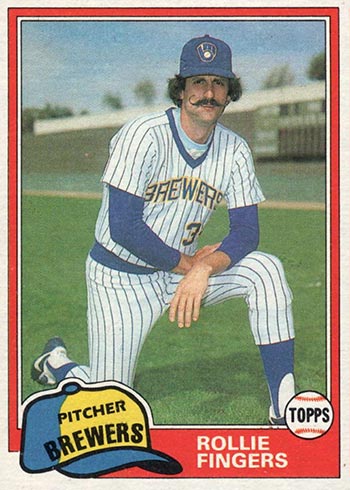 Pocket 5 Willie Hernandez
1984 Topps Traded #51T Willie Hernandez ($0.40)
Buy on:
A decent reliever for the Chicago Cubs and Philadelphia Phillies in the seven seasons leading up to the 1984 campaign, Hernandez took his game to another level upon joining the Detroit Tigers in a four-player trade.
The 29-year-old led the AL with 80 appearances and posted 1.92 ERA, 0.94 WHIP and 32 saves in 140.1 innings. The Tigers went on to win 104 games and cruised to a World Series title, and Hernandez was rewarded with AL Cy Young and AL MVP recognition.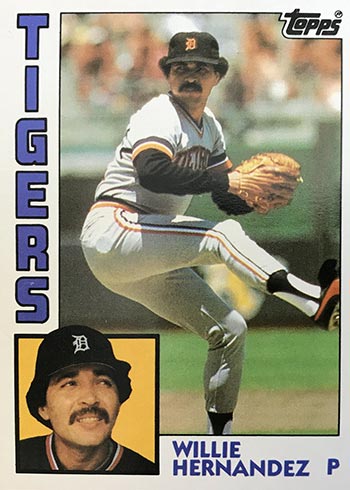 Pocket 6: Steve Bedrosian
1987 Topps #736 Steve Bedrosian ($0.05)
Buy on:
In his second season with the Philadelphia Phillies, Bedrosian saved an NL-high 40 games while posting a 2.83 ERA and 1.20 WHIP in 65 appearances. On a Phillies team that lacked a bona fide ace, he was easily the most important pitcher on the team.
In a wide open NL Cy Young field that saw five different pitchers receive first-place votes, he came out on top over Rick Sutcliffe (Cubs), Rick Reuschel (Pirates/Giants), Orel Hershiser (Dodgers) and Dwight Gooden (Mets).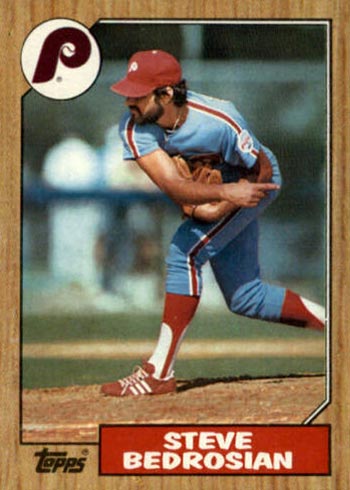 Pocket 7 Mark Davis
1989 Topps #59 Mark Davis ($0.05)
Buy on:
Things never quite clicked for Davis as a starter early in his career, but he took off as a reliever upon joining the San Diego Padres in 1987. In 1989, he tallied an NL-high 44 saves in 48 chances with a 1.85 ERA in 65 appearances.
Free agency came at the perfect time that winter and he signed a four-year, $13 million contract with the Kansas City Royals that made him the highest-paid player in baseball in terms of annual salary.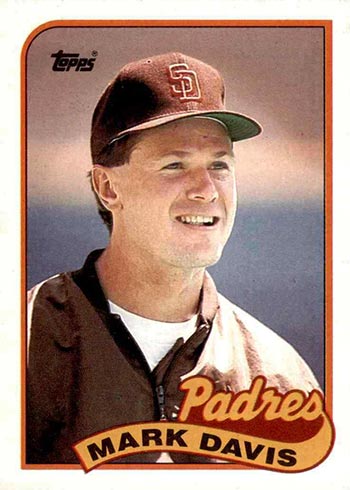 Pocket 8: Dennis Eckersley
1992 Topps #738 Dennis Eckersley ($0.10)
Buy on:
Eckersley was entering his 18th MLB season in 1992, and he already had 174 wins and 188 saves on what would be a Hall of Fame resume. Despite the mileage on his arm, he remained one of the game's most dominant relievers, and he reached his peak as a bullpen ace during the '92 season.
In 69 appearances, he went 7-1 with 51 saves in 54 chances, posting a 1.91 ERA, 0.92 WHIP and a brilliant 93-to-11 strikeout-to-walk ratio in 80 innings of work. That was enough to win him AL Cy Young honors by a landslide and he beat out Kirby Puckett (Twins) and Joe Carter (Blue Jays) for AL MVP.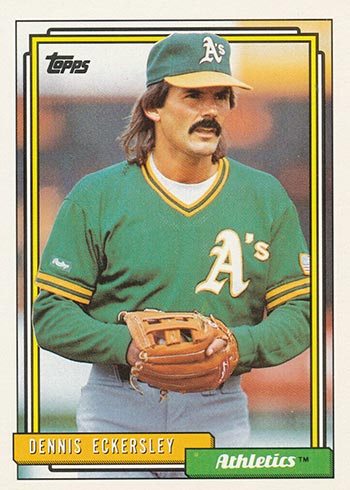 Pocket 9: Eric Gagne
2003 Topps #236 Eric Gagne ($0.20)
Buy on:
At his peak, Gagne rattled off a record streak of 84 straight saves without a blown opportunity, and much of that run was during the 2003 season.
He was a perfect 55-of-55 on save chances that year while posting a 1.20 ERA and 0.69 WHIP with 15.0 K/9 in 77 appearances. The Los Angeles Dodgers won 85 games and fell just short of reaching the playoffs, but Gagne's performance goes down as one of the most dominant single-season showings by a reliever in MLB history.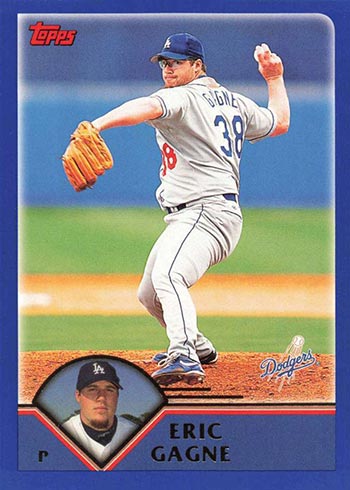 Total: $5.80