One-Sheet Collections: Catchers Who Stopped Catching
For many, nostalgia remains the driving force behind baseball card collecting, and that's how we arrived at the idea of One-Sheet Collections.
It's a simple concept with infinite possibilities.
Take a single nine-pocket sheet and a reasonable $50 budget, and build a nine-card collection with a unifying theme.
This time around, we focused on players who began their career as catchers before moving out of the crouch to another position.
We're not talking about someone like Joe Mauer, who spent 10 big league seasons behind the plate before shifting to first base later in his career. Instead, the idea was to highlight players the average baseball fan might not even know spent time behind the player early in their development.
Enjoy!
Pocket 1: Dale Murphy
Card: 1978 Topps #708 Dale Murphy
Beckett Value: $4
Buy on:
While his Rookie Card blows the bulk of our $50 budget, Dale Murphy was again included on a "Rookie Catchers" card in 1978 and that one carries a significantly lower price tag, despite being the true Rookie Card of Detroit Tigers standout Lance Parrish.
Murphy made his MLB debut as a catcher and spent 85 total games behind the plate before moving to first base and then center field. He won back-to-back NL MVP awards in 1982 and 1983 and was a five-time Gold Glove winner in center.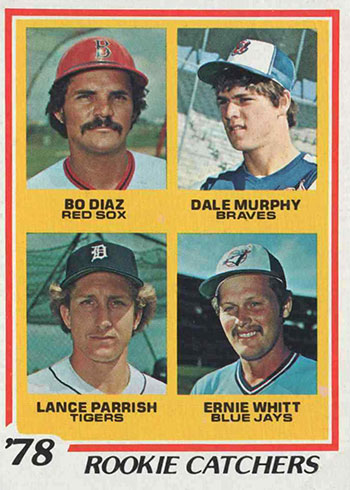 Pocket 2: Craig Biggio
Card: 1989 Donruss #561 Craig Biggio RC
Beckett Value: $3
Buy on:
Craig Biggio spent the first four seasons of his MLB career behind the plate, winning a Silver Slugger Award in 1989 and earning his first All-Star selection in 1991 before shifting to second base in an effort to save his legs.
Those legs ultimately racked up 414 steals over the course of a 20-year career that ended in Cooperstown. His 1989 Donruss Rookie Card is the perfect shot for this collection.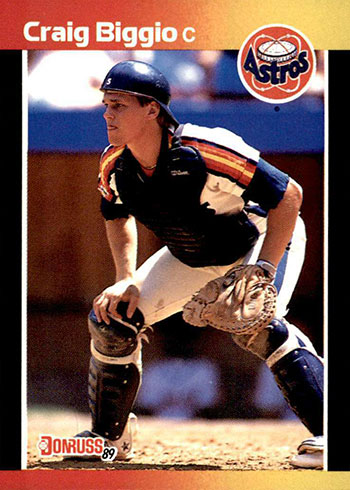 Pocket 3: Carlos Delgado
Card: 1992 Bowman #127 Carlos Delgado RC
Beckett Value: $8
Buy on:
Most remember Carlos Delgado as a first baseman and one of the most feared sluggers of the last 20 years, but he actually began his career as a highly-touted catching prospect. He wound up catching a grand total of two games in the majors, serving as Toronto's primary DH during a breakout season in 1996 before shifting to first base after John Olerud departed in free agency.
His 1993 Bowman card shows him in full catcher's gear, but his 1992 Bowman Rookie also fits the theme here as he's crouched with a catcher's mitt.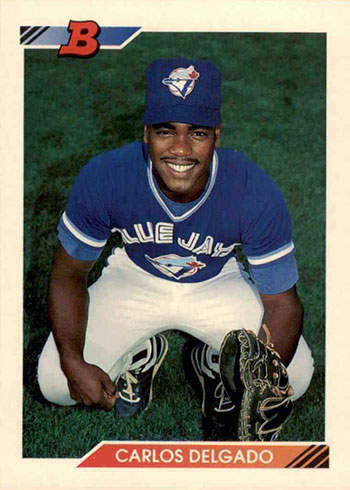 Pocket 4: Paul Konerko
Card: 1995 Bowman's Best #B28 Paul Konerko
Beckett Value: $8
Buy on:
The Los Angeles Dodgers selected Paul Konerko with the No. 13 overall pick in the 1994 draft and he spent his first two pro seasons behind the plate before making the full-time move to first base.
His only Rookie Card is a headshot in the 1994 Topps Traded set. However, he was featured in a wide variety of products the following year, the vast majority of which show him in his catcher's gear.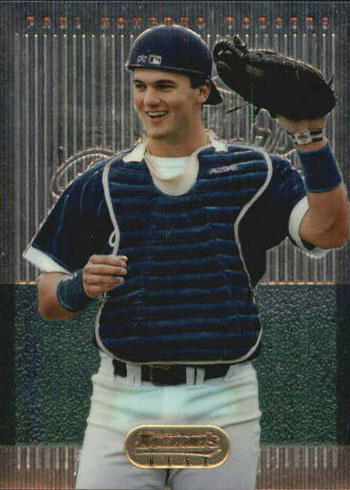 Pocket 5: Mike Sweeney
Card: 1996 Fleer #138 Mike Sweeney RC
Beckett Value: $1
Buy on:
Mike Sweeney was a five-time All-Star in his 13 seasons with the Kansas City Royals, and he broke into the big leagues as a catcher. In fact, he led the Royals with 91 games caught in 1998 while splitting time with veteran Sal Fasano.
He played 201 career games at catcher, throwing out an impressive 36 percent of base-stealers before shifting to first base. With so much time spent as a catcher, there is no shortage of options for his entry in our collection. We opted for his 1996 Fleer Rookie Card.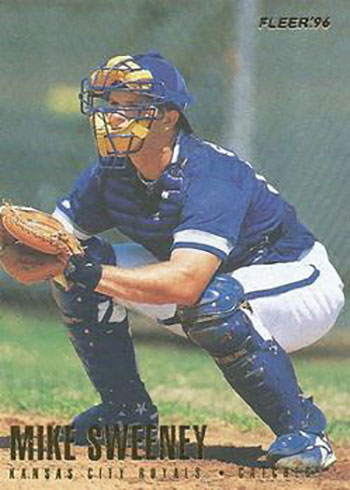 Pocket 6: Justin Morneau
Card: 2001 Bowman #361 Justin Morneau RC
Beckett Value: $10
Buy on:
The presence of Albert Pujols' Rookie Card in the 2001 Bowman set has helped lend some value to the set's secondary rookies, including 2006 AL MVP Justin Morneau.
The 6'4″, 220-pound slugger never caught a game in the big leagues, and he spent just 22 games worth of rookie ball action behind the plate during his pro debut in 2000 before moving to first base. However, that was long enough for him to appear in full gear on his flagship Bowman rookie.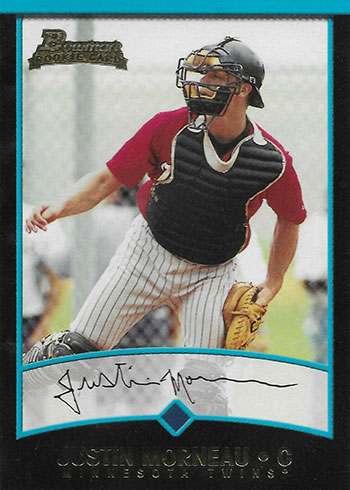 Pocket 7: Josh Donaldson
Card: 2010 Bowman Draft #BDP43 Josh Donaldson RC
Beckett Value: $2.50
Buy on:
A first-round pick by the Chicago Cubs in 2007, Josh Donaldson was traded to the Oakland Athletics the following summer in a blockbuster deal that sent Rich Harden the other way. He made his MLB debut in 2010 and caught 10 total games before eventually shifting to third base where he developed into a superstar.
Despite his first-round pick status, he didn't have a Rookie Card until after he made his MLB debut in 2010. Both his Bowman Draft and Topps Update rookies show him in catcher's gear.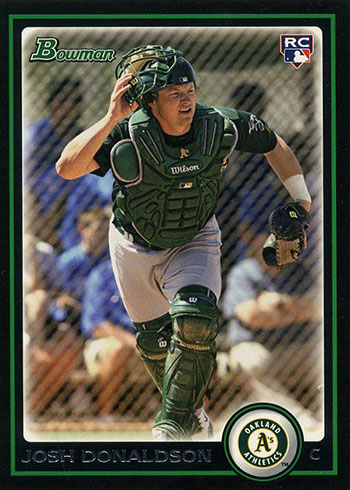 Pocket 8: Wil Myers
Card: 2010 Bowman Chrome Prospects #BCP117A Wil Myers
Beckett Value: $1.25
Buy on:
Wil Myers spent the first two seasons of his pro career behind the plate, including a breakout 2010 season where he hit .315/.429/.506 with 54 extra-base hits between Single-A and High-A while throwing out 32 percent of base-stealers. That vaulted him to No. 10 on the Baseball America Top 100 prospect list entering the 2011 season, and the Kansas City Royals shifted him to the outfield for the sake of his offensive development.
His true Rookie Cards are in 2013 products when he was playing for the Tampa Bay Rays, but his Bowman Chrome Prospects card prior to that is a great representation of his time as a catcher.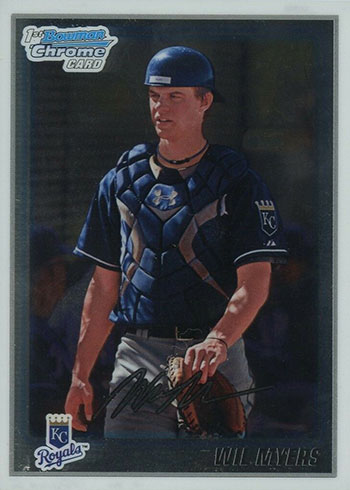 Pocket 9: Kyle Schwarber
Card: 2016 Donruss #31 Kyle Schwarber RC
Beckett Value: $4
Buy on:
The Chicago Cubs drafted Kyle Schwarber for his bat when they took him No. 4 overall in the 2014 draft, and expediting his arrival in the majors meant shifting him to the outfield. He has caught 26 games in the big leagues, with 21 of them coming during his rookie season in 2015.
His 2014 Bowman Chrome Draft card may be a bit more recognizable choice for inclusion in this collection. But as we saw last week, I'm a sucker for that "Rated Rookie" logo.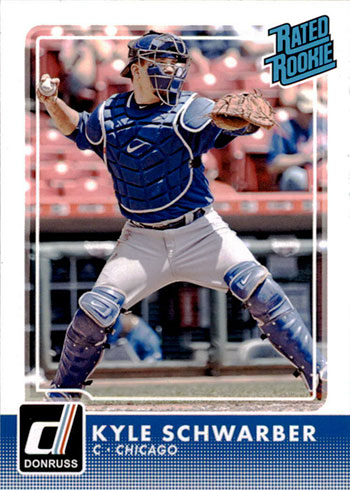 Total Beckett Value: $41.75