One-Sheet Collections: 2004 Boston Red Sox Rookie Cards (and One Minor League Card)
For many, nostalgia remains the driving force behind baseball card collecting, and that's how we arrived at the idea of One-Sheet Collections.
It's a simple concept with infinite possibilities.
Take a single nine-pocket sheet and a reasonable $100 budget, and build a nine-card collection with a unifying theme.
This time around we focus on the 2004 Boston Red Sox team that broke the Curse of the Bambino and won a World Series title after a dramatic comeback against the New York Yankees in the ALCS.
Led by sluggers Manny Ramirez and David Ortiz, the Red Sox led the majors with 5.86 runs per game during the regular season, and this week's collection will focus on that high-powered offense.
Ahead you'll find the Rookie Card of each member of the team's go-to lineup during its postseason run to make up this week's One-Sheet Collection.
Enjoy!
Pocket 1: 1993 SP #273 Johnny Damon Foil RC ($8)
Johnny Damon was already seven years into his MLB career when he signed a four-year, $31 million contract with the Boston Red Sox. His presence as a table-setter immediately transformed the lineup, and he hit .304/.380/.477 with 61 extra-base hits, 19 steals and 123 runs scored during the 2004 season while manning center field.
The No. 35 overall in the 1992 draft, he had his only Rookie Card featured in the 1993 SP set the following year. Of course, that set is best known for the Derek Jeter rookie that is among the most valuable of the junk wax era.
Buy on: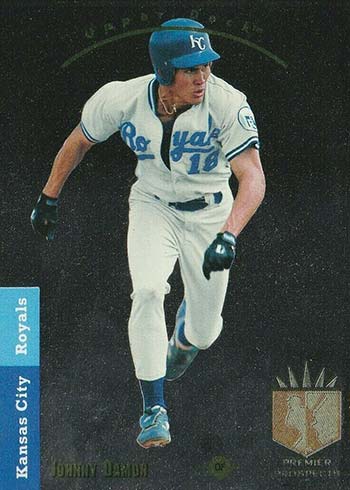 Pocket 2: 1996 Topps #22 Mark Bellhorn RC ($1)
Second baseman Mark Bellhorn slugged 27 home runs for the Chicago Cubs in 2002. After a down season split between Chicago and Colorado the following year, he caught on with the Red Sox. He hit .264/.373/.444 with 37 doubles, 17 home runs and 82 RBI in 2004, and he homered three times in the playoffs.
After going in the second round of the 1995 draft out of Auburn University, he had his Rookie Cards included in the 1996 Bowman and 1996 Topps base sets.
Buy on: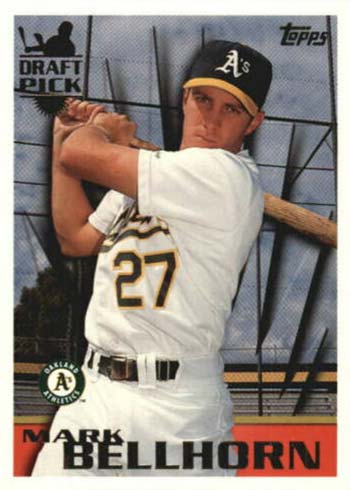 Pocket 3: 1992 Topps #156 Manny Ramirez RC ($5)
One of the most productive free-agent signings in MLB history, Manny Ramirez slugged 274 home runs and tallied 33.2 WAR over the course of his eight-year, $160 million contract with the Red Sox. He hit .308/.397/.613 with 44 doubles, 43 home runs and 130 RBI to finish third in AL MVP voting in 2004, and he capped off his season with World Series MVP honors.
A highly-regarded prospect as the No. 13 overall pick in the 1991 draft, he has Rookie Cards scattered throughout 1992 products. They can be found in the Bowman, Pinnacle, Score, Topps and Upper Deck base sets, as well as the Donruss Rookies and Stadium Club Dome boxed sets.
Buy on: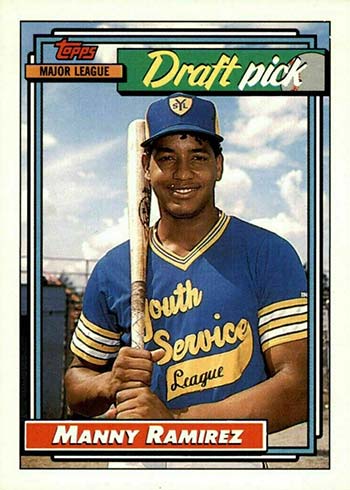 Pocket 4: 1997 Best #74 David Ortiz ($10)
After he was non-tendered by the tight-fisted Minnesota Twins, David Ortiz signed a one-year, $1.25 million deal with the Red Sox and he came with an additional year of arbitration control. He had a 31-homer, 101-RBI season in his Boston debut, and the following year he hit .301/.380/.603 with 47 doubles, 41 home runs and 139 RBI before tallying five home runs and 19 RBI in 14 playoff games.
Since his two true Rookie Cards—1997 Fleer ($200) and 1997 Ultra ($150)—both blow past our $100 budget, we've opted for one of his officially licensed minor league cards from the same year as an alternative.
Buy on: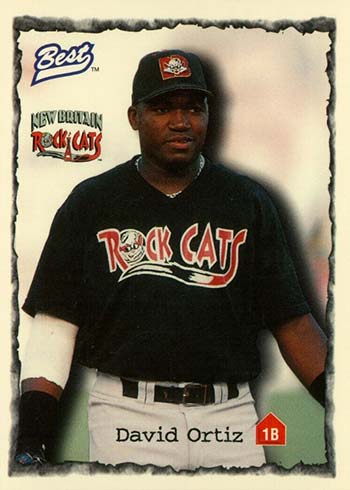 Pocket 5: 1998 Bowman #424 Kevin Millar RC ($1.50)
Acquired from the Florida Marlins in exchange for cash considerations prior to the 2003 season, Kevin Millar was another under-the-radar pickup by the Boston front office. He split time at first base with defensive standout Doug Mientkiewicz during the 2004 playoffs, after hitting .297/.383/.474 with 36 doubles, 18 home runs and 74 RBI during the regular season.
His only Rookie Cards are part of the 1998 Bowman line, and he was included in the base set, Bowman Chrome and Bowman's Best.
Buy on: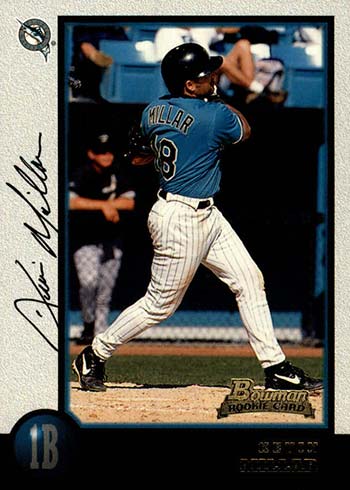 Pocket 6: 1994 Pinnacle #270 Trot Nixon RC ($1.25)
The only homegrown player in the 2004 Red Sox starting lineup, Nixon made his MLB debut in 1996 and took over as the team's everyday right fielder three years later. After spending much of the 2004 season on the injured list with a herniated disc, he returned strong in September to reclaim his starting spot and tallied eight RBI in 13 games in the playoffs.
He has five different Rookie Cards in 1994 products, one year after he was selected No. 7 overall in the MLB draft. Pinnacle gets my vote as the most visually appealing of a group that also includes Collector's Choice, Score, SP and Upper Deck.
Buy on: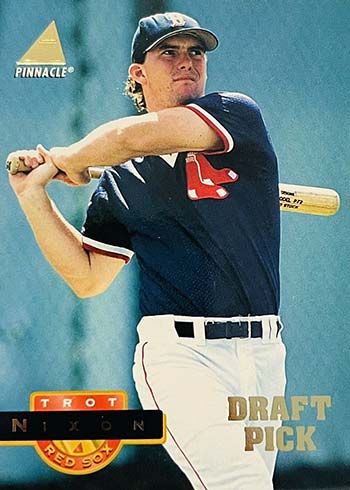 Pocket 7: 1992 Topps Traded #123T Jason Varitek USA RC ($12)
The Red Sox acquired Jason Varitek and pitcher Derek Lowe from the Seattle Mariners in exchange for veteran reliever Heathcliff Slocumb at the 1997 trade deadline in one of the most lopsided trades in recent memory. Varitek developed into one of the game's best two-way catchers in his prime, and he hit .296/.390/.482 with 30 doubles, 18 home runs and 73 RBI In 2004.
His only Rookie Card is part of the 1992 Topps Traded set where he's pictured as a member of Team USA. The set also features the iconic Nomar Garciaparra rookie.
Buy on: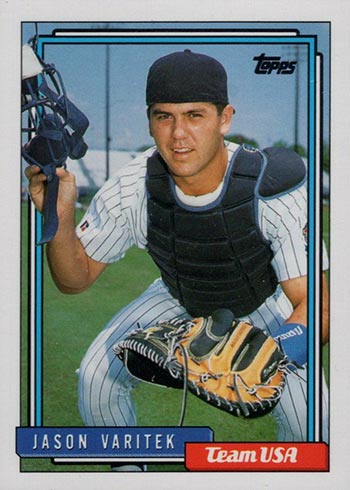 Pocket 8: 1997 Bowman #351 Orlando Cabrera RC ($1.50)
The Red Sox acquired Orlando Cabrera at the 2004 trade deadline in the four-team deal that sent Nomar Garciaparra to the Chicago Cubs. He hit .294/.320/.465 with 26 extra-base hits, 31 RBI and 33 runs scored in 58 games, then departed in free agency during the offseason, but he made his mark on franchise history.
A member of the Montreal Expos at the onset of his MLB career, he has Rookie Cards in the 1997 Bowman and Bowman Chrome sets, as well as the 1997 Fleer and 1997 Ultra releases.
Buy on: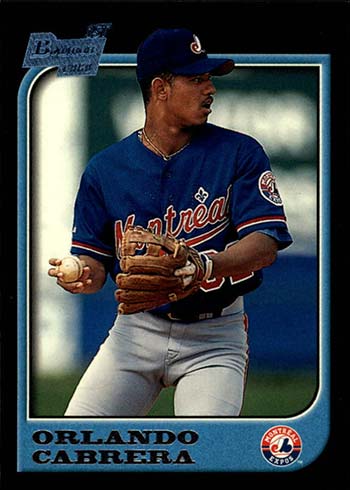 Pocket 9: 1997 Donruss #380 Bill Mueller RC ($1.25)
Bill Mueller was an unlikely AL batting title winner in 2003 when he hit .326 in the first season of a two-year, $4.5 million contract with the Red Sox. He followed that up by batting .283/.365/.446 with 40 extra-base hits and 75 runs scored in 2004, and he racked up 10.1 WAR in his three seasons with the team.
A productive 1996 season at Triple-A put him on the MLB radar and he had a wide variety of Rookie Cards the following year in the Collector's Choice, Donruss, Fleer, Metal Universe, Pacific, Topps and Ultra sets.
Buy on:
Total: $41.50