One-Sheet Collections: 1997 World Series Champion Florida Marlins WARriors
For many, nostalgia remains the driving force behind baseball card collecting, and that's how we arrived at the idea of One-Sheet Collections.
It's a simple concept with infinite possibilities.
Take a single nine-pocket sheet and a reasonable $50 budget, and build a nine-card collection with a unifying theme.
This time around, we turn our attention to an unforgettable 1997 Florida Marlins team.
Free-spending MLB teams are often accused of trying to buy a championship, and no team more accurately embodied that mindset than the Marlins.
In the span of two years, they assembled a contender through aggressive free-agent spending, won a World Series title and then set to work dismantling their roster in a fire sale the likes of which the sport has not seen before or since.
In honor of that team, this week's collection will highlight the nine highest WAR totals from the '97 Marlins roster, according to Baseball Reference. Only two of them were homegrown talents and most of them were gone before the 1998 season came to a close.
Enjoy!
Pocket 1: SP Kevin Brown (6.8 WAR)
Card: 1987 Donruss #627 Kevin Brown RC
Beckett Value: $1.50
Buy on:
The Marlins signed Brown to a three-year, $12.6 million contract prior to the 1996 season. After finishing second in NL Cy Young voting in his first year with the team, he went 16-8 with a 2.69 ERA, 1.18 WHIP and 205 strikeouts in 237.1 innings as the ace of the staff in 1997.
He was traded to the San Diego Padres immediately following the World Series win in exchange for a package of three prospects headlined by first baseman Derrek Lee.
His only rookie is in the 1987 Donruss set.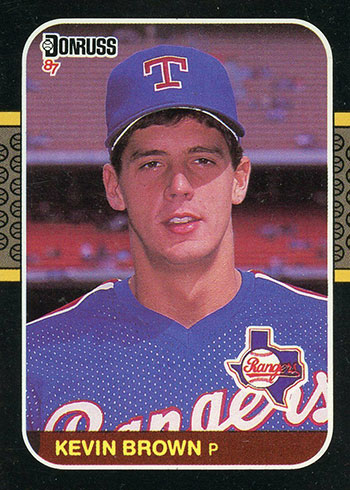 Pocket 2: C Charles Johnson (4.4 WAR)
Card: 1994 SP #113 Charles Johnson
Beckett Value: $0.40
Buy on:
The first draft pick in the Marlins franchise history, Johnson was chosen No. 28 overall in the 1992 draft after starring at the University of Miami and for Team USA.
He posted a 113 OPS+ with 19 home runs and 63 RBI during the '97 season while also throwing out 47 percent of base-stealers. He earned his first All-Star selection and won a Gold Glove Award, going 10-for-28 in the World Series to cap things off.
His true rookie card is in the 1991 Topps Traded set during his time with Team USA, but we opted for one of his first Marlins cards instead to illustrate that he was homegrown.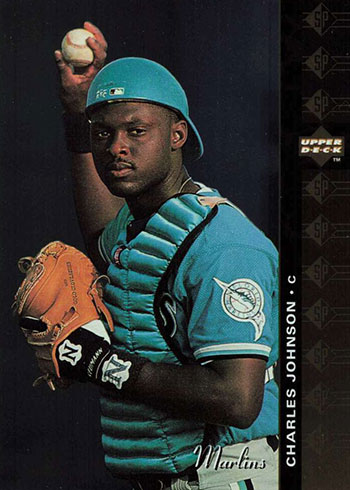 Pocket 3: SP Alex Fernandez (4.1 WAR)
Card: 1990 Fleer Update #U-84 Alex Fernandez RC
Beckett Value: $0.25
Buy on:
After seven seasons with the Chicago White Sox, Fernandez signed a five-year, $35 million contract with the Marlins prior to the '97 season.
He went 17-12 with a 3.59 ERA, 1.19 WHIP and 183 strikeouts in 220.2 innings as the No. 2 starter, but shoulder issues sidelined him during the World Series and he ended up missing the entire 1998 season.
The No. 4 overall pick in the 1990 draft, his only rookie card is part of the 1990 Fleer Update set.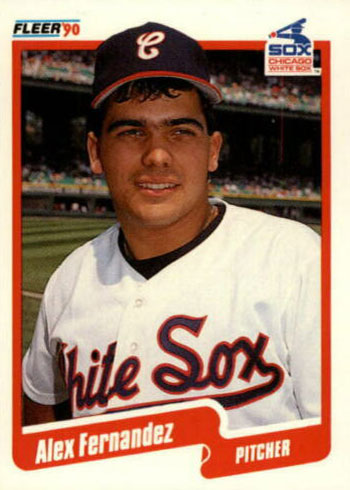 Pocket 4: LF Moises Alou (3.5 WAR)
Card: 1990 Score #592 Moises Alou RC
Beckett Value: $0.75
Buy on:
Another marquee free-agent signing ahead of the '97 season, Alou inked a five-year, $25 million contract after a 21-homer, 96-RBI season with the Montreal Expos.
He hit .292/.373/.493 with 23 home runs and 115 RBI as the starting left fielder and No. 5 hitter in what would be his lone season with the Marlins before he was traded to the Houston Astros for a trio of prospects who didn't pan out.
Alou also has rookie cards in the 1990 Bowman and Fleer sets.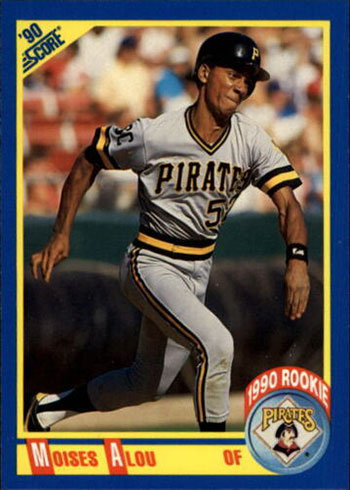 Pocket 5: RF Gary Sheffield (2.6 WAR)
Card: 1989 Upper Deck #13 Gary Sheffield RC
Beckett Value: $5
Buy on:
One of the few established pieces on the Marlins roster, Sheffield was acquired midway through the club's inaugural season in 1993 in a deal that sent a young Trevor Hoffman to San Diego.
After a 42-homer, 120-RBI season in 1996, he had a down year by comparison in '97, but he was still a powerful middle-of-the-order run producer. The Marlins traded him to the Los Angeles Dodgers in exchange for Mike Piazza in a blockbuster deal at the 1998 trade deadline.
The prodigious slugger has seven different rookie cards, with his entry in the legendary 1989 Upper Deck set being the most valuable of the bunch.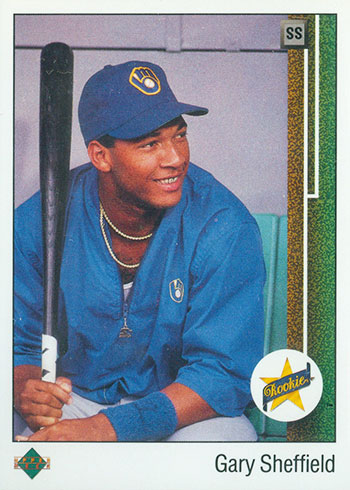 Pocket: 3B Bobby Bonilla (2.0 WAR)
Card: 1987 Fleer #605 Bobby Bonilla RC
Beckett Value: $1.25
Buy on:
Yet another big-name free-agent signing made prior to the '97 campaign, Bonilla signed a four-year, $23.3 million contract ahead of his age-34 season.
He hit .297/.378/.468 with 39 doubles, 17 home runs and 96 RBI as the everyday third baseman, and he homered in the bottom of the seventh inning in Game 7 of the World Series. He was also sent to Los Angeles as part of the aforementioned Sheffield-for-Piazza trade.
His rookie card is also featured in the 1987 Donruss and Topps sets.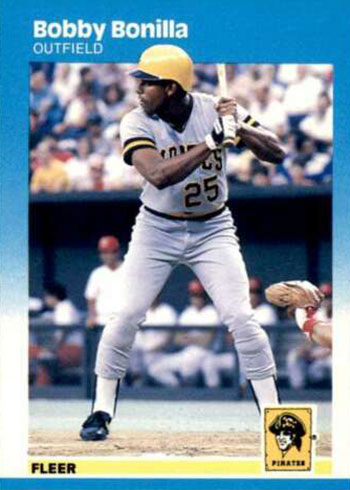 Pocket 7: SP Livan Hernandez (1.8 WAR)
Card: 1996 Bowman #266 Livan Hernandez RC
Beckett Value: $2
Buy on:
Hernandez was signed on Jan. 13, 1996 after he defected from Cuba and he joined the Marlins rotation full-time in 1997. He went 9-3 with a 3.18 ERA, 1.24 WHIP and 72 strikeouts in 96.1 innings to finish second in NL Rookie of the Year balloting, then turned in a postseason for the ages.
In five October starts, he was 4-0 with a 3.18 ERA, winning NLCS and World Series MVP honors along the way. The Marlins traded him to the San Francisco Giants at the 1999 trade deadline for Jason Grilli and Nate Bump.
He has seven different rookie cards, including one in the flagship Upper Deck set, but we opted for his 1996 Bowman card.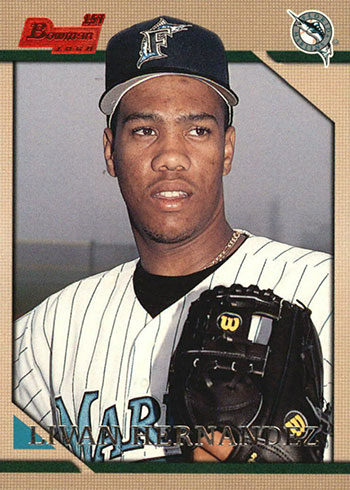 Pocket 8: 1B Jeff Conine (1.3 WAR)
Card: 1991 Upper Deck #27 Jeff Conine RC
Beckett Value: $0.75
Buy on:
"Mr. Marlin" joined the organization when he was chosen with the 22nd pick in the 1992 expansion draft. He finished third in NL Rookie of the Year voting in 1993 at the age of 27 and continued his development as a late-blooming star in the years to come.
Splitting his time between first base and left field, he hit .242/.337/.405 with 17 home runs and 61 RBI during the '97 season. He too was a casualty of the fire sale, with the Marlins trading him back to Kansas City on Nov. 20, 1997.
A 58th-round pick in the 1987 draft, he popped up in 1991 products after hitting .320 with 60 extra-base hits at Double-A the previous year. He has nine different rookie cards in total.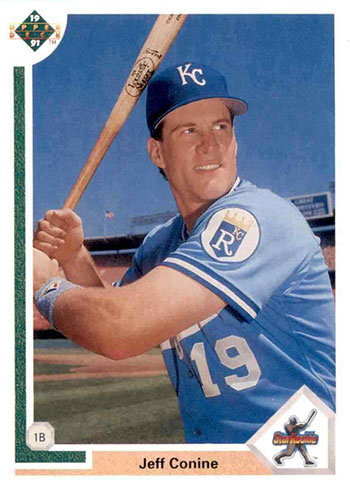 Pock 9: CF Devon White (1.3 WAR)
Card: 1987 Topps #139 Devon White RC
Beckett Value: $0.40
Buy on:
White was signed to a three-year, $9.9 million contract prior to the '96 season after helping the Toronto Blue Jays win a pair of World Series titles in 1992 and 1993.
He was limited to just 74 games in 1997 while battling injury, but he returned strong over the final two months of the season setting the table out of the leadoff spot in the lineup. He was one of the first to go in the fire sale, traded to the expansion Arizona Diamondbacks for a prospect who never reached the majors.
A sixth-round pick by the California Angels all the way back in 1981, he was first featured in 1987 products with rookies in the Donruss, Fleer, Leaf and Topps releases.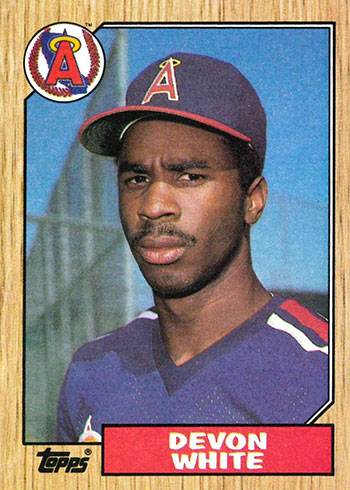 Total Beckett Value: $12.30