One-Sheet Collections: 1992 Inserts from Homer at the Bat's MLB Stars
When you click on links to various merchants on this site, like eBay, and make a purchase, this can result in this site earning a commission.
For many, nostalgia remains the driving force behind baseball card collecting, and that's how we arrived at the idea of One-Sheet Collections.
It's a simple concept with infinite possibilities.
Take a single nine-pocket sheet and a reasonable $50 budget, and build a nine-card collection with a unifying theme.
This time around, we turn our attention to an iconic episode of 1990s television.
The Simpsons has been on the air for 31 seasons, and there have been countless athletes and celebrities who have lended their voices to the long-running cartoon.
In the Season 3 episode titled "Homer at the Bat" a full lineup of MLB stars make an appearance as ringers called in to help the nuclear power plant's company softball team win the championship.
A signed copy of the script and a VHS tape are included among the countless artifacts housed at the Baseball Hall of Fame in Cooperstown.
In honor of that legendary piece of television, which originally aired on Feb. 20, 1992, this week's One-Sheet Collection will highlight the coolest 1992 insert card we could dig up for each of the nine players featured in the episode.
Enjoy!
Pocket 1: LF Jose Canseco, Oakland Athletics
Card: 1992 Fleer Lumber Company Jose Canseco #L5
Beckett Value: $1.25
Buy on:
The Lumber Company insert set that was a staple in Fleer products throughout the 1990s was first included in the 1992 release, and it made great use of the wood grain look. Each hobby factory set contained the full nine-card run.
With a 42-homer season and an AL MVP award already under his belt, Canseco tied with Detroit Tigers slugger Cecil Fielder for the MLB lead with 44 long balls in 1991.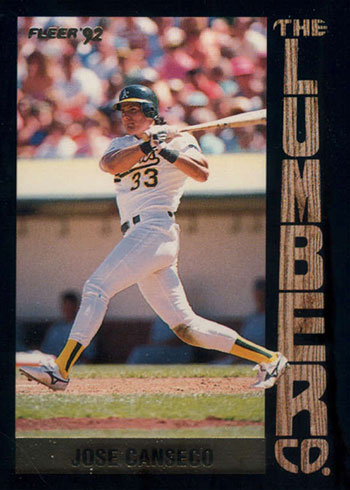 Pocket 2: CF Ken Griffey Jr., Seattle Mariners
Card: 1992 Fleer All-Stars Ken Griffey Jr. #23
Beckett Value: $4.00
Buy on:
Collectors loved inserts in the early 1990s and Fleer was not shy about giving the people what they wanted. This 24-card set is one of six insert subsets in the 1992 release and it was a hot commodity once upon a time.
Still just 22 years old at the start of the 1992 season, Griffey was already a two-time All-Star coming off a terrific '91 season where he hit .327/.399/.527 with 42 doubles, 22 home runs and 100 RBI.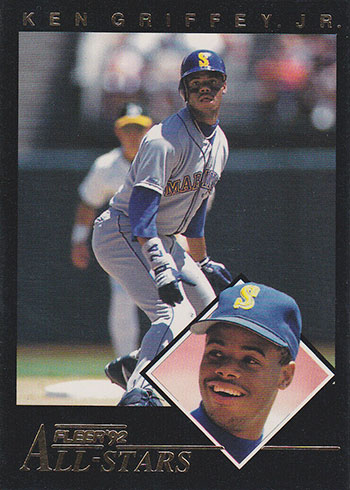 Pocket 3: RF Darryl Strawberry, Los Angeles Dodgers
Card: 1992 Upper Deck Home Run Heroes Darryl Strawberry #HR16
Beckett Value: $0.30
Buy on:
A 26-card set that featured many of the game's top sluggers as well as guys like Matt Nokes and Todd Zeile, the Home Run Heroes inserts had a brief run in the 1992 and 1993 Upper Deck releases.
Strawberry signed a five-year, $22.25 million contract with the Los Angeles Dodgers prior to the 1991 season, and he posted a 140 OPS+ with 28 home runs and 99 RBI in his debut with the team.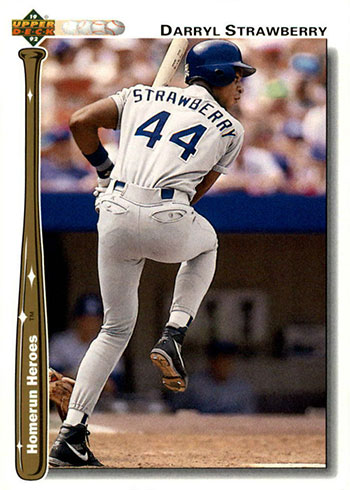 Pocket 4: SS Ozzie Smith, St. Louis Cardinals
Card: 1992 Ultra Award Winners Ozzie Smith #9
Beckett Value: $4.00
Buy on:
This 25-card set in 1992 Fleer Ultra featured the 18 Gold Glove winners, two Rookie of the Year winners, two Cy Young winners, two MVP winners and the World Series MVP.
Smith won his 12th of what would be 13 straight Gold Glove Awards in 1991 at the age of 36. He also hit .285 with 35 steals, 96 runs scored and more than twice as many walks (83) as strikeouts (36).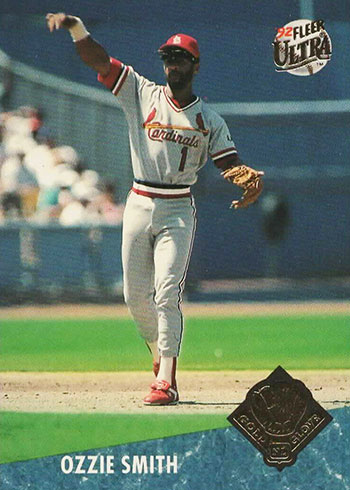 Pocket 5: SP Roger Clemens, Boston Red Sox
Card: 1992 Fleer Smoke 'n Heat Roger Clemens #S4
Beckett Value: $4.00
Buy on:
The Smoke 'n Heat insert set appeared in four different Fleer releases—1992, 1994, 1996 and 2006. All-time greats Roger Clemens and Randy Johnson are the only pitchers who appear in all four sets.
Clemens led the AL in ERA (2.62), strikeouts (241) and innings pitched (271.1) to win his third career Cy Young Award in 1991. He would win four more before his 24-year career came to a close.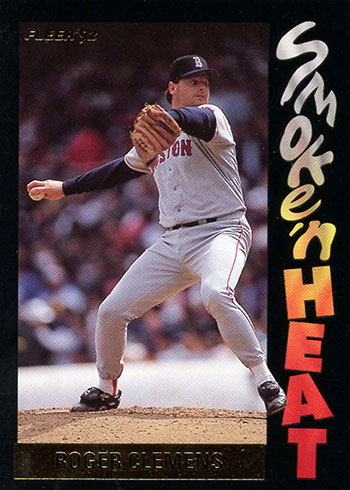 Pocket 6: 2B Steve Sax, Chicago White Sox
Card: 1992 Triple Play Gallery of Stars Steve Sax #GS4
Beckett Value: $0.50
Buy on:
Look familiar? Triple Play was a product produced by Donruss for three years from 1992-94 that came at a lower price point and was targeted toward kids. The Gallery of Stars insert set in 1992 looked remarkably similar to the Diamond Kings subsets that were a longtime staple in the regular Donruss product.
Sax hit .304 with 38 doubles and a career-high 10 home runs in 1991 before he was traded from the New York Yankees to the Chicago White Sox during the offseason.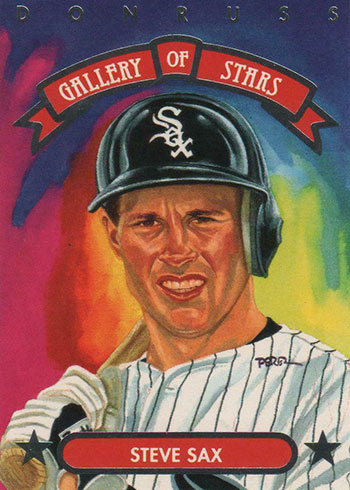 Pocket 7: 3B Wade Boggs, Boston Red Sox
Card: 1992 Ultra All-Stars Wade Boggs #4
Beckett Value: $1.00
Buy on:
The 1992 Ultra All-Stars insert set featured 20 cards with a unique green marble background and an overall design similar to the highly sought after Donruss Elite inserts of the same era.
At 33 years old in 1991, Boggs hit .332/.421/.460 with 89 walks and just 32 strikeouts in 641 plate appearances. He earned an All-Star selection for the seventh straight season, a streak that would ultimately stretch to 12 years.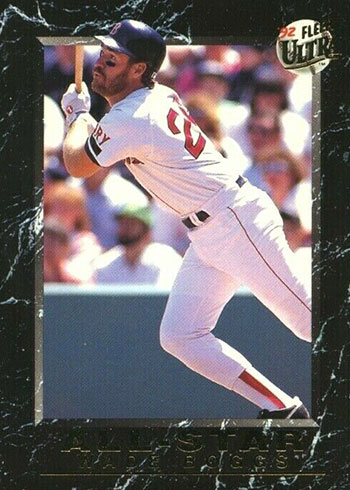 Pocket 8: C Mike Scioscia, Los Angeles Dodgers
Card: 1992 Topps Gold Mike Scioscia #13
Beckett Value: $0.75
Buy on:
The 1992 Topps set marked a number of significant milestones for the brand, including the switch from wax to cello packs, the exclusion of the stick of gum, and a move to a bright white card stock. It also saw the Topps Tiffany product discontinued in favor of Topps Gold, which was a randomly inserted parallel set.
Scioscia was not featured in any 1992 insert sets, so this serves as the next best thing for his spot in our collection. An All-Star in 1989 and 1990, he hit .264 with eight home runs and 40 RBI in 1991.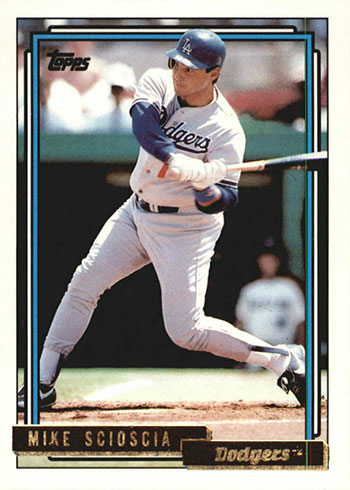 Pocket 9: 1B Don Mattingly, New York Yankees
Card: 1992 Fleer Team Leaders Don Mattingly #1
Beckett Value: $10.00
Buy on:
A 20-card set that oddly didn't feature a representative from every team, Fleer Team Leaders inserts could be found in rack packs. Each rack pack yielded either one Team Leader or one Roger Clemens Career Highlights insert.
No longer the MVP candidate he was in his prime, Mattingly was still a productive player in 1991, hitting .288/.339/.394 with nine home runs and 68 RBI.
Total Beckett Value: $25.80