One-Sheet Collections: 1990s Baseball Stars Without Flagship Topps Rookie Cards
For many, nostalgia remains the driving force behind baseball card collecting, and that's how we arrived at the idea of One-Sheet Collections.
It's a simple concept with infinite possibilities.
Take a single nine-pocket sheet and a reasonable $100 budget, and build a nine-card collection with a unifying theme.
For this week's theme, we focused on the first Topps card of notable MLB players from the 1990s who do not have a Topps flagship Rookie Card.
It's hard to imagine now that the Topps flagship rookie has become such a sought after part of any player's database, but these MLB stars first Topps card did not come until after they had rookies released by other brands.
Enjoy!
Pocket 1: 1992 Topps #242 Mike Mussina ($0.25)
The Baltimore Orioles selected Mussina with the No. 20 overall pick in the 1990 draft out of Stanford, and his Rookie Cards are featured in 1991 Bowman, Score and Upper Deck releases, as well as the 1991 Ultra Update set.
In 18 MLB seasons, he won 270 games and posted a 3.68 ERA with 2,813 strikeouts in 3,562.2 innings. The five-time All-Star was inducted into the Hall of Fame in 2019 in his sixth year on the ballot.
Buy on: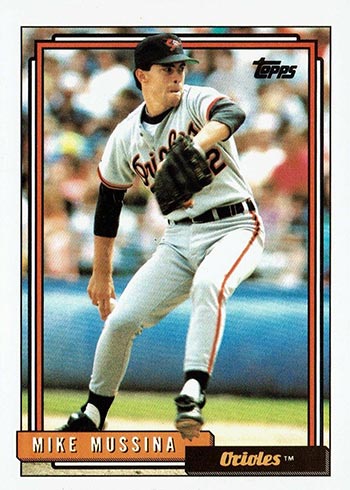 Pocket 2: 1992 Topps #768 Jim Thome ($0.25)
Jim Thome was a 13th-round pick out of Illinois Central College in 1989, and he established himself as a prospect on the rise in 1990 when he hit .340/.466/.609 with 11 doubles, 16 home runs and 50 RBI in 67 games between rookie ball and High-A.
That was enough to earn him a spot in the 1991 Bowman and Upper Deck Final Edition sets, and he made his MLB debut that year when he batted .255 with one home run in 27 games at the age of 20. His first Topps card was included in the flagship set the following year.
Buy on: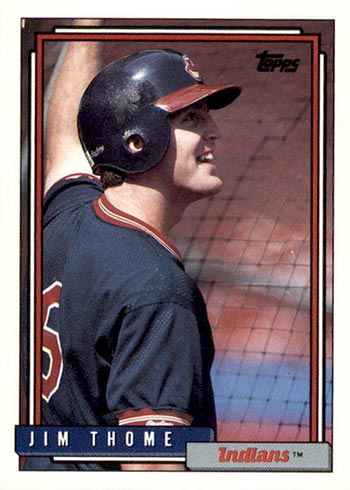 Pocket 3: 1993 Topps #557 Pedro Martinez ($1)
Props to Upper Deck for getting out in front of the Pedro Martinez hype. His only Rookie Card is featured in the 1991 Upper Deck Final Edition set, and comes after he posted a 3.62 ERA with 40 walks and 82 strikeouts in 77 innings in rookie ball in his pro debut.
Martinez had cards in the 1992 Bowman and 1992 Donruss Rookies sets, as well as an insert in the 1992 Leaf Gold Rookies set, before he was finally included in the 1993 Topps base set. Four years later, he was kicking off arguably the most dominant pitching peak in baseball history.
Buy on: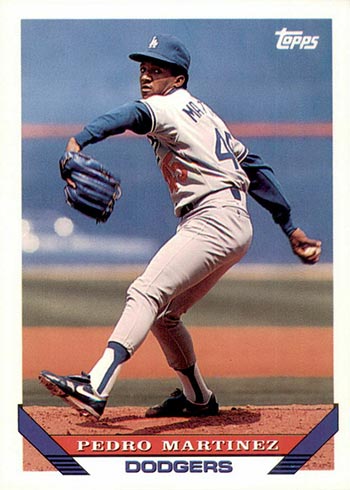 Pocket 4: 1993 Topps #701 Mike Piazza ($4)
One of the biggest MLB draft steals of all-time, Mike Piazza was selected in the 62nd round of the 1988 draft. In his second season at High-A in 1991, he posted an .884 OPS and slugged 29 home runs in 117 games. That was enough to earn him a spot in the rookie-heavy 1992 Bowman release, and he also has a rookie in the 1992 Fleer Update set.
Topps joined the party the following year after he hit .350/.413/.587 with 23 home runs and 90 RBI in 125 games between Double-A and Triple-A, and his first solo Topps card was included in the 1993 Topps Traded set.
Buy on: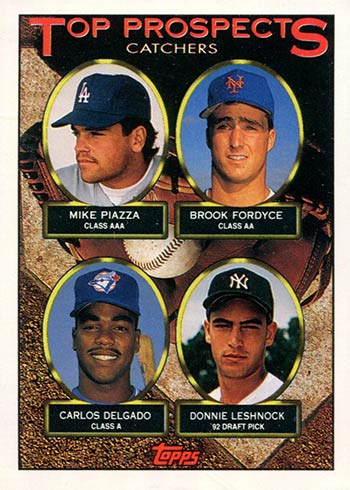 Pocket 5: 1995 Topps Traded #130T Mariano Rivera ($10)
Legendary closer Mariano Rivera actually had his first two MLB cards in the 1992 Bowman and 1993 Bowman sets before he was finally included in a wider variety of products in 1995.
He made his MLB debut at the age of 25 during the '95 season, posting a 5.51 ERA and 1.51 WHIP in 67 innings spanning 10 starts and nine relief appearances. That was enough to earn him a spot in the 1995 Topps Traded set for his first Topps card. The following season, he made the full-time move to the bullpen for a World Series bound Yankees squad and the rest is history.
Buy on: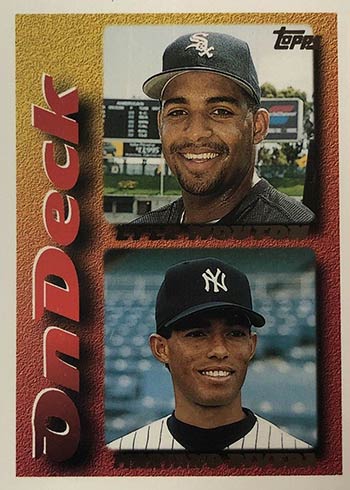 Pocket 6: 1996 Topps #435 Vladimir Guerrero/Andruw Jones ($2.50)
The only Rookie Cards of superstar outfielders Vladimir Guerrero and Andruw Jones both appear in the 1995 Bowman and Bowman's Best sets, and they were pictured together the following year on their first Topps card.
Jones was the No. 1 prospect in baseball at the start of the 1996 season, according to Baseball America, while Guerrero was not far behind at No. 9 on the list. They went on to play a combined 33 MLB seasons, earning 14 All-Star selections, slugging 883 home runs and tallying 122.2 WAR along the way.
Buy on: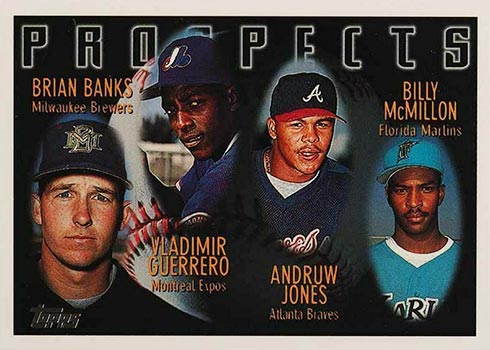 Pocket 7: 1998 Topps #257 David Ortiz ($2.50)
After hitting .322/.390/.511 with 34 doubles, 18 home runs and 93 RBI at Single-A in 1996, David Ortiz had his first Rookie Cards featured in the 1997 Fleer and Ultra sets. The fact that those are his only two rookies is part of the reason they still command a premium.
He had 38 doubles, 31 home runs and 124 RBI in 140 games over three minor league levels in '97, earning a September call-up at the age of 21, and Topps included him for the first time alongside fellow future MLB sluggers Richie Sexson and Daryle Ward in the 1998 base set.
Buy on: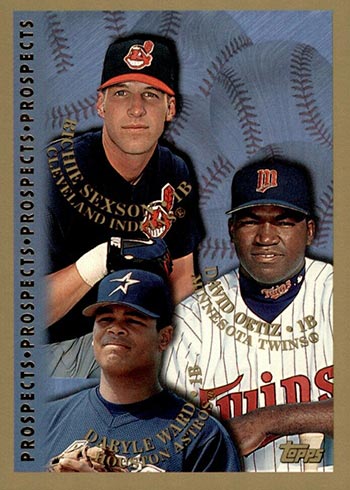 Pocket 8: 1998 Topps #254 Adrian Beltre ($0.30)
Like many players in the late 1990s and early 2000s, Adrian Beltre had his first cards featured in a Bowman set. His 1997 Bowman, Bowman Chrome and Bowman's Best cards are his only rookies, with Topps and several others jumping on the bandwagon in 1998 when he began the season as baseball's No. 3 overall prospect.
He hit just .215 with seven home runs in 77 games as a 19-year-old rookie in '98, but broke out the following season and wound up playing 21 years in the big leagues with 3,166 hits, 477 home runs, 1,707 RBI and 93.5 WAR as one of the greatest third basemen in MLB history.
Buy on: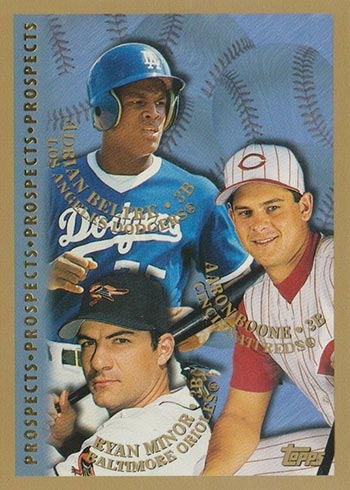 Pocket 9: 1998 Topps #504 Alex Rodriguez ($2)
Alex Rodriguez did not sign a contract with Topps until the 1998 season, four years after his Rookie Cards were featured in a wide variety of 1994 products and with two All-Star Game appearances already under his belt.
That makes him a unique addition to this list, as it was not simply a matter of Topps being late to the party with including him in sets, but a case of them never having an opportunity to include one of the most hyped young players of all-time in their flagship set for several years.
Buy on: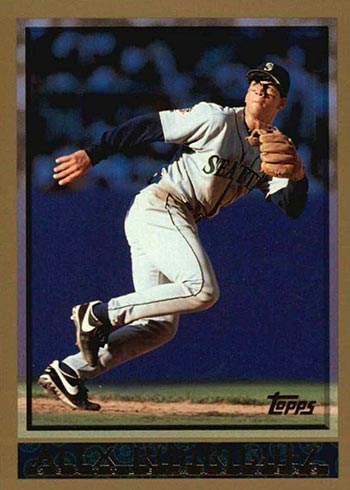 Total: $22.80