One-Sheet Collections: $100 Tampa Bay Rays Starter Kit
For many, nostalgia remains the driving force behind baseball card collecting, and that's how I arrived at the idea of One-Sheet Collections.
It's a simple concept with infinite possibilities.
Take a single nine-pocket sheet and a reasonable $100 budget, and build a nine-card collection with a unifying theme.
I'm just kicking off a new team-specific theme to the One-Sheet Collections series. I've already covered the Arizona Diamondbacks, and now it's on to the Tampa Bay Rays we work our way chronologically through MLB franchise history.
Like the D-backs, the Rays are still a relatively new team compared to most of the league, with their first season coming in 1998. Ahead I've selected nine cards that represent a good starter collection for any Rays fan who is just diving into card collecting.
1999 Bowman #440 Carl Crawford RC ($2)
The Rays selected Carl Crawford with the No. 52 overall pick in the 1999 draft, and he made his MLB debut three years later just before his 21st birthday. He spent nine seasons in a Rays uniform, earning four All-Star selections while tallying 35.6 WAR and establishing himself as the franchise's all-time leader in hits (1,480) and steals (409).
Crawford's only Rookie Cards appear in the 1999 Bowman, 1999 Bowman Chrome, 1999 Topps Traded, and 1999 Topps Chrome Traded sets.
Buy on: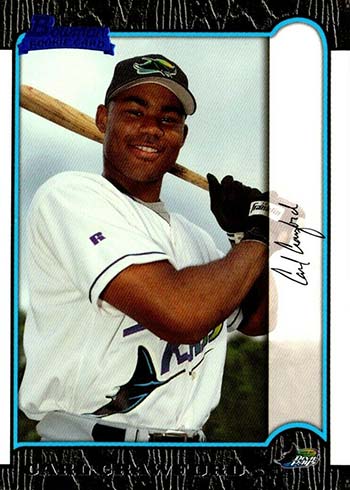 2000 Finest Moments Refractors Autograph #FM4 Wade Boggs ($50)
After 11 seasons with the Boston Red Sox and five years with the New York Yankees, Hall of Famer Wade Boggs signed a two-year deal with his hometown Rays to close out his career. He tallied his 3,000th career hit on Aug. 7, 1999 with a home run, providing the first true highlight for the fledgling franchise.
That hit was immortalized on a number of cards in 2000 products, but none better than the 2000 Finest Moments inserts which came in base, Refractor and autograph versions. It's half the budget, but it's money well spent.
Buy on: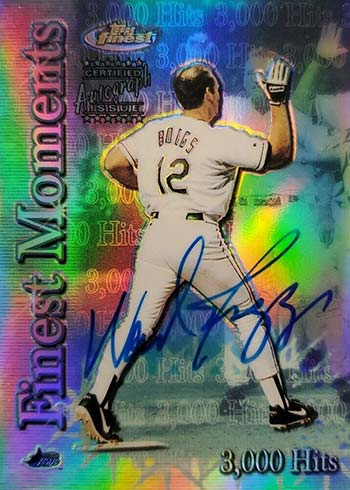 2006 Topps Update #UH133 Ben Zobrist (RC) ($5)
The Rays acquired Ben Zobrist from the Houston Astros at the 2006 trade deadline in exchange for Aubrey Huff. Zobrist's versatility helped usher in the more widespread use of a super-utility player. His 35.3 WAR ranks third all-time among Rays players, and he was an All-Star in 2009 and 2013.
His only Rookie Cards are in 2004 Donruss Elite Extra Edition and 2004 SP Prospects, but the "RC" logo was used on his 2006 cards, including his first Topps cards in the 2006 update set.
Buy on: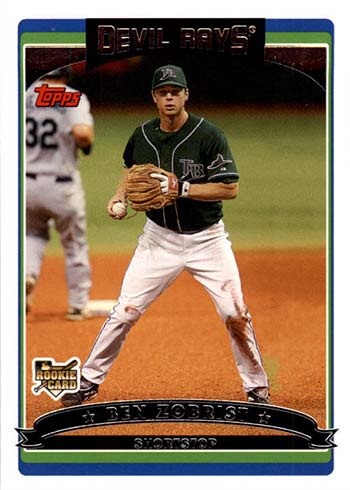 2008 Topps Update #UH10 Evan Longoria RC ($6)
The No. 3 overall pick in the 2006 draft, Evan Longoria stands as the greatest player in Rays franchise history. He is the franchise's all-time leader in doubles (338), home runs (261), RBI (892), runs scored (780) and WAR (51.2).
He has a wide variety of different Rookie Cards in 2008 products after he made his MLB debut on April 12, 2008, including a Topps Chrome and Topps Update rookie after he wasn't initially included in the flagship set.
Buy on: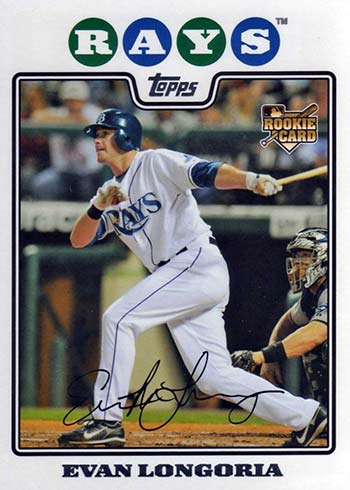 2009 Topps #35 David Price RC ($1.50)
David Price went 11-1 with a 2.63 ERA, 0.95 WHIP and 194 strikeouts in 133.1 innings during his junior season at Vanderbilt, and the Rays selected him with the No. 1 overall pick in the 2007 draft. He made his MLB debut as a reliever in 2008 before joining the rotation the following year, and he is the franchise's all-time leader in pitcher's WAR (21.3) and took home AL Cy Young honors in 2012.
His late-2008 debut opened the door for his Rookie Cards to be included in early release 2009 products, and his Topps flagship rookie is a must-own for any Rays fan.
Buy on: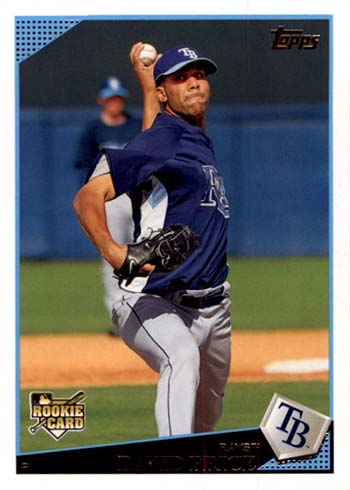 2014 Topps Update #US253 Kevin Kiermaier RC ($1.50)
One of the best defensive center fielders of his era, Kevin Kiermaier has won three Gold Glove awards while racking up 31.9 WAR in 10 seasons in Tampa Bay. Not bad for a guy who was a 31st-round pick in 2010 out of Parkland College in Champaign, Illinois.
He took over as Tampa Bay's starting center fielder in mid-May of 2014, but he only has four Rookie cards in 2014 Classics, 2014 Panini National Treasures, 2014 Topps Heritage and 2014 Topps Update.
Buy on: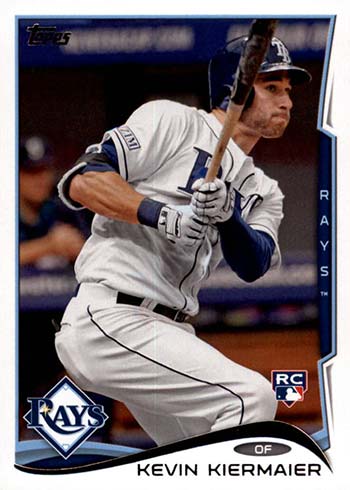 2016 Topps Update #US67 Blake Snell RC ($1.25)
While his time with the Rays was relatively short, left-hander Blake Snell made his mark on franchise history when he went 21-5 with a 1.89 ERA, 0.97 WHIP and 221 strikeouts in 180.2 innings in 2018 to win AL Cy Young honors. He was traded to San Diego prior to the 2021 season in exchange for four prospects.
He has 14 different Rookie Cards, including a couple of autographed options, but I've opted for his base Topps rookie to fill his slot in our Rays collection.
Buy on: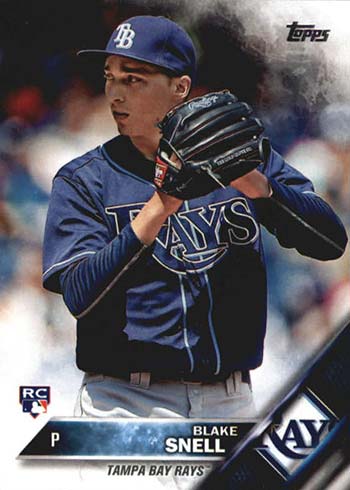 2020 Topps Update #U208 Randy Arozarena RC ($12)
A postseason hero in 2020, Randy Arozarena backed up his stellar October performance by winning AL Rookie of the Year honors in 2021. The 27-year-old hit .274/.356/.459 for a 130 OPS+ with 32 doubles, 20 home runs, 20 steals and 4.1 WAR.
After debuting as a September call-up in 2019, Arozarena was included in the 2020 Topps base set in a Cardinals uniform. However, he was traded to the Rays prior to the 2020 season in exchange for slugger Jose Martinez, so he also has a Rookie Card in that year's Topps Update set picturing him with the Rays.
Buy on: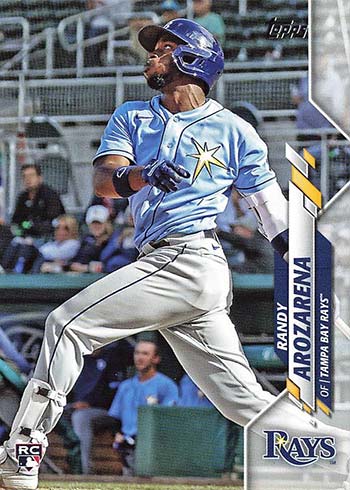 2022 Topps #215 Wander Franco (RC) ($20)
The consensus No. 1 prospect in baseball at the start of the 2021 season, Wander Franco backed up the hype by hitting .288/.347/.463 with 30 extra-base hits and 3.5 WAR in 70 games as a rookie. The Rays rewarded him with an 11-year, $182 million extension, and he should be the face of the franchise for the next decade.
Buy on: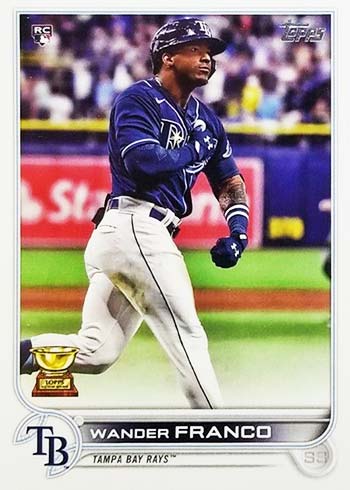 Total: $99.25