One-Sheet Collections: #1 Baseball Prospects of the 1990s
For many, nostalgia remains the driving force behind baseball card collecting, and that's how we arrived at the idea of One-Sheet Collections.
It's a simple concept with infinite possibilities.
Take a single nine-pocket sheet and a reasonable $100 budget, and build a nine-card collection with a unifying theme.
This time around we focus on the top prospects of the 1990s.
Looking back at the Top 100 prospect lists from Baseball America during the 1990s, there were nine different players who saw their name penciled into the No. 1 overall prospect spot during the decade, with one guy earning that honor twice.
It's a mixed bag of future stars, epic busts and solid MLB performers who had productive careers despite never living up to lofty expectations.
In this week's collection, we've highlighted one rookie card for each of the nine players who were baseball's top prospect at one point during the 1990s.
Enjoy!
Pocket 1: Steve Avery (1990)
Card: 1989 Topps #784 Steve Avery FDP RC – $0.25
Buy on: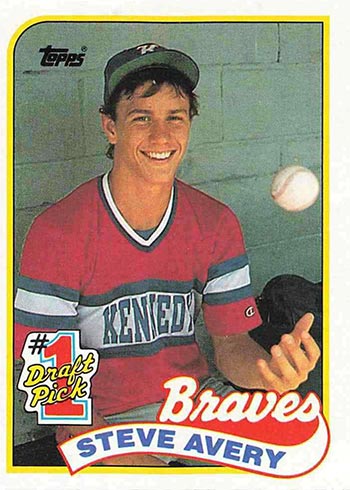 The No. 3 overall pick in the 1988 draft, Avery went 12-7 with a 2.11 ERA, 1.06 WHIP and 165 strikeouts in 171 innings in his first full season in the minors to soar to the top of the Baseball America Top 100 in 1990.
He made his debut shortly after his 20th birthday in 1990, and the following year he finished sixth in NL Cy Young voting. The left-hander never quite lived up to expectations, but he threw 1,222.1 innings of 3.83 ERA ball for some really good Atlanta Braves teams from 1990 through 1996.
Pocket 2: Todd Van Poppel, OAK (1991)
Card: 1991 Upper Deck #53 Todd Van Poppel RC – $0.25
Buy on: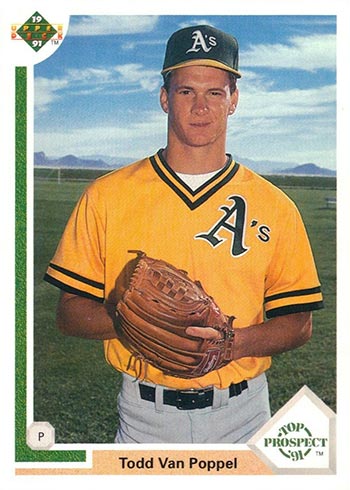 The consensus top talent in the 1990 draft, Van Poppel fell to No. 14 overall after he told the Braves flat-out that he would not sign if they took him No. 1 overall. They settled for a high school shortstop named Chipper Jones, so that worked out alright.
Rushed to the majors after signing an MLB deal and then posting a 2.15 ERA with 49 strikeouts in 37.2 innings in his minor league debut, Van Poppel saw his career derailed by injuries and a general lack of polish. He did manage to hang around for 11 seasons and 907 innings, pitching mostly in relief.
Pocket 3: Brien Taylor, NYY (1992)
Card: 1992 Topps Gold #6 Brien Taylor RC – $4
Buy on: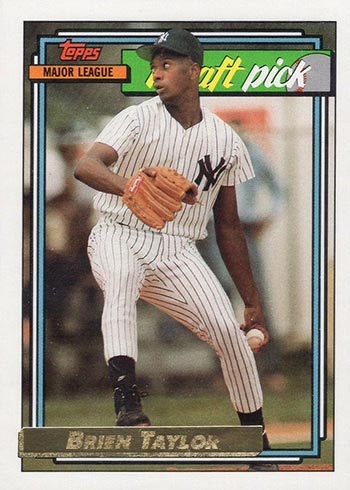 The No. 1 overall pick in the 1991 draft and one of the most hyped pitching prospects in MLB history, Taylor began his pro career with dominant performances at High-A in 1992 (2.57 ERA, 187 K, 161.1 IP) and Double-A in 1993 (3.48 ERA, 150 K, 163 IP).
Unfortunately, he injured his shoulder in a fight during the 1993 offseason and he was never the same. The 1992 Topps set featured a base rookie, Gold and Gold Winner parallels, and a Gold parallel autograph with a different image that was card No. 793 in factory sets.
Pocket 4: Chipper Jones (1993)
Card: 1991 Topps #333 Chipper Jones RC – $15
Buy on: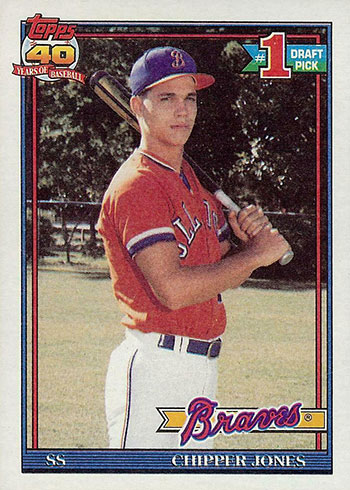 A top-five prospect on the Baseball America Top 100 list four years running, Jones peaked at No. 1 prior to the 1993 season. He hit .311/.360/.504 with 39 doubles, 12 triples, 13 home runs and 24 steals as a 20-year-old between High-A and Double-A in 1992 to cement his status as a future star.
The Braves were patient with him and he didn't become a full-time MLB player until the 1995 season when he hit .265/.353/.450 with 23 home runs and 86 RBI to finish runner-up in NL Rookie of the Year voting and help the Braves win a World Series title.
Pocket 5: Cliff Floyd (1994)
Card: 1992 Bowman #678 Cliff Floyd RC – $3
Buy on: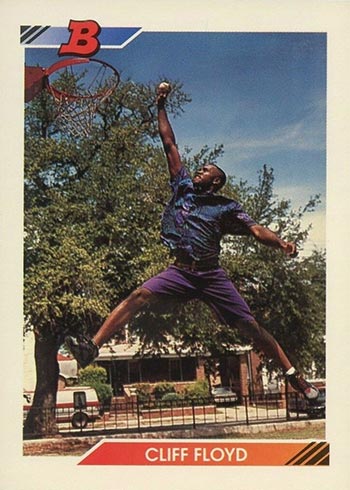 Floyd was the No. 14 pick in the same 1991 draft that saw Brien Taylor go No. 1 overall, and two years after Taylor climbed to the top of the Baseball America rankings he took his own turn in the top spot.
The toolsy outfielder hit .307/.396/.535 with 28 home runs and 33 steals between Double-A and Triple-A in 1993, and he was 7-for-31 with a home run as a September call-up that year. Injuries kept him from reaching his full potential in the majors, but he did have a pair of 30-homer seasons and finished with a 119 OPS+ and 233 long balls in 17 seasons.
Pocket 6: Alex Rodriguez (1995)
Card: 1994 Upper Deck #24 Alex Rodriguez RC – $15
Buy on: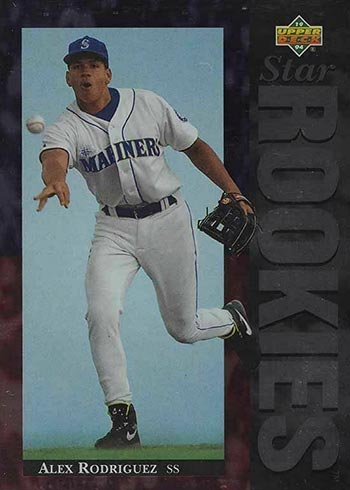 Viewed as a generational talent when he was chosen No. 1 overall in the 1993 draft, Rodriguez made his pro debut the following season and laid waste to minor league pitching with a .312/.376/.577 line that included 28 doubles, 11 triples, 21 home runs and 20 steals.
He made his MLB debut down the stretch that year just before his 19th birthday, and by 1996 he had settled in as Seattle's everyday shortstop and a bona fide superstar with a runner-up finish in AL MVP voting. His iconic SP rookie card doesn't quite fit the budget here, but there are plenty of others to choose from, despite the fact that he was not included in Topps products.
Pocket 7: Andruw Jones (1996, 1997)
Card: 1995 Bowman #23 Andruw Jones RC – $30
Buy on: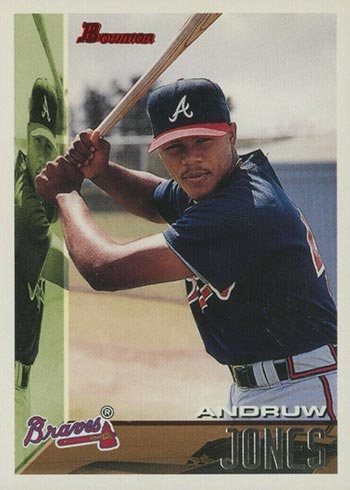 Signed out of Curacao at the age of 16 in 1993, Jones earned the No. 1 spot on the 1996 Top 100 list after posting an .884 OPS with 41 doubles, 25 home runs and 100 RBI at Single-A as an 18-year-old.
He hit .339/.421/.652 with 34 home runs and 30 steals in 116 games over three minor league levels the following year and the Braves called him up for their playoff push. Despite hitting .400 and slugging a pair of home runs in the World Series as a 19-year-old, Jones still maintained rookie eligibility heading into the 1997 season and he was again slotted in the No. 1 prospect spot.
Pocket 8: Ben Grieve (1998)
Card: 1994 Topps Traded #44T Ben Grieve RC – $1
Buy on: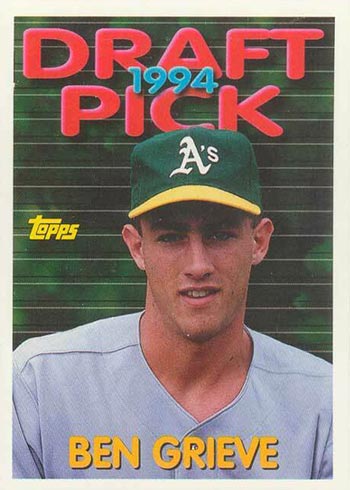 Grieve turned in a .350/.461/.640 line with 40 doubles, 31 home runs and 136 RBI in 127 games between Double-A and Triple-A in 1997, then hit .312/.402/.473 with three home runs and 24 RBI in 24 games as a September call-up.
That earned him the No. 1 spot on the 1998 Top 100 and he lived up to expectations by winning AL Rookie of the Year honors and earning a spot on the AL All-Star team. He had a brief peak in Oakland before he was traded to Tampa Bay where he quickly faded, but he still finished his nine-year career with a 113 OPS+ and 118 home runs.
Pocket 9: J.D. Drew (1999)
Card: 1998 Fleer Tradition Update #U100 J.D. Drew RC – $2.50
Buy on: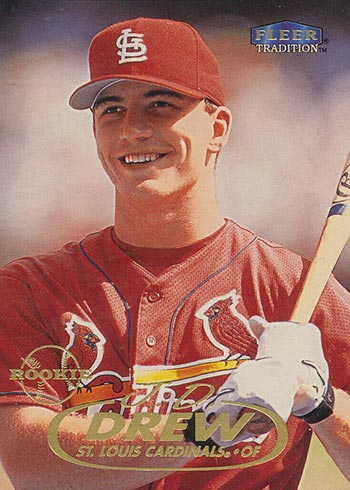 Selected No. 2 overall by the Phillies in the 1997 draft, Drew refused to sign when Philadelphia did not meet agent Scott Boras' asking price and he spent the '97 season playing in the independent Northern League.
The Cardinals made him the No. 5 pick the following year and he rocketed through the minors to make his MLB debut that same September. He hit .417/.463/.972 with five home runs in 41 plate appearances down the stretch, and he was given the No. 1 prospect ranking the following year. An underrated player over the course of his 14 MLB seasons, he hit .278/.384/.489 with 242 home runs and 44.9 WAR in his career.
Total Price: $71.00