One Jimi Hendrix Relic commands cash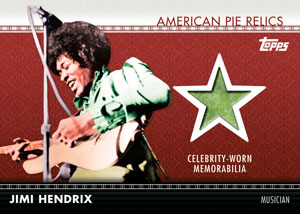 By Susan Lulgjuraj | Contributing Editor
Despite Jimi Hendrix's popularity as a musician and pop culture icon, he doesn't have many trading cards to his name.
In fact, before this year, Hendrix has just one listed in the Beckett database: 2001 American Pie. Keep in mind that the non-sports database is not complete, but always growing with new listings.
Ten years later, Topps included Hendrix in American Pie once again. The 2011 version, however, has Hendrix on base cards, parallels and coin collection cards.
But the one Hendrix card that is gaining most attention is a Relic redemption.
With Hendrix's popularity still high even 41 years after his death, there's little surprise his cards are doing well on the secondary market.
The first American Pie Relic redemption to hit eBay sold for $405.99. The second, $232.49 and the third sold for $191.71.
Currently, there are two more redemptions on eBay and both have already surpassed the $100 mark.
There is no way of knowing what the Relic actually is though. The redemption simply states 'American Pie Relic' and then lists his name. This could be a shirt, bandana, pair of pants, piece of guitar or something else.
What might it be? We'll find out when the redemptions are fulfilled.
Susan Lulgjuraj is a contributing editor for Beckett Media. You can email Susan here. Follow her on Twitter here.