One for the Flutie SuperCollectors out there …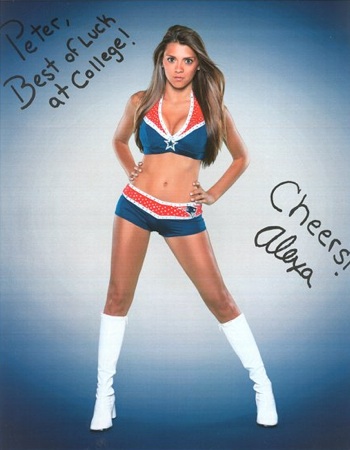 By Chris Olds | Beckett Sports Card Monthly Editor | Commentary
A new NFL season is officially upon us and that means some of us collectors are checking out team websites to see what kinds of game-used and autographed memorabilia may be available to the masses from a pretty trustable source.
I made it through four team shops before I found this gem that will cost you a whopping $10 (plus shipping) straight from the New England Patriots.
As you can see, it's definitely not a Tom Brady or Danny Woodhead autograph but there's some NFL history here, despite it being an autograph of a rookie member of the Patriots cheerleading squad.
Her name is Alexa Flutie — and you just might recognize her name if you're a football fan.
You see, she's the daughter of former Patriots quarterback and long-time NFL veteran Doug Flutie. She made the squad this season after a few failed tryouts but this would be the closest thing to her Rookie Card, her debut photo — with certified autograph — as released by the team.
Believe it or not, the Patriots have offered autographed photos of the team's members for the last few years (since at least 2008) with collectors or fans — or whatever you want to call yourselves — the option of having an inscription of your choice added to your photo … as long as it stays classy.
Her dad played 12 seasons in the NFL and a few more seasons in the Canadian Football League, appearing on nearly 1,500 cards in the Beckett.com database. Does a diehard Flutie fan or SuperCollector need this for a collection to be one step closer to complete? Perhaps.
When it comes to autographs, her pops isn't exactly a plentiful signer, either, as he's inked just 108 different certified autograph cards for NFL card licensees.
Will her famous father's elusive signing habits rub off on this rookie cheerleader soon?
Let's hope not, but at $10 per you never know.
Chris Olds is the editor of Beckett Sports Card Monthly magazine. Have a comment, question or idea? Send an email to him at colds@beckett.com. Follow him on Twitter by clicking here.