On This Day: Legendary Tigers Debut Together – Beckett Pricing Insider
On September 9, 1977, Detroit Tiger manager Ralph Houk made two young prospects' major league dreams come true. Little did Houk know that the pair would spend the next 19 years together and become one of the greatest double play tandems in history. More important, the pair would forever be remembered as Tiger legends.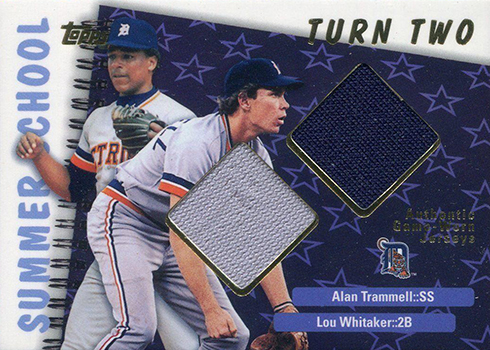 Alan Trammell, the Tigers second baseman that day, was just nineteen-years old. In what would be an 8-6 loss to the Red Sox at Fenway Park in the second game of a doubleheader, Trammell went 2-3 with a pair singles.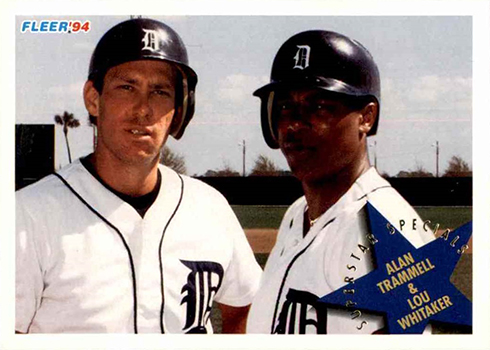 At short, the Tigers started the 20-year-old Lou Whitaker, who had an even more impressive debut going 3-5 with a double, RBI and stolen base.
Trammell would end his 20-year Tiger career as a six-time All-Star, four-time Gold Glove winner, three-time Silver Slugger, as well  as the owner of both a World Series ring and World Series MVP Award. He was recently enshrined in Cooperstown.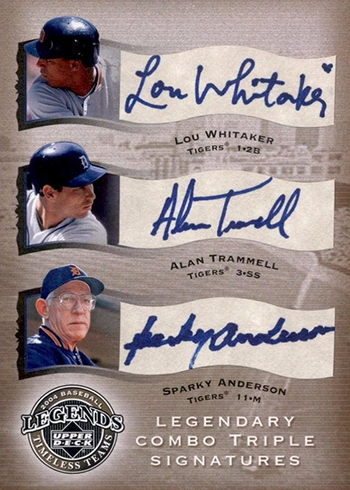 Whitaker would win the American League Rookie of the Year Award in 1978 and play for the Tigers for nineteen years. During that time, he appeared in five All-Star games, earned four Silver Sluggers, three Gold Gloves, and a World Series ring in 1984.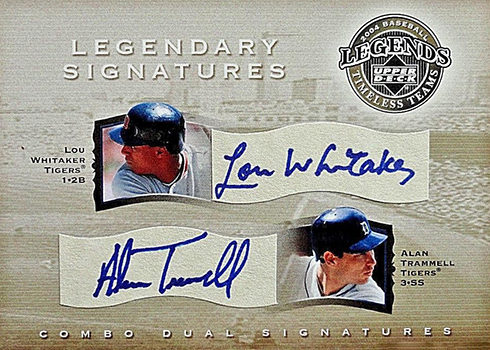 Trammell and Whitaker appear together on seven cards – and one restaurant placemat– in the Online Price Guide with values ranging from $0.30 to $200.
Here's a quick look at what they've got along with their values:
1985 Tigers Elias Brothers Placemats #4 Alan Trammell/Lou Whitaker – $4-$10
1987 Sportflics Team Preview #15 Detroit Tigers – $0.60-$1.50
1994 Fleer # 709 Lou Whitaker/Alan Trammell – $0.10-$.30
1996 Fleer Golden Memories #10 Alan Trammell/Lou Whitaker – $0.15-.$0.60
2002 Topps Summer School Turn Two Relics TTRTW Alan Trammell/Lou Whitaker – $10-$25
2004 UD Legends Timeless Teams Legendary Signatures Dual #WT Lou Whitaker/Alan Trammell /75 – $60-$150
2004 UD Legends Timeless Teams Legendary Signatures Triple #TWA Alan Trammell/Lou Whitaker/Sparky Anderson /50 – $100-$200
2006 Upper Deck Epic Four Barrel #TWYM Trammell/Whitaker/Yount/Molitor 1/1 – no pricing due to rarity
This edition of the Beckett Pricing Insider is sponsored by MN Nice Cards.