On the Rise: 2013 Topps Heritage Nolan Arenado RC – Beckett Pricing Insider
This edition of the Beckett Pricing Insider is sponsored by MVP Sports Collectibles.
Over the last four seasons, Colorado Rockies third baseman Nolan Arenado has established himself as one of Major League Baseball's most prolific hitters and, arguably, the best defensive third baseman in the game. During this stretch, the four-time All Star has hit .297 with 158 home runs and 503 runs batted in. In each of these seasons, Arenado has finished in the top ten in MVP voting and has won a Silver Slugger Award. He's won a Gold Glove for every year that he's been in the majors, from 2013 through 2018.
Currently undervalued as an Unlisted Star in the Online Price Guide, Arenado has over 4,000 cards in the OPG, dating back to 2009 Elite Extra Edition and 2009 TRISTAR Prospects Plus. He currently has 368 certified autograph cards, 654 memorabilia cards and 3,102 serial number cards. His 13 Rookie Cards appear in 2013 products and currently have an average value of about $15.
While, generally, his 2010 Bowman Chrome Prospects autograph ($400) and his 2009 Donruss Elite Extra Edition Signature Turn of the Century autograph ($100) have been among his most popular cards, over the last several months, his 2013 Topps Heritage #H519 RC has picked up a serious head of steam.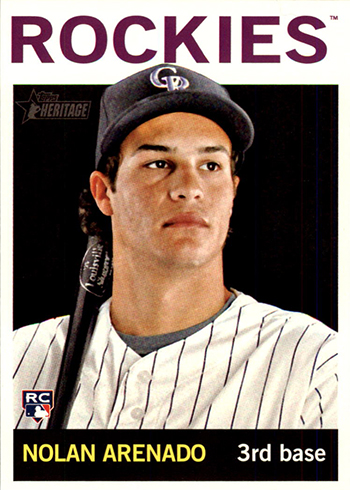 Issued in the 2013 Topps Heritage High Number product, the card debuted in the Online Price Guide at just $3. By 2016, it had more than doubled in value to $8 and just recently, it was raised to $25. Over the past few years, the hobby has seen the rise in popularity of the Topps Update Rookie Card (Arenado's is currently valued at $20, FYI) and we've started to see higher and higher sales on Topps Heritage Rookie Cards, especially those released in in the Heritage High Number product.
While his Bowman Chrome and Elite Extra Edition autographs from 2009 will remain some of his most valuable cards, cards like 2013 Topps Heritage and 2013 Topps Update Rookie Cards currently seem to have the most growth potential.