On the breaker beat at the NSCC — five basics we should know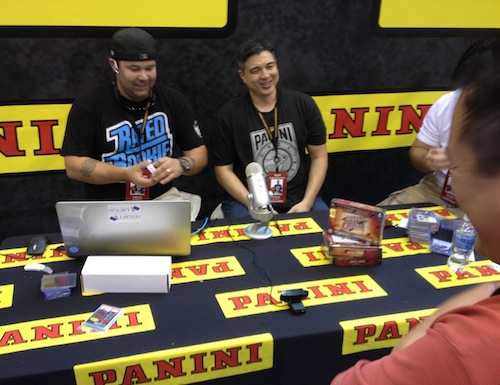 By Ben Aguirre | Contributing Writer | Commentary
CLEVELAND | The pointed end of a box-cutter slices through the packing tape on a case of 2014 Bowman Platinum.  The master box is turned upside down and out tumble 12 brand-new sealed boxes of the latest baseball product to hit the shelves.
The hands that will be handling these cards for the first time are held in front of a camera and, pack after pack, the contents of each wrapper are revealed — the names of some of the players celebrated, others merely mentioned.  The shiniest cards are often held in front of the lens for extended periods to show the people in audience in person, and those watching around the world, what has just been pulled.
The idea of the live case and box break is one that has been around for years. For at least a decade, collectors have filmed themselves opening their boxes to document their pulls. But in recent years the notion of box and case breaks has skyrocketed across the web and new breakers are popping up everywhere.
At this year's National Sports Collectors Convention, the 35th annual, held in Cleveland this week, there is a section of the showroom floor dedicated to case/box breakers, who are opening products live for customers watching in person, as well as across the globe.
While speaking with some of the folks in the "Ripping Wax Case Break Pavilion" for a story I'm working on, I learned a few things, among others, I figured I'd share:
— This isn't their first rodeo:
It seems as if most of the case-brakers at the National have been in the game for about two years.  And even though this is the first time there has been a dedicated area on the showroom floor for breakers, there is at least one breaker here that was at the National last year doing live breaks.  LiveCaseBreaks.com has a booth set up in the Pavilion this year, and at the 34th National in Chicago in 2013 they sold wax boxes and broke product live in a location directly across from Panini. They found that their presence at the show in 2013 aided in growing their brand to the point that it has become this year.
— Not everyone ships base cards:
If you're relatively new to the case- and box-breaking scene, make sure you look closely at the description from your chosen box breaker.  Some ship all cards from the boxes, some breakers ship only hits (autographs, memorabilia and serial numbered parallels/inserts), and others just take it on a product by product basis. It's a cost thing. It's a "what does the customer really want" thing. As one person insinuated, does a team collector really need 15 of the same base card? Probably not.
— Random vs. Pick Teams:
There are different ways that breakers sell spots.  The most traditional way breakers fill spots is through randomization.  Buyers essentially pay a set price and then the teams are issued at random, all of which is captured on video.  Others offer team slots priced at various price points; the better the team the higher the price. Both have their advantages depending on what type of collector you are.
— Recording equipment isn't standardized:
When the earliest breaks showed up on line they were done with small, point-and-shoot digital cameras, or with low-quality webcams mounted to desktop computers and laptops.  Looking at the group of 20 or so breakers who were active today, it was clear that some still use those methods, and others have invested in some serious audio and video equipment.  Quality matters … to some.
— The appeal to the group break is definitely the gamble.
I spoke to at least a half-dozen case rippers today and one thing was very clear: A good portion of the hobby that participates in group breaks are gamblers … or "speculators" as one person put it.  Some do it because they are team collectors and want only the guys from the teams they collect.  But a lot of others simply want a shot at something they normally would not have a chance at owning. Not all persons who enjoy this hobby can afford to buy an entire box of high-end product, which typically have some of the hobby's grandest cards.  With randomized breaks, now they are able to spend a fraction of what a box costs and have a chance at getting into a high-end product.
Ben Aguirre is author of cardboardicons.com and is covering his second National Sports Card Collection with Beckett. Follow him on twitter @cardboardicons.