Olympians, Buckner and Mookie Highlight Thursday's National Auto Lineup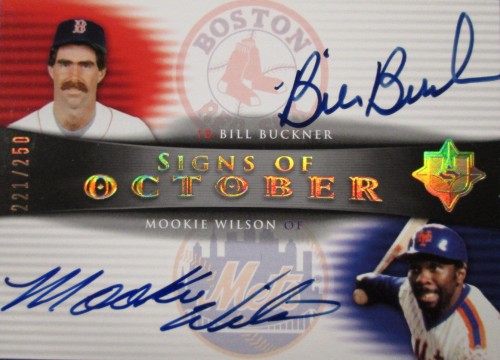 By Stephen Laroche | Beckett Media
The 36th National Sports Collectors Convention is in full swing and the long lineups for autographs at the TRISTAR Autograph Pavilion from sports legends will continue on Thursday as over 30 athletes, including several members of the United States hockey team that won gold at the 1980 Winter Olympics in Lake Placid.
Among the other highlights of tomorrow's lineup of signers are Bill Buckner and Mookie Wilson, who are forever linked because of Game 6 of the 1986 World Series when Wilson's fluke hit bobbled past Buckner's glove and the New York Mets defeated the Boston Red Sox for the title.
Who else is signing tomorrow at the National? Find out after the jump.
VIP show attendees will have the opportunity to get a free autograph from former MLB All-Stars Jon Matlack, who was the National League Rookie of the Year in 1972, and Ben Grieve, who won the American League's version of the honor back in 1998. Later in the day, former Los Angeles Rams quarterback Vince Ferragamo will be signing for free for VIPs as well.
Collectors should note that due to scheduling issues, Tony LaRussa will not be coming to the National.
Here is the complete rundown of Thursday's autograph guests:
Curley Culp     11:00 AM
Dan Dierdorf     11:00 AM
Jon Matlack     11:00 AM
Ben Grieve     11:15 AM
Aeneas Williams     11:15 AM
Willie Roaf     11:30 AM
Jim Craig*     12:00 PM
Dermontti Dawson     12:15 PM
John Harrington*     12:15 PM
Mick Tingelhoff     12:15 PM
Neal Broten*     12:30 PM
Ken Morrow*     12:30 PM
Mike Ramsey*     1:00 PM
Mark Wells*     1:00 PM
Eric Strobel*     1:30 PM
Phil Verchota*     1:30 PM
Steve Christoff*     2:00 PM
Bob Griese     2:00 PM
Jack O'Callahan*     2:00 PM
Rob McClanahan*     2:30 PM
Dave Silk*     2:30 PM
Dave Christian*     3:00 PM
Steve Janaszak*     3:00 PM
Mark Johnson*     3:15 PM
Mike Eruzione*     3:30 PM
Craig Patrick*     3:30 PM
Vince Ferragamo   3:30 PM
Bill Buckner     4:00 PM
Paul Hornung     4:00 PM
Mookie Wilson     4:00 PM
Steve Largent     4:15 PM
Mark Pavelich*     4:30 PM
Buzz Schneider*     4:30 PM
* – 1980 US Olympic Team signer