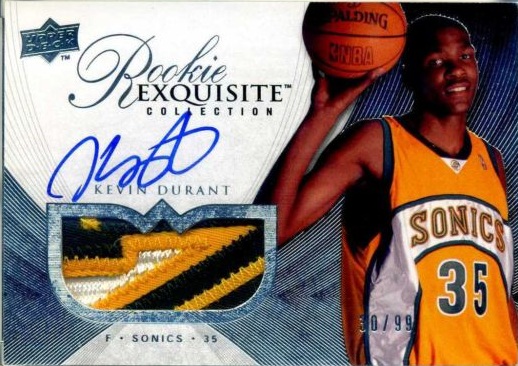 By Susan Lulgjuraj | Contributing Editor
The Oklahoma City Thunder are in the NBA Finals for the first time in history. While this young group of stars is making a name for itself on sports highlight tapes and articles, many of the players are no strangers to card collectors.
On the Thunder's roster, Russell Westbrook and Kevin Durant immediately jump out. Two of the best players in the league and they're getting a chance to show it on a national stage against the Miami Heat.
But other guys are helping OKC on this exciting run. Here's a look at some of the Thunder players and their cards: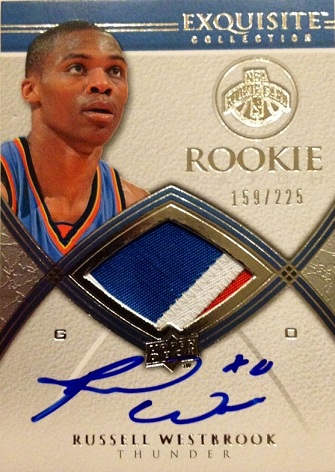 Russell Westbrook
It's hard to think this is Westbrook's fourth year in the league, but the point guard plays with such poise and leadership, it feels he's been around a lot longer. Westbrook is one of the main reasons OKC is where it's at right now. He averaged 23.6 points a game in the regular season and 21.7 during the playoffs.
But the biggest hit has come on his cards. Some of Westbrook's Rookie Cards have hit ridiculous levels. Westbrook's 2008-09 Exquisite Collection jersey autograph RC /225 has commanded more than $1,000. Recently, some of these have sold on eBay for around $1,500, but others for as low as $600. (Need a Westbrook OPG or checklist? Click here.)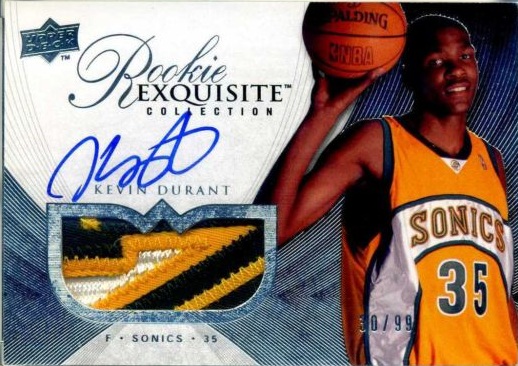 Kevin Durant
Durant is getting paid more than $16 million this season. If the Thunder win a title, it will likely be considered worth it. He's averaging 27.8 points and 7.9 rebounds a game in the playoffs.
And if you don't already have one of his Rookie Cards, good luck getting one without paying a significant amount of money.
His 2007-08 Exquisite Collection jersey autograph /99 is going for thousands of dollars. The high-book value is $3,000 and the autograph patch version (numbered to 35) has a high-book value of $4,000.
If you want a simpler RC of Durant, his 2008 Bowman, Bowman Chrome and Artifacts can be had for $50 or under – although not autographed. (Need a Durant OPG or checklist? Click here)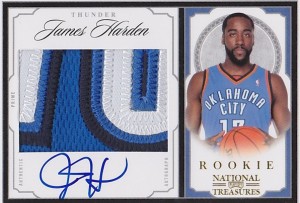 James Harden
He has gotten better every year he's been in the NBA. The Arizona State graduate averaged 9.9 points a game his rookie season, bumped it to 12.2 last year and averaged 16.8 this year.
Harden hasn't slowed in the playoffs either. His 17.6 points a game are third-best behind Durant and Westbrook. His Rookie Cards also rising in value.
Tops on the list is 2009-10 Playoff National Treasures – jersey, autograph, numbered to 99. The high-book value of this card has recently gone up to $700.
However, collectors don't have shell out that kind of money for other cards. Some of his other autographed Rookie Cards can be had for about $40-$50 such as 2009-10 Rookies and Stars, 2009-10 Timeless Treasures, 2009-10 Donruss Elite and 2009-10 Absolute Memorabilia. Need a Harden OPG or checklist? Click here)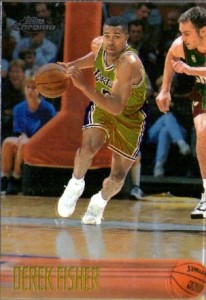 Derek Fisher
Here is the veteran of the group. Fisher has been in the league 17 years, spending most of them with the Los Angeles Lakers. Although he didn't play most of the regular season, Fisher has seen time in the playoffs. He's averaging 6.5 points in 21 minutes in 15 games.
Some of Fisher's best RCs are 1996-97 Topps Chrome and 1996-97 Bowman's Best.
He has one autograph from this season's cards on the market, 2011-12 Hoops Autographs.  (Need a Fisher OPG or checklist? Click here)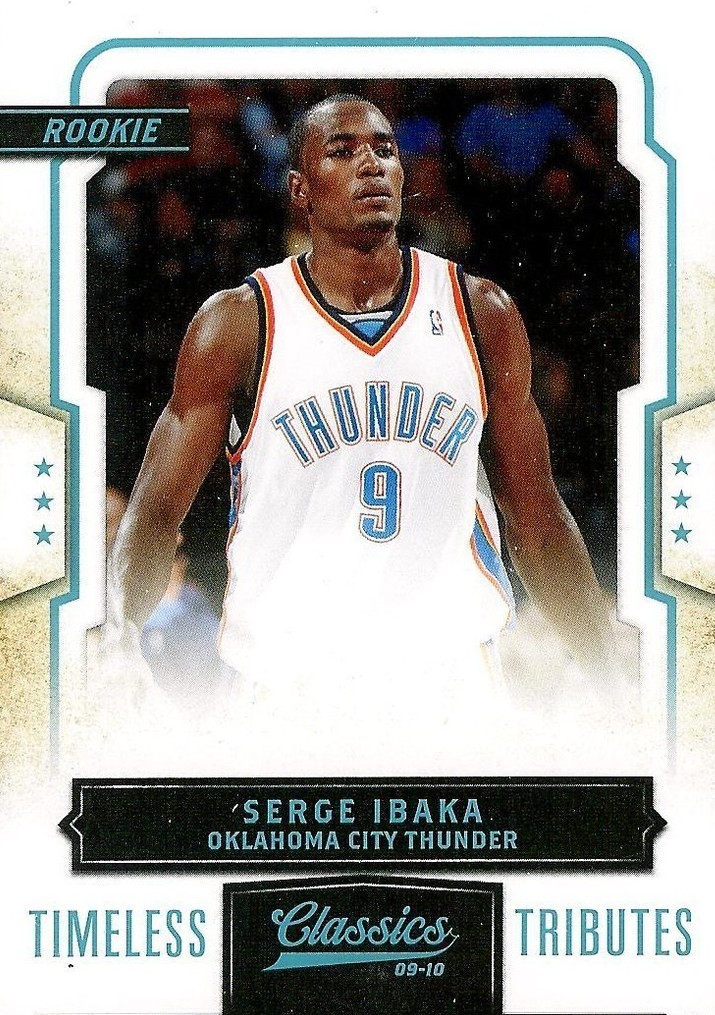 Serge Ibaka
Another young player trying to leave his mark. Ibaka has upped his production in the playoffs. In 15 games, he's averaging 10.7 points, 5.9 rebounds and 3.3 blocks.
If you're looking for one of the Thunder to start collecting, Ibaka isn't a bad place to start, especially after comparing his prices to some of his teammates.
His most expensive Rookie Card is 2009-10 Classics, an autograph numbered to 99. The card sells for around $80. (Need an Ibaka OPG or checklist? Click here.)