Ohtani Madness: Shohei Ohtani Talks Baseball Cards, Autographs, Facing Ichiro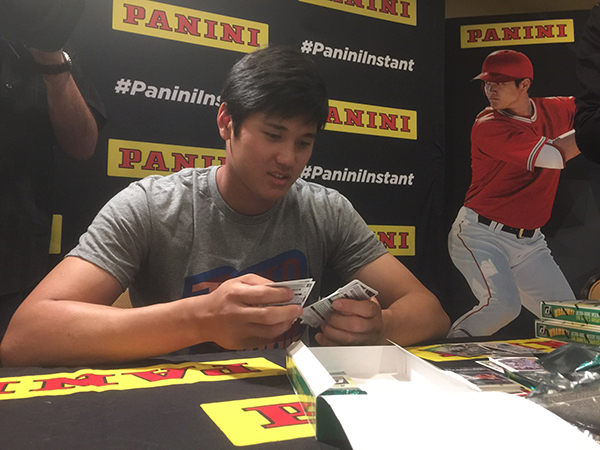 By Mike Payne
Shohei Ohtani is finding life in America to be much like life in Japan – he attracts crowds and autograph seekers. The biggest difference: baseball cards.
He doesn't turn on the television set much. But when he does, it's usually sports.
"Almost always sports," says Shohei Ohtani, through his interpreter, Ippei (pronounced e-pay). "I've been watching March Madness."
For the better part of four months, since signing with the Los Angeles Angels for a $2.3 million signing bonus as an International Free Agent last December, it's been nothing but Ohtani Madness in the real world and in our little corner of the collectibles world. Ohtani was at the Omni Scottsdale Resort & Spa at Montelucia Tuesday evening to handle some marketing initiatives for host Panini as part of the company's 2018 Spring Training Road Trip. Panini covered events last week in Florida and three days in Arizona this week.
The interview with Beckett Baseball was one of just three he agreed to. He saw a preview of the May issue which graced a picture of Ohtani on the cover, and appreciated it. That was enough to make the very small interview list.
It was clear that one of the 23-year-old pitcher/DH's favorite things Tuesday was opening packs of 2018 Donruss Baseball, where a pile of foil packs grew higher as he ripped away. Which is kind of funny because before coming to America, he had never opened a pack of baseball cards.
"I wasn't a big-time collector," he says. "They didn't have packs like these. I never bought or opened a pack. The only cards I ever got were ones that came with potato chips."
Ohtani spent part of his youth chasing Pokémon cards and other related collectibles, a passion he shared with millions worldwide. So he gets collecting. He understands why crowds wait for him at the ballpark or even outside it, yelling his name in hopes that he'll come over and sign an autograph or maybe a couple of thousand. Whatever the number, it's never enough. But he keeps trying.
"I can't sign during practice," he says, perhaps stating the obvious. "But I try and find time afterward for the fans. I try and go over and sign what I can."
As spring training winds down and the regular season draws near – and so, too, does his time with March Madness – Ohtani is looking forward to many things including first major league pitch, first big league hit and first opportunity to pitch to Ichiro Suzuki in a real major league game. The kid against the legend. Japan's two most popular players in the social media era. It was Ichiro, and a few other significant contributors, who helped bring American baseball to Japan on a regular basis. He doesn't recall the first game he saw as a kid, but he knows it was a game featuring one of the stars he followed.
"In Japan, they show a lot of games of teams with Japanese players on them – Ichiro with the Mariners, Hideki Matsui, Daisuke Matsuzaka…So it had to be one of those."
You can bet the folks back home will see their share of Los Angeles Angels games, despite the 16 hours difference between the two time zones. When Ohtani toes the mound for a typical 7 p.m. PST game, it will already be tomorrow for his friends, family and fans back home.
Speaking of family, he's looking forward to seeing his parents soon. "They're supposed to be here before Opening Day," he says. "And they'll probably come again during the season."
What they'll find is a son – both theirs and a country's – working to make his way playing a game halfway around the world. They'll see up close and personal, America's version of Ohtani Madness.
And no one will have to eat potato chips to collect his cards.