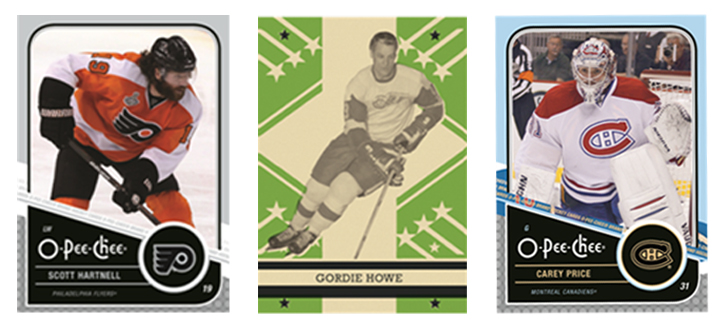 By Andrew Tolentino | Hockey Editor
Complete with facial hair fun, 2011-12 O-Pee-Chee Hockey is set to arrive in late September.
Upper Deck recently revealed some basics about its beloved brand — including, but not limited to new Playoff Beard insert variations. While the manufacturer is bound to unveil more as the release date approaches, hobbyists can only benefit from the hairy details.
Box breakdown

36 packs per box
6 cards per pack
Inserts, odds and ends

Rookie Cards & Legends (one in two packs, combined)

Falling in the forms of Marquee Rookies & Marquee Legends

Memorabilia & Signature Cards

OPC Souvenirs, including four-player jersey cards (1: 1,080)
OPC Signatures (1:648)

Old-School Insert Cards (one in five packs, combined)

Playoff Beard variations (New)
League Leaders
Trophy Winners

Retro variations & parallels

Regular set retro variation (one in two packs)
Rainbow parallels (one in eight packs)

O-Pee-Chee Rookie Update (New)

2010-11 Rookie Update (1:18)
2010-11 Rookie Update Retro (1:72)
2010-11 Rookie Update Retro Rainbow (1:288)

Other Inserts

In Action (1:80)
In Action SP (1:720)