Kevin Ogletree's values soar after breakout game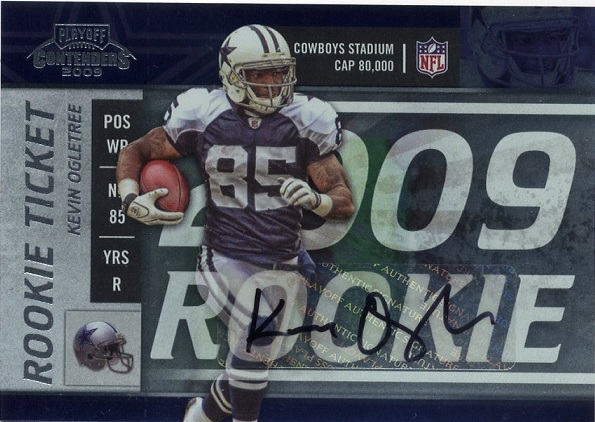 By Susan Lulgjuraj | Beckett Football Editor
A career game can translate into value pretty quickly as Kevin Ogletree card owners have learned.
The Dallas Cowboys' wide receiver had no touchdowns in his previous three years in the league and 25 catches to his name. In Wednesday night's 24-17 win over the New York Giants, Ogletree had 114 yards and two touchdowns on eight catches.
Could he be the answer to the Cowboys losing Laurent Robinson?
Many card collectors hope so because his card prices soared over the past 12 hours. In the past day, there has been about 30 new listings on eBay of Ogletree's cards, and the prices have gone up.
In one example, a 2009 Playoff Contenders autograph Rookie Card, which has a high-book value of $20 sold for $59.50 and another sold for $70. On Aug. 17, the same card sold for $13.17 and on July 8 the card sold for $1.30.
A 2009 Certified autographed Rookie Card (numbered to 499) with a high-book value of $15 sold for $30.
Get an Ogletree OPG or checklist here.
Ogletree's prices are jumping by as much as double and sometimes even three to four times the value from just two days ago.
One game can change many perceptions of a player, or at least give some hope that a breakout year is on the way.
Susan Lulgjuraj is the editor of Beckett Football magazine. You can email Susan here with ideas, comments and questions. Follow her on Twitter here.