NSCC Notebook: VIP winner, table top baseball and pretty paintings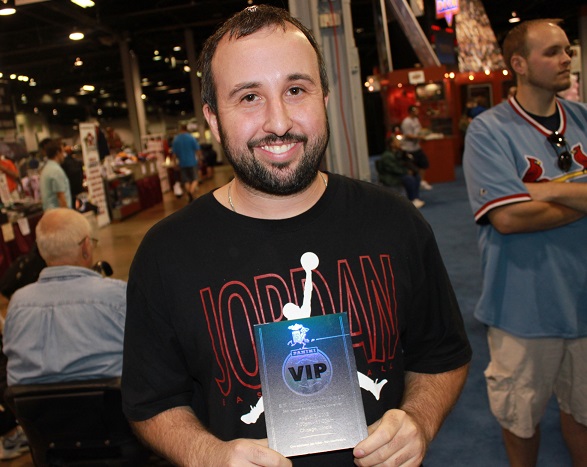 By Susan Lulgjuraj and Dan Good
Mark Vulcani told his friend about the Panini America VIP Reception at the National Sports Collectors Convention.
He mentioned all the athletes that were going to be there – Chris Chelios, Yasiel Puig and Pedro Martinez to name a few – but Vulcani wasn't attending. To get an invitation, collectors had to spend $7,500 on Panini products.
Unless you were lucky.
Vulcani walked by the Blowout Cards booth on Friday and was handed a free raffle ticket. He was told to come back at 3 p.m. that day to see if he won one of a five prizes: hobby boxes or a ticket to the VIP reception.
Vulcani did as he was told and his number was called. Vulcani is going to Panini's VIP reception on Saturday night.
"I'm thrilled," Vulcani said. "I wanted to go. I was talking about it, but I didn't think I would actually be there."
Only problem – it's an invite for one. Seems like Vulcani will be hanging with Puig on his own.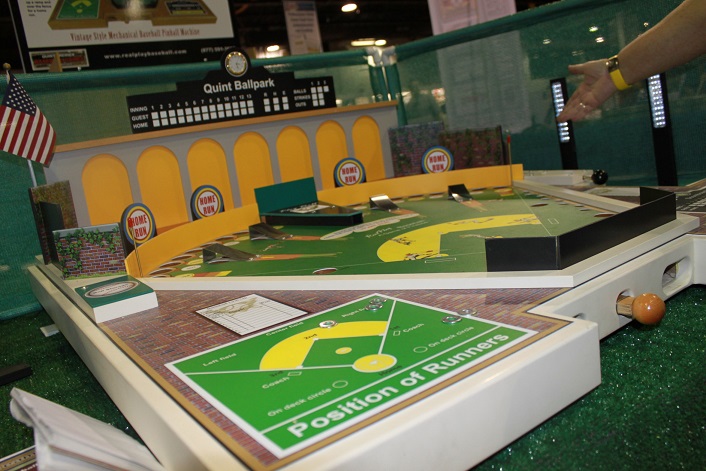 Real play baseball: One of the show's interactive – and fun – exhibits involves a tabletop baseball game.
Rich Quint, a California resident, spent the better part of a decade studying pinball machines. You can't really change the pitch speed or location in a traditional pinball game (unless you bump the machine, of course).
So Quint went about developing his own game.
His "Real Play Baseball" mechanical pinball machine allows you to adjust the speed of pitches – and at the last second, you can even change the location too, angling the pitcher's arm one way or the other. Holes in the playing surface allow you to know for sure whether it's a double or an out.
Players can add personalized lineups – and even name the machine's "stadium" after themselves. And the stadium surface is water-resistant, in case any beverages spill. More info is available at http://www.realplaybaseball.com/.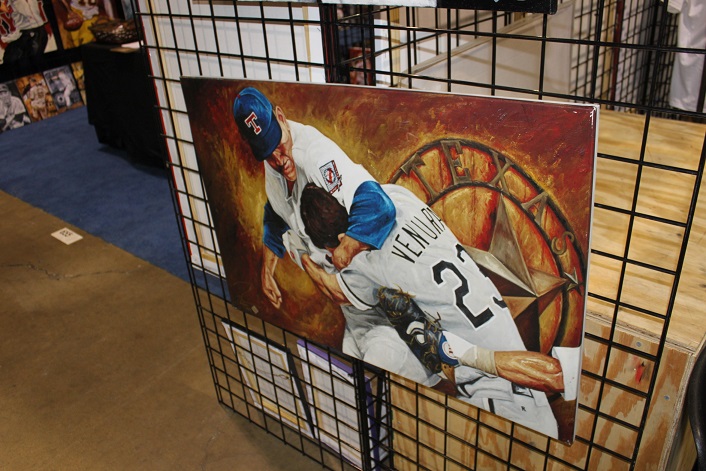 When two passions collide: Justyn Farano grew up playing sports and creating artwork, and eventually he merged the two.
His collection – titled Sports Art Illustrated – features work by some of the most popular athletes and sports legends, from Derek Jeter and Mariano Rivera to Ernie Banks and Mike Ditka. A handful of his pieces are even signed by the subjects.
If Farano had to pick a favorite subject, it would be Michael Jordan. He spent the first few days of this week's National Sports Collectors Convention working on a Jordan painting showing MJ's early days with the Chicago Bulls.
"He's just so iconic, and he was the player in the 1990s," Farano said.
There is one major thing different for Farano this time around – since last year's National he got married. His wife Dana is working the booth, as she's done in previous years, talking to fans and customers about her husband's artwork. Dana Farano wasn't a huge sports fan growing up, so she has interesting perspectives about cards and collectibles shows.
"It's really neat to watch people react to items at the show – seeing these grown men transported back to their childhoods," she said.