NSCC Notebook: Preview & Day 1 nuggets … (updating)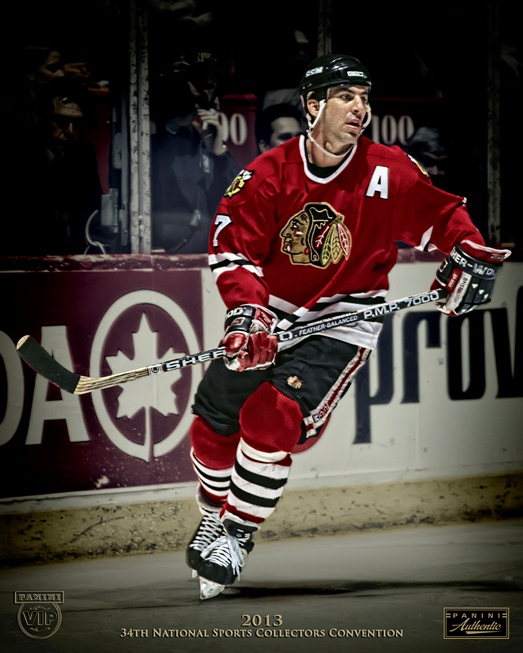 By Chris Olds | Beckett Sports Card Monthly Editor
Nuggets and notes from this year's National Sports Collectors Convention … look for this file to be updated throughout the day on Wednesday, the sneak-preview night for the show. (Click here for all of Beckett Media's past NSCC stories.)
New arrivals …
The day before the show, vendors are working on setting up their booth space while many collectors are en route for the afternoon opening. Several new products will be making their debuts at this one, including Panini America's high-end season-capping National Treasures basketball and then Topps' online-only and NSCC-only Minis and Bowman Platinum. No matter how a season looks on the field, high-end brands, limited-run brands and prospecting products seem to do well. Look for plenty of interest in these at the show thanks to group-breaking — which will have a much larger presence this year — and wrapper-redemption programs. Nearly all companies in attendance will have some type of incentive program to see collectors rip and have the one-on-one chance at feedback during the rip. (See our past stories link for more details.)
—
Add one more star to the Panini VIP guest-list …
In November Chris Chelios will take his spot in the Hockey Hall of Fame, but during the NSCC weekend he'll be among the guests signing for those in attendance at the Panini VIP Party set for Saturday. The invitation-only event will be open to a select group of big-spending collectors and other VIPs in attendance. The three-time Stanley Cup winner is just the second guest announced thus far — Los Angeles Dodgers rookie Yasiel Puig will be there to mark the launch of his autograph memorabilia deal with Panini Authentic. Other guests will be announced one per day this week with each of the players signing a specially designed photo for those in attendance.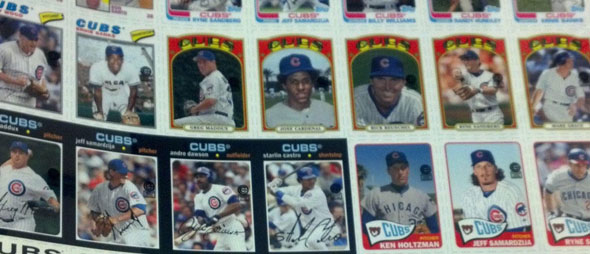 Collecting SWAG at Chicago Cubs games
Unlike last year's NSCC in Baltimore where a baseball stadium was right across the street but there were no games, the Chicago Cubs are playing at Wrigley Field during each day of the show. Tomorrow night, they finish off a series with the Brewers where it's Firefighter Appreciation Night (free shirts for those who buy promo tickets), before the team starts a four-game set with the Dodgers. The first 10,000 fans to attend on Thursday get a set of Cubs headphones, while the team steps it up a notch for collectors on Friday. That afternoon, the first 10,000 fans get a Cubs card album and the third batch of Cubs-specific Topps Archives baseball cards given out this season. Card Nos. 41-60 will be given away with the last batch going out on Aug. 30. Previous cards were given away on May 3 and July 5. This batch includes Ryne Sandberg, Billy Williams. Starlin Castro, Mark Grace and Ernie Banks, among others. On Saturday the Cubs are giving away a Kyuji Fujikawa bobblehead and on Sunday a Cubs book cover for the first 5,000 kids.
—
[youtube]http://www.youtube.com/watch?v=lKE3tt8V77g[/youtube]
Plenty of buying and selling going on 
We'll be working the show floor to see what's moving and shaking throughout the week — as well as the moving and shaking at the Beckett Media booth. While we won't catch many of the transactions at the show, this one from a past show has been watched quite a few (some 41,000-plus) times.  It documents how one card-owner turned a $14 purchase back in the day into $9,000 cash on the show floor. (We can all dream, right?)
—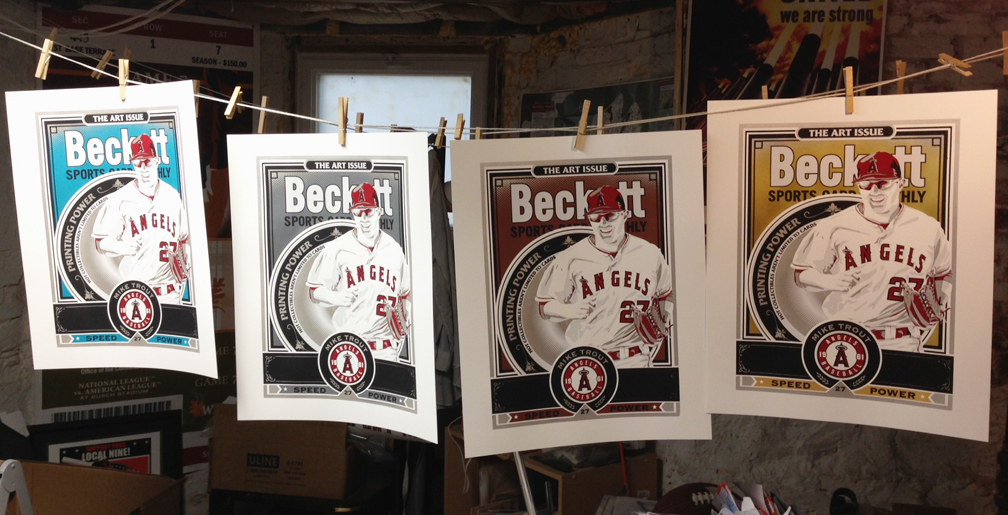 A one-of-a-kind piece of the BSCM Art Issue up for grabs
The recent Beckett Sports Card Monthly Art Issue featured a Mike Trout cover designed by Chris Speakman of SportsPropaganda/ThatsMyTicket.com. While only 250 hand-numbered and signed copies of the standard print exist at just $115 a pop framed, thanks to ThatsMyTicket there will be five one-of-a-kind framed prints available for purchase at the Beckett Media booth. There are the four 1/1 color variations seen above during their drying process and a one-of-a-kind artist's proof available. These pieces are hand-screened one shade at a time in the style of old war propaganda posters. Click here to see each piece step by step.
—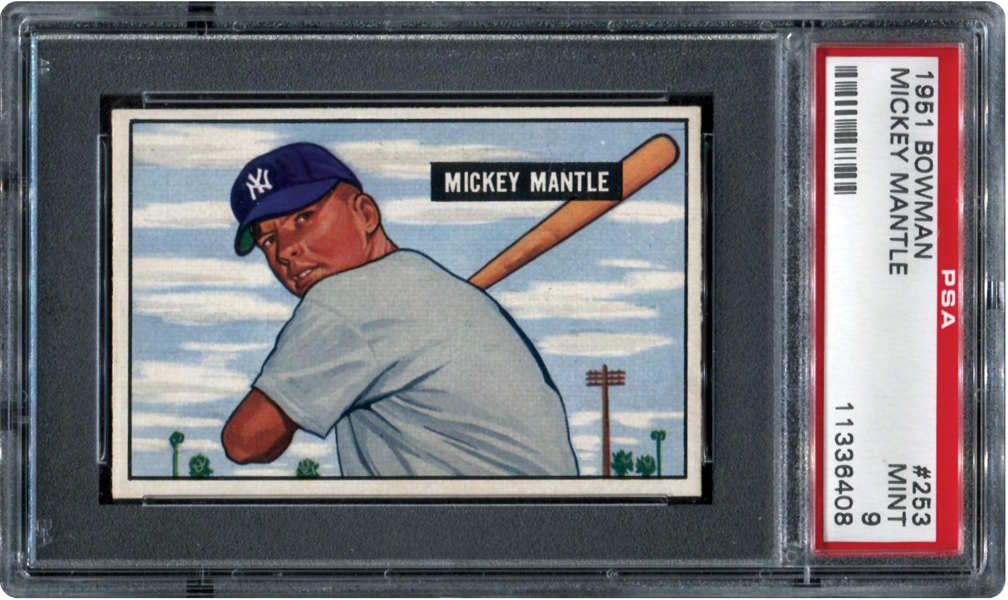 Putting the show in the show
Most major auction houses will be representing and showing off some of the high-end items coming to auction soon, while others have sales coinciding with the show. Tustin, Calif-based Memory Lane Inc. will have a massive high-grade Hall of Fame Rookie Card stash, The Hatch Graham Collection, up for grabs in its Summer Rarities auction opening on Aug. 15. A number of the notable cards will be on display at the show, including a PSA 9 Mickey Mantle RC, a 1916 M101-5 Babe Ruth, a PSA 9 1954 Topps Hank Aaron and PSA 9 RCs for … Ernie Banks, Ted Williams, Roger Maris, Sandy Koufax, Don Drysdale, Pete Rose, Brooks Robinson,  Frank Robinson, Carl Yastrzemski, Bob Gibson, Al Kaline, Yogi Berra, Stan Musial, Rod Carew, Tom Seaver … you get the idea.
—
UPDATES:
Blowout's blowing it out … add to your to-do list
On Thursday at 3 p.m. BlowoutCards.com will be holding its raffle — a staple of the NSCC the last few years. One of the big prizes to be given away? Well, let's just say the winner will feel like a VIP … get more details at its booth.
—
COMC.com opens up its Vault
COMC.com, a leading online card seller has several display cases of high-end cards on display — and for sale — at the show. Can't make the show? Well, you can still see some of those cards — and more — online by clicking here.
—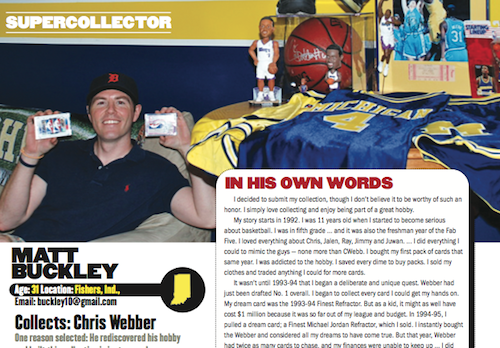 SuperCollector collecting SuperCollector autographs
Indiana-based collector Matt Buckley was among the 15 SuperCollectors in last year's showcase issue in Beckett Sports Card Monthly and he's started a new collection — the autographs of his fellow SuperCollectors in the issue. So far, his autographed copy has traveled to at least France and The Netherlands to be signed by those in the issue. Since the NSCC was so close, he dropped by the Beckett booth to add some more ink … an autograph from Olds.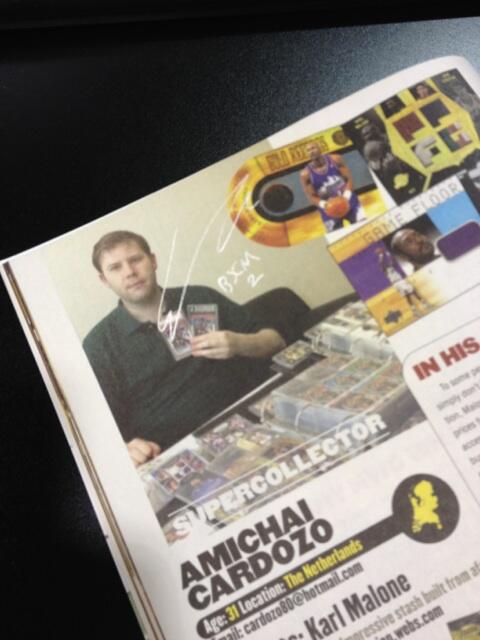 —
Watch for updates …
We should have new Box Busters episodes coming on Wednesday for Topps Mini and Bowman Platinum from the show floor not long after arriving at the convention center. Look for them along with updates right here on Beckett.com/news regularly depending on travel and Web connections from the show. Follow our staffers on Twitter @beckettmedia, @chrisolds2009 and @yanxchick and look for discussions and teasers on the Beckett Media Facebook page as well before Chatter Up tomorrow evening.
Chris Olds is the editor of Beckett Baseball and Beckett Sports Card Monthly magazines. Have a comment, question or idea? Send an email to him at colds@beckett.com. Follow him on Twitter by clicking here.