NSCC director Mike Berkus talks show success, group breaks and West Coast venues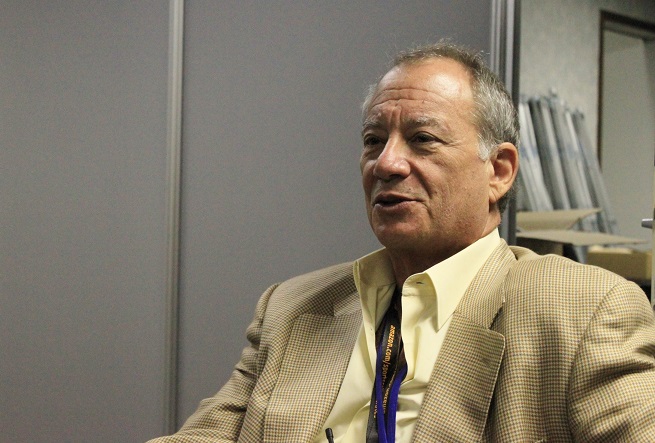 By Susan Lulgjuraj | Beckett Sports Card Monthly Editor
The 2013 National Sports Collectors Convention has wrapped up.
Dealers and collectors visited the Donald E. Stephens Convention Center in Rosemont for five days (although some more) to spend money, meet with friends and see sports memorabilia they may never see again.
With the NSCC over, director Mike Berkus spoke to Beckett Media about the show.
Beckett Media: How did the National go from your standpoint?
Mike Berkus: I would say one of the best in the last eight to 10 years.
BM: What makes it one of the best?
MB: I would say a steady stream of attendees, a sold out floor, dealers and corporates being delighted.
BM: How was attendance this year?
MB: Although we don't release attendance numbers, we were about 25 percent ahead of any year that we had advanced sales recorded.
BM: It beat last year?
MB: Yes it did. I think Baltimore 2010 is probably second place. This would be first place.
BM: What do you think has made the National so successful?
MB: I think the individual enthusiasm. I think on the floor, dealers and corporates and everyone had big plans for the show. They got excited about it. That excitement led to a lot of publicity and a lot of marketing. It's back to the passion. I think things have eased up in the economy in the country. We're the survivors. The people in the business now are smart and they are not going to be blindsided. I think the timing is really good for a good show.
[youtube]http://www.youtube.com/watch?v=B_5SJRrkyGk[/youtube]
BM: What did you think of group breaks being added this year?
MB: It's exciting. We might even be looking toward a pavilion next year of case breakers. We'll see if we can get an organized scenario and people plan for it and make a big deal about it. Maybe give them a central zone to do that. It crept up on us as far as participants and what they do and how they do it. I am glad that it exists. I think it's an exciting part of the hobby. I am glad to see the manufacturers and distributors get involved.
BM: What do you think about adding athlete panels or discussions to the National?
MB: Athletes want to get paid to sit on a panel. They don't really care. The show is so large and walking the floor, most people don't have time to do anything off the floor. Anyone who has tried to do anything during show hours, it has not been successful and that includes eBay holding seminars on how to be better sellers. We now recommend against it. If you are competing with taking people off the floor, your chances of failure are pretty high. The other thing is this, if you wait until after, people really tired. It's a long day.
If the demand were there for the educational aspect or the exchange of information, if they really wanted it, we would hear about it and do it. That's what the trade show for is in Vegas. The times we tried, and we tried with a lot of effort, the times we tried have been miserable failures. We can't get either side to play
BM: We get this question all the time, so we have to ask. Why isn't the National on the West Coast?
MB: Because no facility will have us. You can put that in the headline and I hope the facilities read it. I would like to have $20 for every hour I spend calling them or being in meetings with them. No one will have us if we want to plan it more than two years out.
John Broggi (show manager): But we can't do that with the need for hotel rooms and other things. Many of them want 12 months or less.
MB: It's unrealistic. All of sudden, if we switch gears and throw it in the Anaheim Convention Center because they graced us with an OK, how do we change? It's like when airlines change equipment on a flight, people get bumped. It's not an option. This takes years to plan out. They (the dealers) don't want to be surprised.
BM: Every year, it seems things happen. This year, there were a couple of Mickey Mantles reported stolen and one dealer apparently being kicked because of a fake, how do you prevent these sorts of things and what do you do once something has happened?
MB: Prevention is impossible. Detection or action is possible. We have 20 cameras going in the camera room with police non-stop. We have uniforms, undercover, the convention center has their own security as well. We probably pay $25,000 for security. It's like anything else, if there is a traffic accident, a cop has to be called to come.
We have no second chances. We prosecute to the fullest. They are taken downtown. We don't care if they are a doctor or a lawyer or they say a mistake happened. We will file charges if you are caught stealing something and the rest can be sorted out by the police.
When it comes to fakes, our policy is simple. We cannot monitor every transaction. We hope people are careful with what they buy. If there is a dispute, we will hear the story. We have a uniformed officer with us. If it seems appropriate, we will get dealers side of it. We ask if we can take it and get it authenticated. If the dealer says yes and it comes back authenticate, that's between the dealer and customer.
If dealer does not want to authenticate it or it comes back it's not authenticate, they have two choices. They can refund the money and put (the item) under the table. Everyone makes mistakes and all is forgiven. Or they are going to be taken out of the show.
Susan Lulgjuraj is an editor of Beckett Sports Card Monthly. You can email her here with questions, comments or ideas. Follow her on Twitter here. Follow Beckett Media on Facebook and Twitter.