Nowitzki Moves Up All-Time Scoring List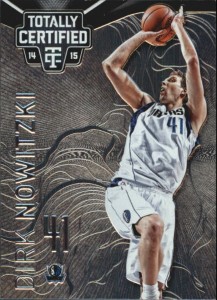 By Stephen Laroche | Beckett Basketball Editor
Last night, Dallas Mavericks veteran Dirk Nowitzki strengthened his case for eventual Hall of Fame enshrinement as he moved into seventh place on the NBA's all-time scoring list with 27,412 points.
During the 96-88 road victory for the Mavs over the Brooklyn Nets, Nowitzki posted 15 points and the 17-year veteran moved ahead of Moses Malone on a three-point shot that came with 34.8 seconds left in overtime. He needs less that 1,200 points to surpass Shaquille O'Neal and move into sixth place and was already the all-time leader in scoring among foreign-born NBA players.
This season, Dallas has been in a battle for top spot in the Southwest Division with the Memphis Grizzlies and presently are 26-10. Nowitzki's production has dipped slightly in 2014-15, but he was leading Mavericks regulars with a .909 free throw percentage and ranked second in points behind Monta Ellis.
Collectors have appreciated Nowitzki's cards for many years and he has 4,843 cards in the Beckett.com database which have a total value of $60,333.12. His first cards came out during the 1998-99 season and the most valuable rookie issue is from 1998-99 SP Authentic ($80). Limited to 3,500 copies, it is considered the key card in the set ahead of debut issues of Vince Carter and Paul Pierce.
Stephen Laroche is the editor of Beckett Basketball and Beckett Hockey magazines. Have a comment, question or idea? Send an e-mail to him at slaroche@beckett.com. Follow him on Twitter @Stephen_Laroche.