Non-sports cards provide innocent, sentimental fun – and sometimes value, too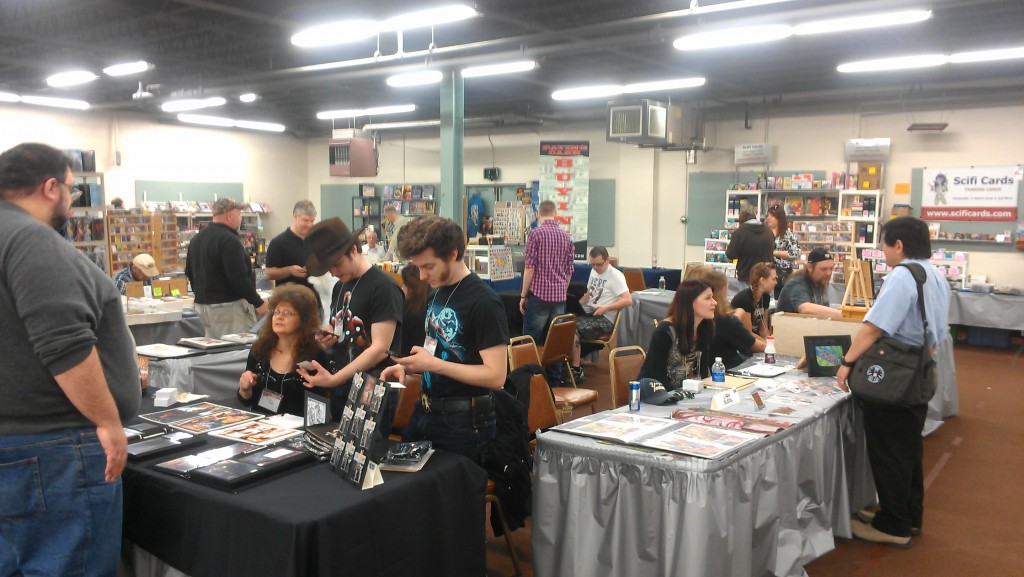 ALLENTOWN, Pa. – A sunbaked Sunday morning. Early risers congregate on the sidewalk, waiting. The doors will open soon, beginning a day of study and reflection.
No, this isn't church, but the passion is similar.
Collectors gather in clusters – husbands and wives, fathers and sons. New friends. Old friends. Someone steps out of the line to smoke a cigarette. Others stay, discussing their collections. It's daunting to face a hobby landscape without limits, and this is as close as you'll find – the Philly Non-Sports Card Show, where cards of 1800s flowers and 2000s blockbusters intersect.
The twice-yearly show has become a hobby staple since its inception in 1984, a deviation from the usual shows devoted to baseball and football cards.
It's easier to describe what non-sports cards aren't – cards depicting mainstream athletics – than what they entail. Movies. Scenery. Bugs. Art. TV. World leaders. Lingerie models. Pop music. Broadcasters. Historical figures. Superheroes.
The non-sports cards don't receive the widespread attention (and in most cases, value) of their athletic-focused counterparts, but they hold something extra, something you can't measure with price tags and sales volume.
Fun.
Innocent, sentimental, laugh-out-loud fun.
That fun is reflected in vibrant colors and uninhibited subject matter. TV shows and art cards are popular. Mars Attacks, too. And whatever your interests – naked ladies and Native Americans, Michael Jackson and Spider-Man – here they are, an eclectic mix of popular culture and whatever the heck you want to collect, because non-sports cards provide you with that open option.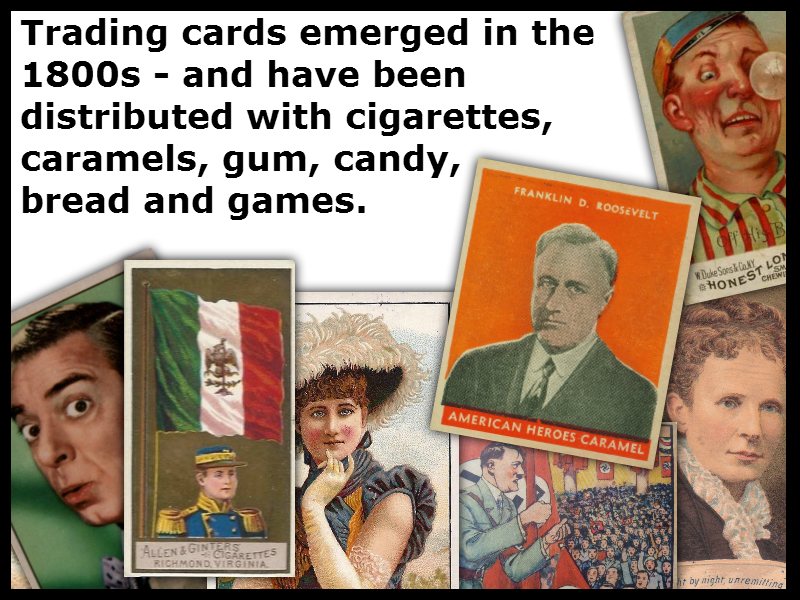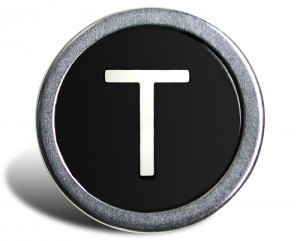 emple Coldren passed his love of collecting to his son, also Temple, 13.
The Coopersburg, Pa. resident started collecting baseball cards in 1969. He still has those old cards – including thousands and thousands of others – but baseball cards became too expensive. Lately, he's been focusing on cards of Native Americans from the early 1900s.
"The same subjects and pictures are used across the different sets, but they each use different designs," Coldren said.
Another focus is early lacrosse cards. Imperial Tobacco issued three sets between 1910 and 1912 – C59, C60 and C61. Coldren owns all but one of those cards, a 1912 C61 card of Clint Benedict, a Hall of Fame hockey goalie. He could buy it right now, but the $750 to $1,000 price tag is holding him back. Tough to explain that expense when the bills need to be paid.
Coldren found one of the lacrosse cards he needed at a previous Philly Non-Sports Card Show.
"It was one of the most valuable cards in the set, and the person selling it didn't know how valuable it was, so they listed it for $12," Coldren said, smiling. "I talked him down to $10."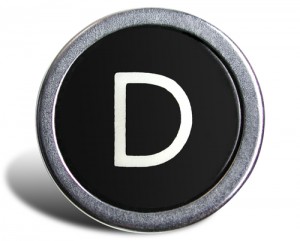 ave Moulder feels like a rock star sometimes, traveling from town to town to share his product. Allentown. New Jersey. Boston. Weekends in wherever, the nomadic life of the card dealer.
Moulder has spent years in the hobby. He notices an emerging trend for non-sports cards.
"I've seen more teenage girls buying cards of 'Vampire Diaries' and other TV shows," Moulder said. "They bring their boyfriends along."
Fans of shows are drawn to the collectability, he said, the chance to own fabric and autographs from their favorite characters and actors.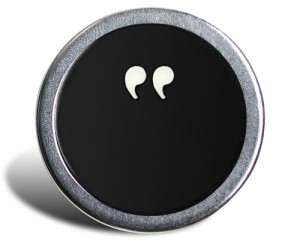 Three entire bags of Funyuns?" Walter (Bryan Cranston) asks his protégé.
"What, Funyuns are awesome," Jesse (Aaron Paul) responds.
The pair reaches the desert in their RV-turned-meth lab, with Walter scoffing at Jesse's food choices. Marshmallows. Cap'n Crunch. Gummy snacks.
The scene – from a second-season episode of "Breaking Bad" – stands out for its humor, reflecting a generational gap between wandering adulthood and stunted adolescence.
When watching the episode you don't immediately notice Jesse's hoodie, a black sweatshirt with white embroidery and red lining.
But you certainly notice it in person. The zipper stands out. It shows a cross inlaid with a skull.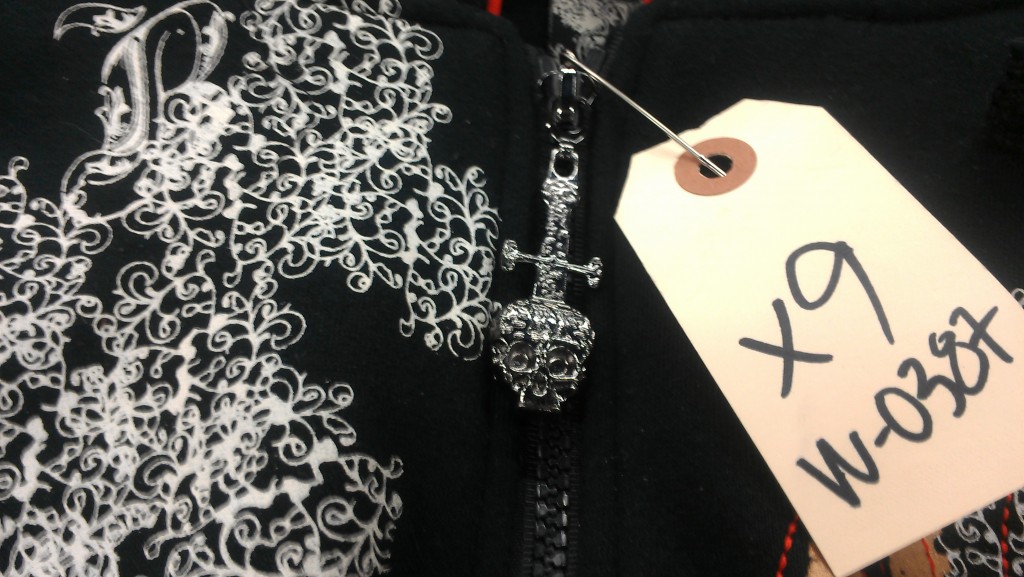 Cryptozoic brand manager Miranda Charsky brought the hoodie to the Philly Non-Sports Card Show. The sweatshirt will be chopped up and added to inserts in Cryptozoic's "Breaking Bad" series, which will be released later this year.
Yeah, cards!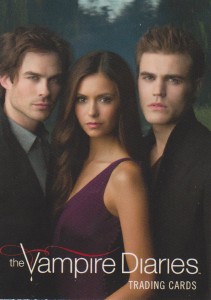 The hoodie marks a trend in non-sports collecting, bringing fans closer than ever to their favorite TV shows with scene-worn materials and cast autographs.
"For movies, you have a smaller window to work with," Charsky said. "But with TV shows, you can have a new card series year after year for the length of the series."
The "Breaking Bad" set is atypical, with the single-series release coming at the close of the show's fifth and final season. But for other Cryptozoic releases such as "Big Bang Theory" and "Vampire Diaries," collectors can follow along while collecting cards of stars and guests.
Ask Charsky the TV-themed card set she'd love to see, and a recently-departed comedy comes to mind.
"The Office would be incredible," she said. "Frasier, too."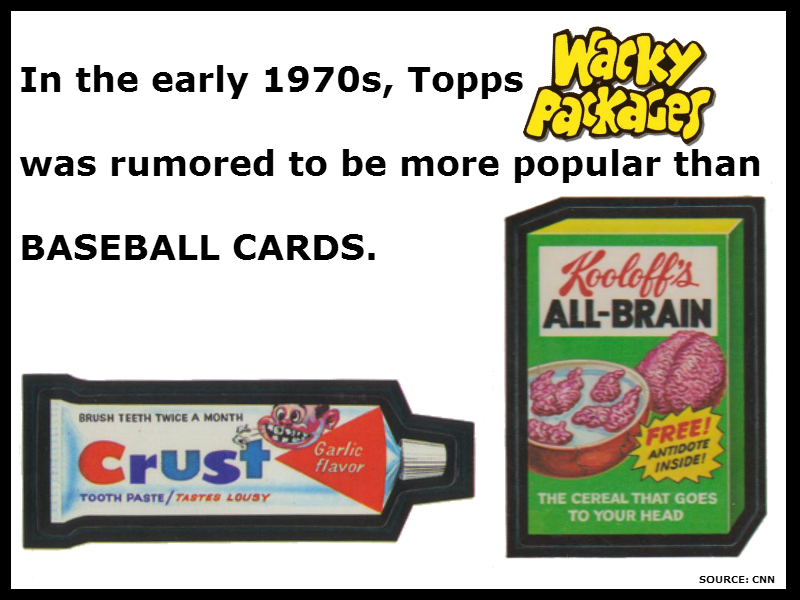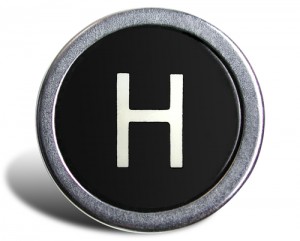 arris Toser was drawn to non-sports cards during his childhood.
His parents, Roxanne and Marlin, encouraged Harris and his brothers to collect cards. While his brothers focused on baseball and football, Harris gravitated toward the other stuff. TV shows. Movies. Superheroes.
When "Star Wars" hit theaters, Harris was hooked – and his parents' mail-order card company took off.
"We were buying box after box of the cards and putting sets together," he said. "We sent Star Wars sets across the country."
The family launched "Non-Sport Update Magazine," a publication devoted to the hobby's "other" cards, in 1991. One of the covers appeared on an episode of "The Simpsons."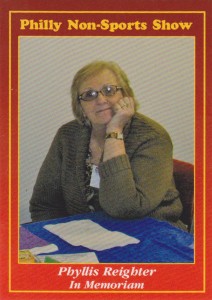 Harris, the magazine's production manager, lists the Star Wars cards, along with 1992 Marvel Masterpieces, among his favorite non-sports sets.
"It's a milestone set featuring 100 illustrations by artist Joe Jusko," he said. "The artwork is beautiful."
His family started running the Philly Non-Sports Card Show about five years ago, taking over for Frank and Phyllis Reighter, who started the show in 1984.
Phyllis passed away earlier this year. She was featured on a memorial promo card handed to attendees at this year's show, a hobby pioneer receiving cardboard commemoration.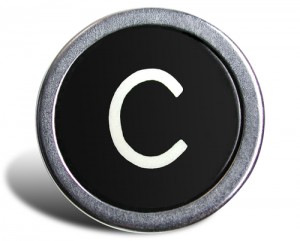 ollectors stopped by the Breygent Marketing table looking for Patrick Dempsey.
Well, not McDreamy himself – the "Grey's Anatomy" star was not making a physical appearance. No, Dempsey appeared on a promo card distributed by Breygent's Tom Breyer at the event, showing the actor as character Dylan Gould in "Transformers: Dark of the Moon."
The Dempsey card was one of the company's dozen or so promos given away at the show. Breyer distributed those cards among different dealers, sending collectors on a scavenger hunt of sorts, from this booth to that booth looking for cards showing American Horror Story and Dawn New Horizons and Grimm and Dexter.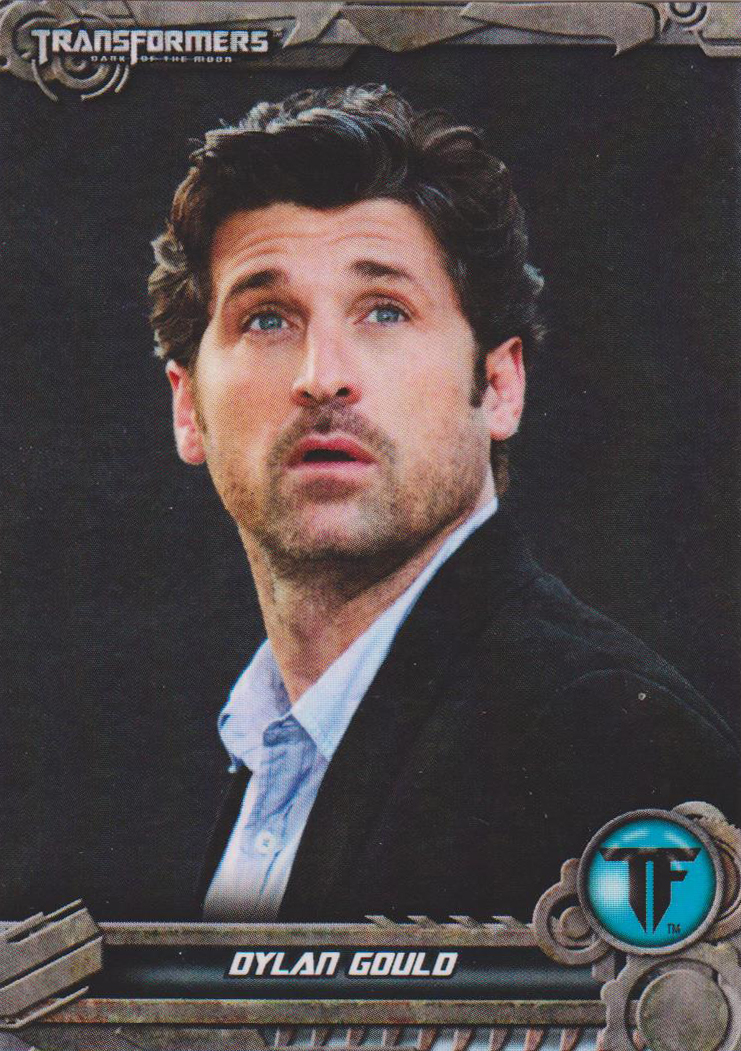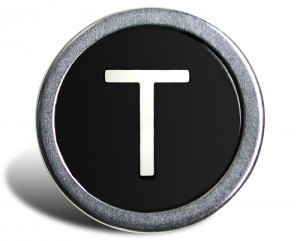 he cycloptic eye draws you in.
Then there's the pink hues and the ever-present ice cream cones, the sticker technology and familiar card design … Sidekick Trading Card's "Melty Misfits" line is a melding of old and new, of traditional and contemporary, the standard – and a new standard.
The cards, which showcase artwork by Buff Monster, spoof the iconic "Garbage Pail Kids" series down to the card stock. Where recent GPK releases are glossier and flashier, Melty Misfits employs 1980s textures, from offset printing to vintage-style wax wrappers, said Sidekick's Tom Lichtman.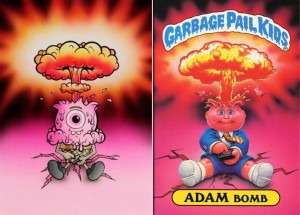 "Collectors have really connected with Melty Misfits, because it feels like they're opening a vintage product," Lichtman said. "The cards allow you to pursue different levels of collecting, from base set collectors to people who chase the high-end and rare cards."
Melty Misfits pays homage to GPK in another way, too. During the late 1980s, a bootleg Japanese series called Bukimi Kun emerged.
Why wait for someone else to rip off your work? In that vein, Sidekick produced its own Melty Misfits Japanese Bootleg set. So there's "Adam Bomb" (that's what his name was in the first GPK series, anyway) reimagined as an exploding ice cream cone, now flanked by Japanese symbols.
Some of Sidekick's cards use black-light technology. Or fake foam gum, so you can feel nostalgic without enduring sugar stains.
The company has rolled out three series devoted to artists and artwork, The Art Hustle, featuring some of the most stunning sketch cards you've ever seen.
One of Sidekick's products is much simpler – a do-it-yourself package full of blank sketch cards and wrappers, a chance for collectors to create their own sets. Where self-made sports cards aren't generally appreciated (unless they're inserted into packs or produced by well-known sketch artists), sketch cards have found a home in the non-sports realm.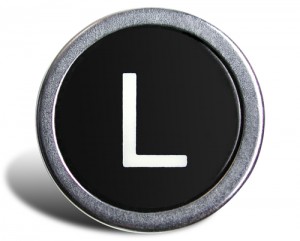 ark Sudol enjoys painting insects. Famous actors and actresses, too.
A lifelong artist, Sudol spent the Philly Non-Sports Card Show with her brushes and pencils, appearing as one of the show's featured artists.
You might have seen her work in popular non-sports products such as Mars Attacks Heritage, Star Wars Galactic Files and Superman the Legend. A 1/1 Princess Leia sketch card of hers recently sold for $98 online.
But Sudol enjoys the "unlicensed" work, too. You don't need to get a grasshopper's approval before putting it on a card. That's what she drew for Viceroy Cards' upcoming series on insects.
"I regularly use marker, colored pencils and acrylic paint," she said. "Collectors seem to really enjoy sketch cards, and it's fun to work on smaller pieces."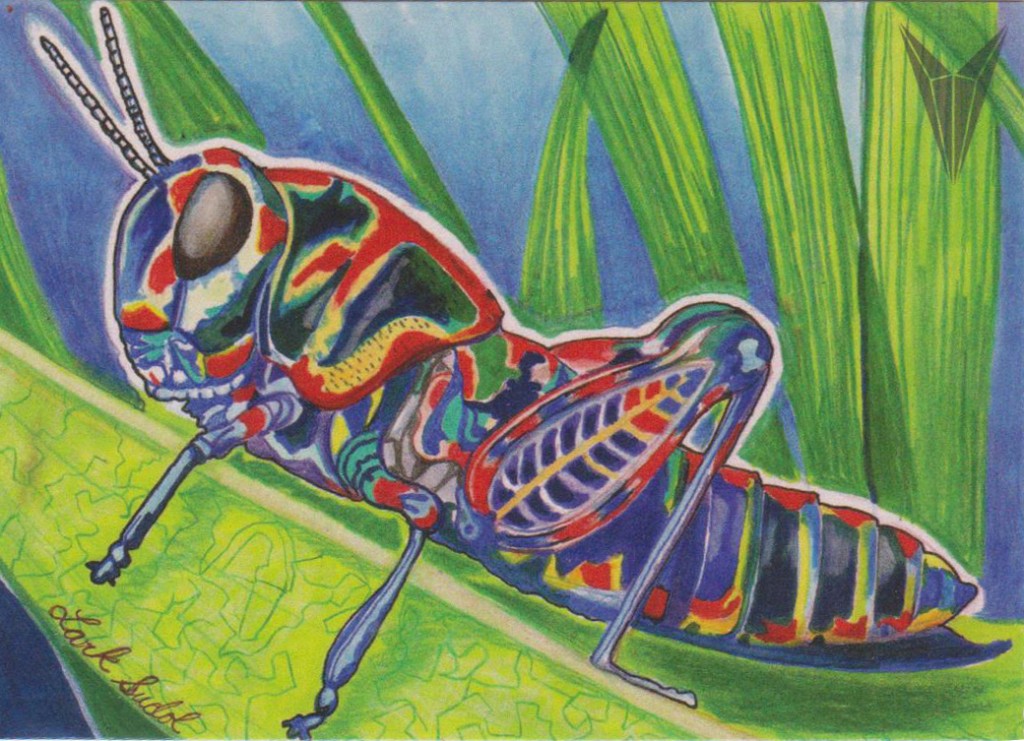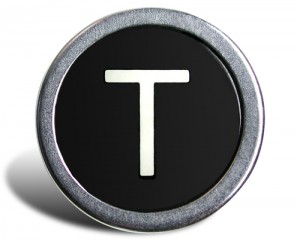 he aliens are back!
Five decades ago, Topps – using the dummy corporation "Bubbles, Inc." – released one of the most infamous and edgy card sets of all-time: Mars Attacks, a 55-card Sci-Fi release depicting the invasion of Earth.
The cards show brainy, bug-eyed aliens devastating our world – destroying cities, crushing civilians, clutching Earth women and even zapping a dog. Graphic, gory, gross.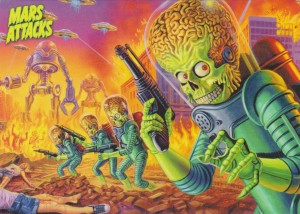 Great.
While children were amused, the general public wasn't sold on cards with titles such as "Destroying a dog." After a Connecticut district attorney filed a complaint, Topps stopped producing the cards.
Scarcity and cult appeal have made Mars Attacks one of the most revered non-sports sets. Some of the original cards sell for thousands of dollars today.
Reproduction sets, merchandise and a 1996 movie followed. Topps released Mars Attacks Heritage, a 55-card reprint series, to commemorate the set's 50th anniversary last year.
On the strength of that release, Topps is preparing Mars Attacks Invasion – a brand new series that re-imagines the original set. Invasion is slated for an October release.
Attendees at the Philly Non-Sports Card Show received a promo card showing the next invasion. The brainy, ruthless aliens have returned! So have the flying saucers. Robots. Fire. Wounded civilians. Parents, consider this your warning.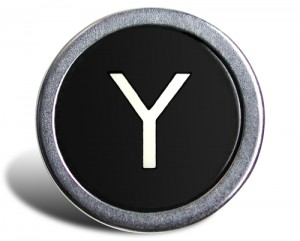 ou need a login and password these days if you want to supplement your collection.
Topps added a social media element to its "Star Wars Jedi Legacy" product, which released this week. Packs include "The Circle is Now Complete," 12 wedge-shaped code cards that form a complete circle.
But what about the center piece, depicting Darth Vader?
In order to receive the final card, you need to 'like' the Official Topps Star Wars Facebook page and enter the registration codes from the backs of the 12 wedge-shaped cards. Then the Darth Vader card will be sent to you.
Jared Moran and John Williams, two Topps employees at the Philly Non-Sports Card Show, said the social media push is aimed at younger collectors.
"It's a chance for us to connect with collectors in a new way," Moran said. "Topps has used code cards previously for sports, but this adds an extra level of collectability for the product."
The Facebook page has also become a hub for passionate collectors, with Topps giving away sketch cards and showing off some of the product's biggest hits – including prop cards featuring Jabba the Hutt's sail barge and Ewok fur.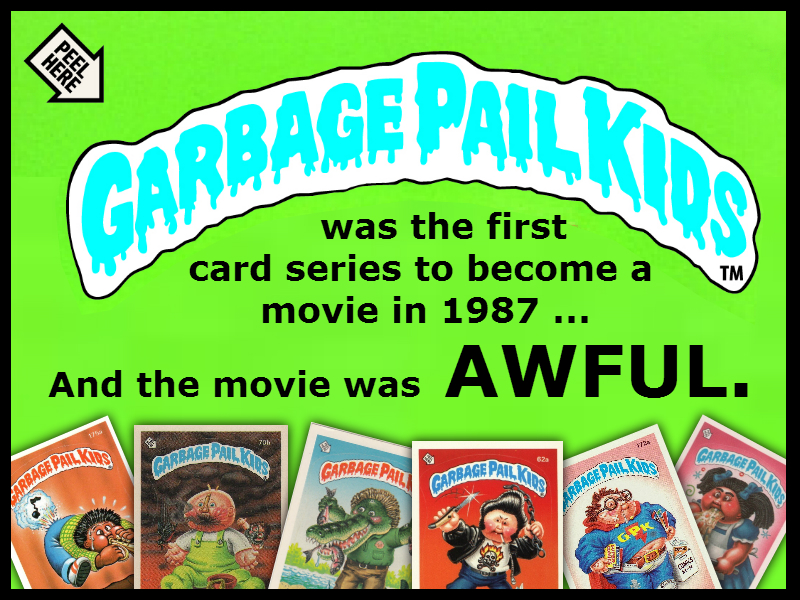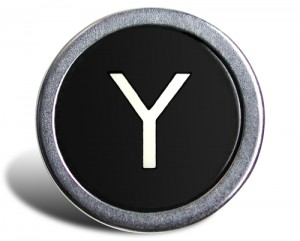 ou take your time peeling back the wrapping, excited and worried about what's inside.
Two decades of wait has turned the gum slab into a fossil, with the crystallized pink rectangle leaving behind splotches to mark its existence.
You think about licking the sugar shards, chewing away. Will you die? (No, probably not). But you care about your teeth and stomach and appetite (never mind getting kissed again) so you refrain, dumping the 25-year-old gum into the garbage where it belongs.
The gum dilemma is part of the intrigue of opening vintage packs of non-sports cards. So too is wistfulness. These cards – and the movies, music, TV and comics portrayed – were new once. Here they are years later, ready for reflection at 50 cents or a dollar a pack.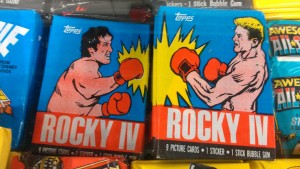 There's Ivan Drago (Dolph Lundren) deep in training, using scientific edges for his upcoming boxing match for "Rocky IV."
"Aided by science!" the 1986 card reads.
A dapper Michael Jackson looks on, his hands tucked into his pockets for a sticker in Topps's 1984 set devoted to the pop sensation. Topps individually wrapped the gum in the MJ packs, begging the question: why couldn't they do this for baseball cards?
The perfect collecting time machine emerges with 1989's "Back to the Future II" set, showing Marty McFly on his hover-board, the future falling short of his hopes.
Paramount Pictures' "Mork & Mindy" set from 1978 shows Robin Williams as an alien visitor from Ork, clad in a red suit and silver gloves.
"I come from a distant planet," a text bubble on card 15 reads. "Cleveland?" Mork asks. Ha. Ha. Ha.
The Smurfs were a Saturday morning staple during the 1980s, so Topps created an over-sized card series devoted to the blue cartoon characters, blue gum and all. The cards are poppy and innocent. Card 33 shows one of the Smurfs whistling, a bindle over his shoulder.
But about that blue gum … It's gross.
Don't lick it.
Don't … do … it …