Philly Non-Sports Card Show set for April 21-22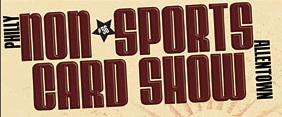 By Susan Lulgjuraj | Contributing Editor
Non-sports cards are having a major show of their own this month with new products, Bench Warmer models and bigwigs from the card companies.
The Philly Non-Sports Card Show will be held April 21 and 22 at Merchants Square Mall in Allentown, Penn.
The biggest news before the show is the premiere of Video Game Trading Cards by Twin Galaxies.
Twin Galaxies was featured in the documentaries The King of Kong: A Fistful of Quarter and Chasing Ghosts – Beyond The Arcade. Both stars Walter Day and Billy Mitchell will appear at the show along with other video game celebrities.
One of the other highlights of the show includes the artists that will be in attendance. Many of them have been featured in Marvel, Star Wars and DC Comics projects.
The artists who will be available include Axebone, David Gross, Trev Murphy, Rhiannon Owens, Veronica O'Connell, Sean Pence, Elaine Perna and Tony Perna.
Attendees can also get exclusive promotional cards.
Admission to the show is $8 each daily and $12 for a two-day pass.
Show hours are Saturday from 10a.m. to 5 p.m. and Sunday from 10 a.m. to 3 p.m.
Susan Lulgjuraj is a contributing editor for Beckett Media. You can email Susan here. Follow her on Twitter here.