The Nolan Ryan Rookie Card Rabbit Hole
When you click on links to various merchants on this site, like eBay, and make a purchase, this can result in this site earning a commission.
Not only is Nolan Ryan one of the best and most dominant pitchers of all-time, but he's also one of the most popular in the hobby. When most think of the Nolan Ryan Rookie Card, thoughts immediately go to Jerry Koosman and the burlap of 1968 Topps Baseball.
It's certainly one of the most iconic baseball cards ever produced. But collectors can jump deeper down a rabbit hole and find some lookalike cousins that bring some international intrigue and gamesmanship to an already legendary card.
All four are virtually the same in their design. It's in the distribution and rarity swings where things get more interesting and challenging.
Nolan's Neighbor
No matter which 1968 Nolan Ryan Rookie Card or variation you go for, someone else is going to be along for the ride.
Let's be honest. The guy next to him is pretty good, too. Jerry Koosman might not be the same level of legend but he did win over 200 games in a career spanning 19 seasons.
Would it be better if both had solo RCs? Of course. But that wasn't the way for most Topps sets at the time. More often than not, future Hall of Famers would be paired with players who barely made an impact. For Nolan Ryan, he's alongside a great. Koosman might actually be a little overlooked in the hobby because he's a punchline of sorts by being the "lesser" in this pairing.
Nolan Ryan Rookie Card Guide
1968 Topps Nolan Ryan Rookie Card / Jerry Koosman Rookie Card #177
The popularity of this card cannot be understated. It's not on the same level as the 1952 Topps Mickey Mantle or 1955 Topps Roberto Clemente as far as value goes but it's up there in recognition.
Playing in four different decades, Nolan Ryan's fanbase is large, crossing multiple generations. Those generations also happen to be from some of the biggest when it comes to the rise of baseball cards. Those who watched the Texan in his prime might remember pulling the card from packs. For those introduced to the hobby in the boom years of the '80s and '90s, it was the dream purchase in the card shop's display case that you'd stop and study every time you came in for a pack of 1990 Upper Deck or 1991 Topps.
If you're merely looking for the 1968 Topps Nolan Ryan Rookie Card, it's tough to call it rare. Where the challenge comes in is what type of condition you're looking for. Between PSA, BVG and SGC, just three Gem Mint 10 copies exist (one PSA 10, two SGC 10s). In August, 2020, the lone PSA 10 copy sold for $600,000 through Goldin Auctions.
The lower the condition, the more options as far as availability and price go. Besides normal wear and tear that comes with any baseball card from the 1960s, finding a well-centered copy can be tough. The thin border makes anything that's off even slightly noticeable to the eye.
Buy on: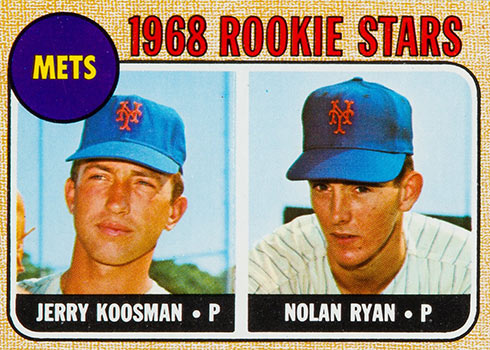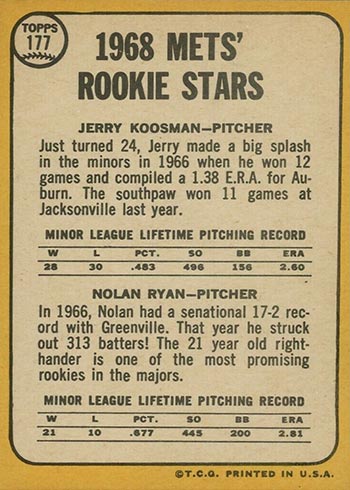 ---
1968 O-Pee-Chee Nolan Ryan Rookie Card / Jerry Koosman Rookie Card #177
The other Nolan Ryan Rookie Card comes from up north in Canada courtesy of O-Pee-Chee. Just about everything about it is the same as Topps. It doesn't even have French text like most later OPC sets do.
Visually, the key difference is in the copyright on the bottom of the back. The Topps card says "Printed in U.S.A." The 1968 O-Pee-Chee Nolan Ryan Rookie Card has "Printed in Canada."
Getting more into the intricacies of the card stock, the 1968 OPC Nolan Ryan is noticeably more brown as well. This is especially visible on the back compared to Topps' yellow.
Perhaps the biggest thing to consider comparing the O-Pee-Chee and Topps Nolan Ryan Rookie Cards is rarity. Canada has a much smaller population than the United States. While exact production numbers aren't known, O-Pee-Chee baseball cards are much scarcer than their American counterparts. So much so that they're often cast closer to oddball status.
The 1968 O-Pee-Chee Ryan/Koosman may not be as iconic as 1968 Topps, but it's definitely harder to find.
Buy on: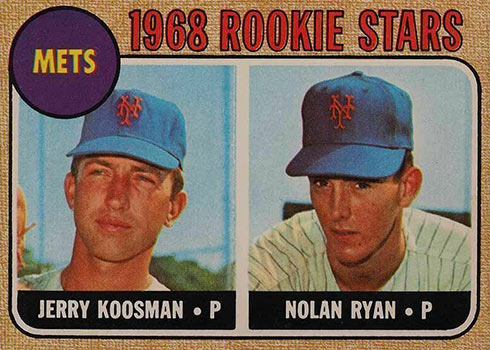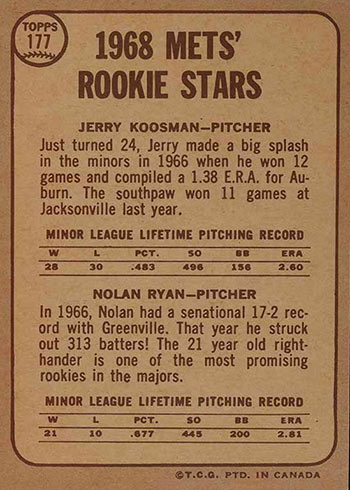 ---
1968 Topps Milton Bradley Nolan Ryan / Jerry Koosman #177
When you think boxes of baseball cards, you normally think of stacks of packs. The 1968 Topps Milton Bradley Nolan Ryan is from a different type of box. It came as part of a board game called Win-a-Card.
Select cards from 1968 Topps Baseball, 1967 Topps Football and Topps Hot Rods were included in the game but not every game included a complete set. Like a pack of cards, the assortment was mixed. You'd get most (somewhere in the 100 range), but not all.
The game itself appears to have been something of a failure so it wasn't as widely available as Milton Bradley probably would have hoped.
The differences in appearance are small. On the back, 1968 Topps Milton Bradley cards are a brighter yellow back when compared to the more golden color of the regular Topps card. It's noticeable when you have two cards side by side but not so much when a Milton Bradley card on its own.
It's normal to find 1968 Topps Milton Bradley Nolan Ryan cards with a touch of white along at least one of the edges on the front. This is as a result of being on the same sheet as 1967 Topps Football and Hot Rods cards used for the game, both of which have white borders. So even the slightest shift is noticeable.
As far as rarity goes, the 1968 Topps Milton Bradley Nolan Ryan/Jerry Koosman is definitely much tougher than the main Topps RC. That's to be expected. But if you go by grading population reports, Milton Bradley is more available than the 1968 O-Pee-Chee Ryan/Koosman, though.
Buy on: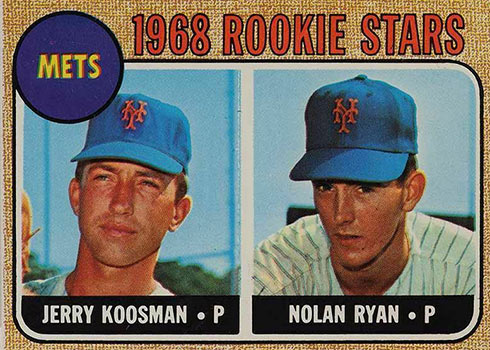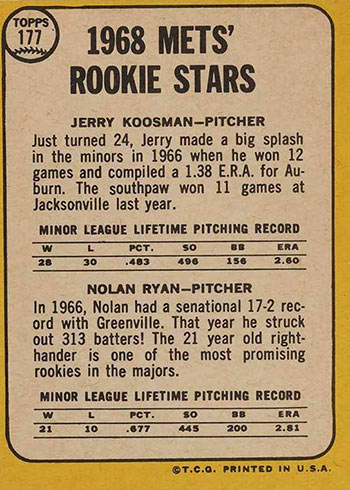 ---
1968 Topps Venezuelan Nolan Ryan / Jerry Koosman #177
If the 1968 Topps Venezuelan Nolan Ryan/Jerry Koosman were an animal, it might be the Bornean Orangutan. They're seldom seen and while beautiful in its own way, it's not so much in the classic sense.
Distributed in South America, saying this card is scarce would be an understatement. Between PSA, BVG and SGC, it has been graded less than 50 time combined. Not only that, but because of the lesser quality stock, the ones that do exist are usually in pretty rough shape. Currently, the highest grade copy is an EX+ PSA 5.5.
The color is not nearly as vivid on the Venezuelan version, giving everything a sort of brownish tint. For a set that already has a lot of brown, it makes for a dreary motif.
That said, its unicorn-like status makes it the ultimate prize in the hunt Nolan Ryan Rookie Cards and other related releases.
Buy on: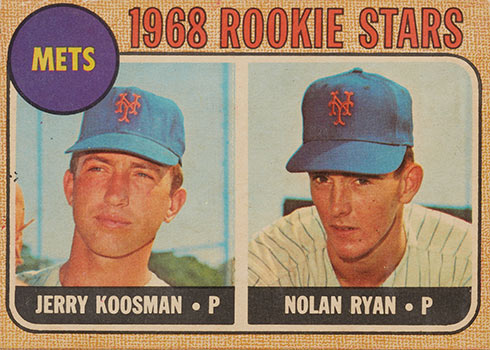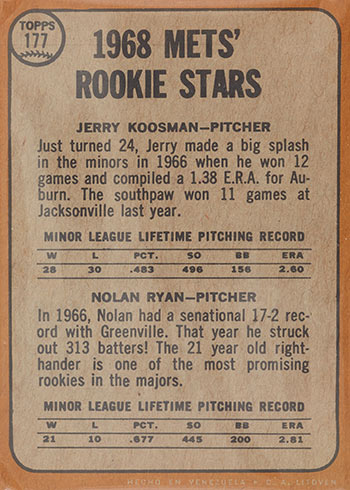 ---
Nolan Ryan Rookie Card Reprints
Let's face it — Nolan Ryan Rookie Cards aren't cheap and not in everyone's budget. If getting one of his 1968 cards isn't an option, there are some authorized alternatives.
If you've collected Topps baseball cards for any length of time, you are likely familiar with the fact that they like to include their past in the present. Reprints of classic cards, often with small twists, is a normal thing.
That said, the 1968 Topps Nolan Ryan Rookie Card hasn't been done as frequently as some of their other top RCs. It's not a slight against the Hall of Famer. Likely, it's a rights issue with using Koosman.
One legit and readily available option for collectors is from 1999 Topps Baseball. The card maker honored the pitcher with a full run of flagship reprints covering his career — including his 1968 rookie.
This card has several distinct and easy-to-spot differences to keep it from getting confused with the original. For starters, it's a glossy card typical with the late 1990s, not '60s "cardboard." The front also has a large gold foil stamp that's front and center. The copyright on the back notes that it's a reprint and has a 1998 copyright date (1999 Topps Series 1 came out late in 1998).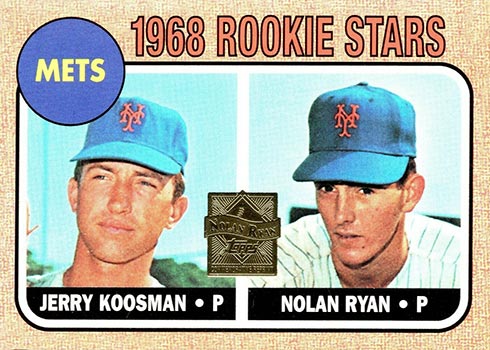 For fans of chrome cards, there's also a Finest version along with its own Refractor parallel.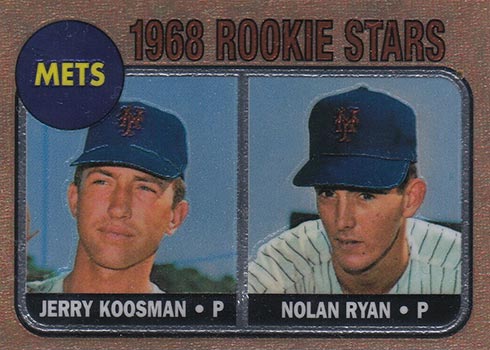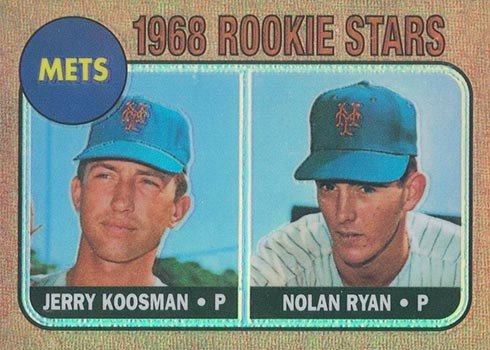 Make no mistake, these reprints should not be considered Nolan Ryan Rookie Cards. They're 1990s inserts.
However, they can also act as a place holder for the real thing for those not wanting to spend the money on an original.
Buy on: