The Nolan Ryan, Robin Ventura Brawl Finally Appears on a Baseball Card — Sort Of
For a generation, it's the mound charge that defined basebrawl. In the third inning of an August 3, 1993 game between the Texas Rangers and Chicago White Sox, 26-year-old Robin Ventura stepped to the plate. On the mound? Nolan Ryan, 46, who made his MLB debut almost a year before Ventura was born.
"Plunk!" goes the ball off Ventura's back. The third baseman took a couple of steps up the first base line, paused for a moment and tossed his helmet aside as he ran towards the mound. Ryan didn't let him get there, greeting Ventura on the grass with a headlock and a flurry of punches to the head.
Ryan, weeks away from the end of a Hall of Fame career, saw his legend grow even further that day. Ventura accomplished a lot in his career after the fight, yet it's the image of him many remember first today.
Fights don't make their way onto baseball cards. From MLB's perspective, it's understandable. While a good brawl can fire up a team and ignite the crowds, it's not the kind of thing leagues want to market. Imagine how many cards Topps Now could have sold with Roughned Odor decking Jose Bautista in 2016? Or Bryce Harper charging at Hunter Strickland in 2017?
Even before the dawn of print-on-demand, fights and baseball cards didn't mix. Ryan and Ventura appeared on the same Rivals insert in 2004 Leather and Lumber. But that card simply pictures the pair, not their encounter.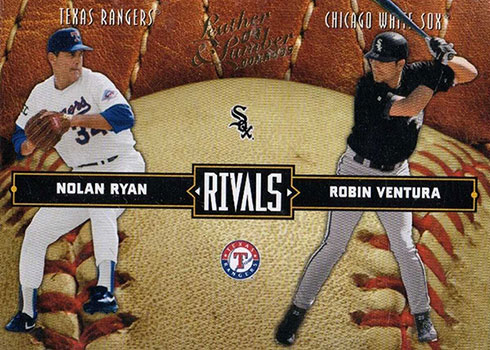 Well, collectors now have a baseball card that shows the fight.
It's found on Andrew Thiele's Topps Project 2020 Nolan Ryan card.
Ryan vs. Ventura: The Baseball Card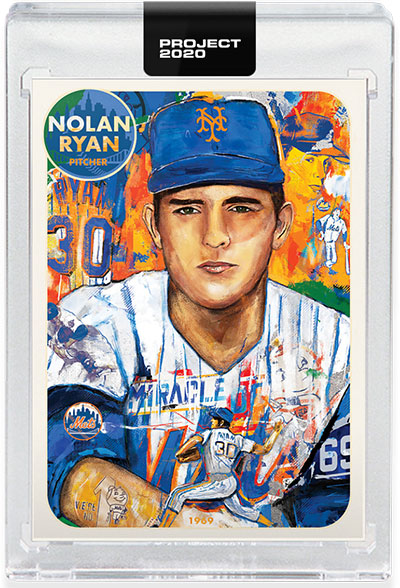 If you don't see it right away it's understandable. The fight is more Easter egg than focal point. But it's there on the main portrait's right shoulder.
At first glance, it almost blends in as some additional color. It'd be even easier to miss looking at the card on a small phone. But it's there — Ryan, wearing a Rangers cap, has someone in his arms and they're not hugging.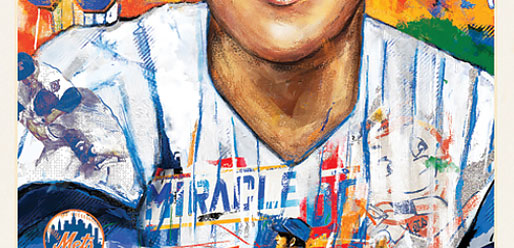 There's no name on the back of Ryan's opponent's jersey but the composition is unmistakable. That's the Ventura fight.
Seeing as how it's unlikely that the fight will ever be the focal point on a card of its own, this reinterpretation of Ryan's 1969 Topps Baseball card will have to do.
Thiele's Topps Project 2020 Nolan Ryan card sold 7,383 copies during its 48-hour sales window starting on May 11. It's now starting to show up in collectors' mailboxes. Like many Topps Project 2020 cards, prices on the Nolan Ryan Andrew Thiele card have quickly become extremely volatile.