Nolan Patrick Signs Exclusive Deal with Leaf Trading Cards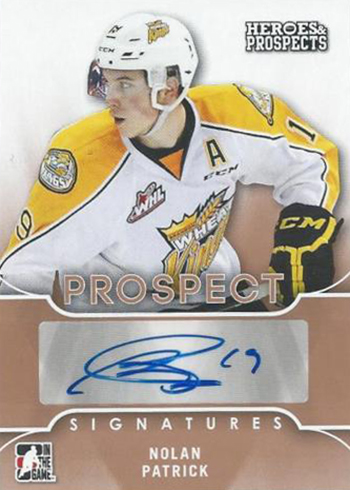 By Derek Ficken | Beckett Radio
With the 2016 NHL Draft about to happen, Leaf is already looking ahead to next year. They have signed Nolan Patrick to an exclusive deal covering autographed trading cards.
Leaf's Brian Gray made the announcement during an interview with Beckett Radio. Patrick, an early favorite to potentially go first overall in the 2017 draft, was also on hand.
"When I looked at this year's draft, I said there are some nice names but, honestly, the guy I want is Nolan Patrick," Gray said.
"We're more concerned about next year than this year because talent like this doesn't come along every year," he continued. "When we have a shot, we have to take a shot."
"It's an honor for them to have trust in me like that," Patrick said. "I'm excited to see those cards and they're going to get some of those going soon."
Leaf has actually been producing cards featuring the Brandon Wheat Kings star for a couple of years now. Including parallels, Patrick has dozens of cards with Leaf already, virtually all of which are autographed. The first sets with his signature were 2014-15 ITG Leaf Metal and 2014-15 ITG Heroes and Prospects.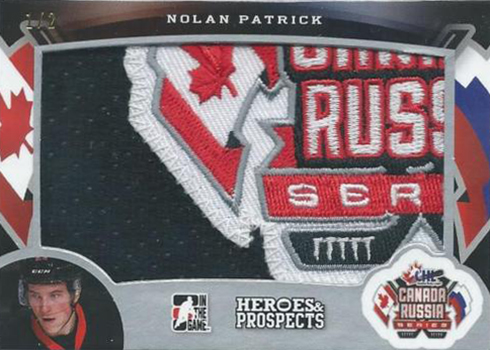 Patrick is very much aware of his existing cards, thanks to a sleuthing family member.
He said, "A few weeks ago my little sister was looking me up on the Internet and she saw one of my cards and came up to me and was like, 'Why would someone ever pay $90 for a card of you?'"
Gray was quick to point out that many have actually sold for well over that.
Obviously, with this exclusive deal in place, collectors can expect to continue to see new Patrick cards through next year's draft and beyond. Gray said his company's plans were to stay the course for now and ramp things up further once Patrick finds himself with an NHL team.
"As we get closer to the 2017 draft, then you'll a full-blown, just like you saw with Eichel this year," Gray said. "[It'll be] a total emphasis on educating collectors who don't know about Nolan. You'll find guys who are just getting excited about hockey because it's really starting to grow in the US."
Patrick, who will turn 18 shortly before the start of the 2016-17 season kicks off, helped lead the Wheat Kings to a WHL league title this past season. In 72 regular season games, he scored 41 goals to go with 61 assists. In 2014-15 he was selected as the WHL's top rookie with 30 goals and 56 total points.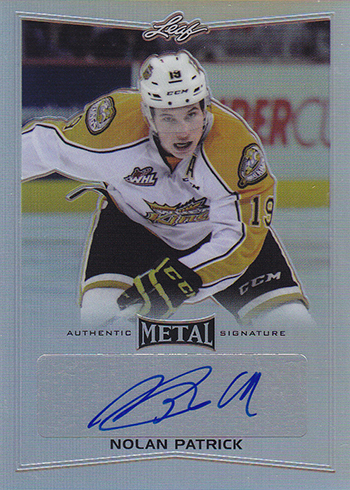 The centre comes from a hockey family. His father, Steve Patrick, played with the Buffalo Sabres, New York Rangers and Quebec Nordiques between the 1980-81 and 1985-86 seasons. His uncle, James Patrick, was the ninth pick in the 1981 NHL Draft. He played in the league for well over a decade before switching to coaching.
Nolan Patrick joins a roster of Leaf exclusives that also includes Jack Eichel, the second overall pick in the 2015 draft.
"To see players of this stature that we're able to work with and say, 'We're fully committed to you,'" Gray said. "We're not about 50 guys. We're about focusing on those three or four key players that we want to put our attention and energy into."
While terms of the Patrick deal were not disclosed, Gray did say that, on a per-autograph basis, it's the most ever paid to a current CHL player.
Here's the Beckett Radio episode, which includes the extended interview with Patrick and Gray.