Nolan Arenado Rookie Cards Countdown
Whether it's the thin mountain air or not, it's getting tougher to overlook the Nolan Arenado Rookie Card lineup and his other important cards from the early part of his career. The third baseman emerged as one of the National baseball's premier power threats in 2015, tying for the league lead in home runs with Bryce Harper.
2016 is showing that it wasn't a single-season fluke, either.
Nolan Arenado has almost a dozen Rookies in 2013 products. All but one can be found for less than the price of the average pack of cards. His pro cards go back to 2009 with several key issues releasing before his MLB debut.
Here's a detailed look at all of the Nolan Arenado Rookie Cards as well as highlights from some of his more important prospect cards and inserts from his first year in the bigs.
Nolan Arenado Rookie Cards Countdown
The following is a countdown of the most valuable Nolan Arenado Rookie Cards according to the Becket Baseball Card Price Guide. Only cards with the RC tag are included on this first list, not inserts.
11. 2013 Bowman Draft Nolan Arenado Rookie Card #41
One of the last Nolan Arenado rookie cards to hit the market, his Bowman Draft base card is also cheap and easy to find. From an appearance perspective, it's got a clean design. While it does have several parallels, the Bowman Paper rainbow doesn't have nearly the same appeal as its Chrome counterpart.
Buy: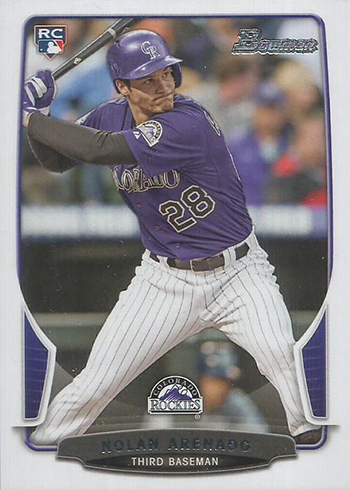 10. 2013 Panini Prizm Nolan Arenado RC #220
Panini's answer to Topps Chrome and other chromium brands, the 2013 Panini Prizm Nolan Arenado is affordable in its own right. Like Chrome, it has plenty of colored parallels to go with it and offer a bit of a challenge. It doesn't have full MLB licensing so there are no logos. That said, the positioning of the photo makes it a lot less apparent than many other cards in the product.
Buy: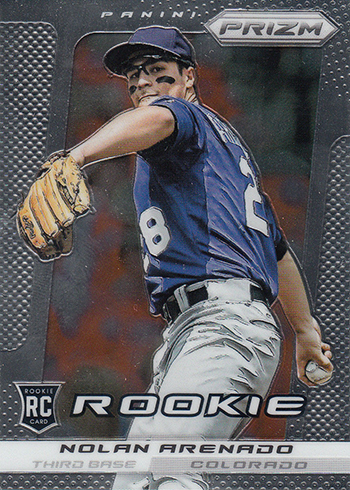 9. 2013 Bowman Chrome Nolan Arenado RC #24
2013 Bowman Chrome Baseball had one of the first official Nolan Arenado rookie cards on the market. He has another Chrome card in that latter Draft set. Besides the numbering, this one is discernible by its fielding photo. Neither one commands much of a premium over the other.

Buy: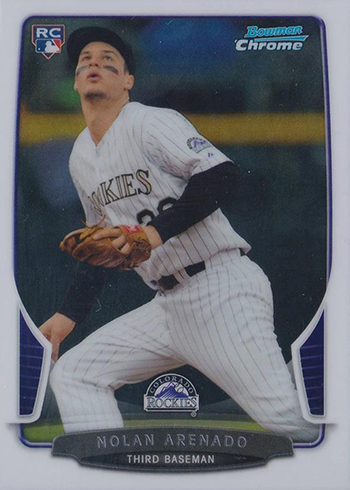 8. 2013 Bowman Chrome Draft Nolan Arenado RC #41
Other than the photo and the number on the back, this card is virtually identical in theme to the Arenado in regular Bowman Chrome. The base version is cheap but it also has a mix of Refractor parallels that range from the fairly common and affordable to extremely rare.
Buy: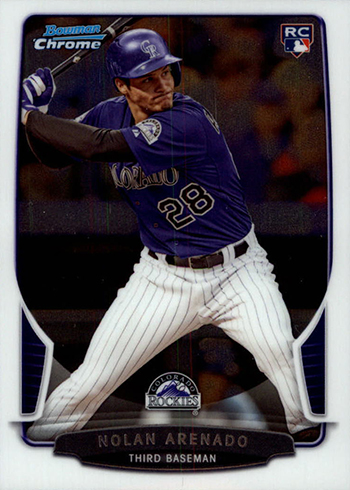 7. 2013 Finest Nolan Arenado RC #37
2013 Finet Baseball dropped a lot of the color the brand has been known for over the years, at least for the base version. Like the many other chromium-themed Nolan Arenado rookies, the parallels bring much of the color and a bigger collecting challenge.
Buy: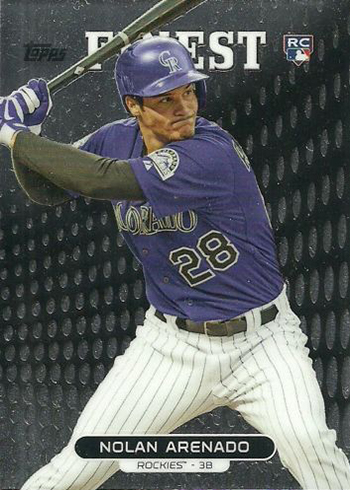 6. 2013 Topps Chrome Nolan Arenado RC #78 $2.50
See a theme here? The second half of the 2013 release schedule had a lot of chromium products. This is yet another one that's affordable thanks to a lack of premium elements. 2013 Topps Chrome Baseball also has a Nolan Arenado autographed insert that carries more value.
Buy: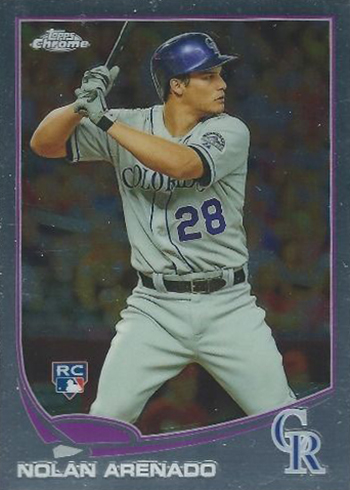 5. 2013 Bowman Sterling Nolan Arenado RC #5
The Rockies slugger has an autograph in 2013 Bowman Sterling and it's actually easier to find than his base card. Bowman Sterling was designed to offer a lot of autographs. Base cards are usually forgotten and included in packs in small numbers. Factor in the parallels and you've got a recipe for what is one of Arenado's most overlooked rookie cards.
Buy: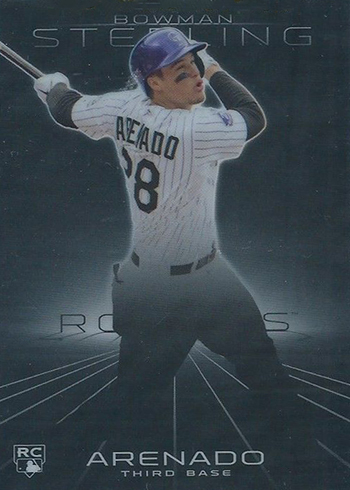 4. 2013 Select Nolan Arenado RC #131
Here's another card that's become tough to find in a short period of time. But let's face it, 2013 Select Baseball wasn't exactly the hottest product of the year. But maybe that lack of initial popularity could give it a little more appeal in the long-run. That said, it's tough to stand out when there are so many similarly styled rookie cards of the third baseman.
Buy: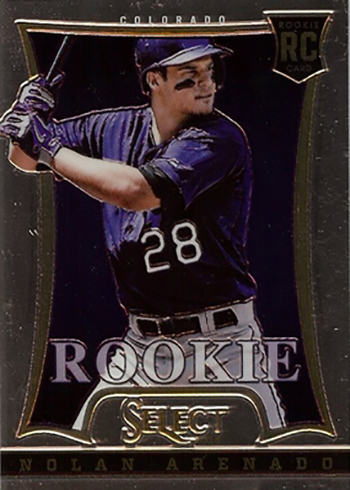 3. 2013 Topps Update Nolan Arenado Rookie Card #US259
This one might not carry a lot of value, but it's one that a lot of collectors have given its connection to the flagship Topps set. While it will never reach the heights of the 2011 Topps Update Mike Trout, it is the card that Topps is likely to revisit over the years. And while there are plenty of copies out there, typically Topps Update has a smaller print run than Series 1 and Series 2. In addition to the basic white border version, there are several parallels based on the color of the border.
Buy: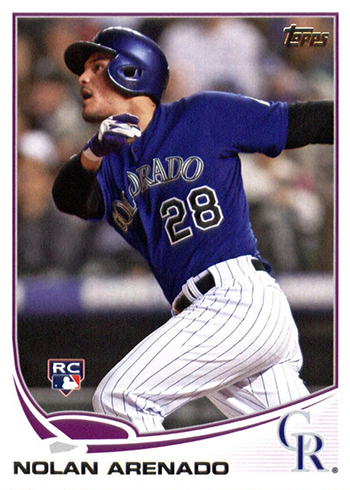 2. 2013 Topps Heritage Nolan Arenado Rookie Card #H519
2013 marked the second year in a row that Topps Heritage High Number was sold only as a factory set on the Topps website. But while the 2012 set has soared to massive values, that was largely because of its tiny print run. Led by Bryce Harper, the rookie class isn't too shabby either. With the secret out, 2013 Topps Heritage High Number was printed in much higher numbers making singles much easier to find and more affordable.
Buy: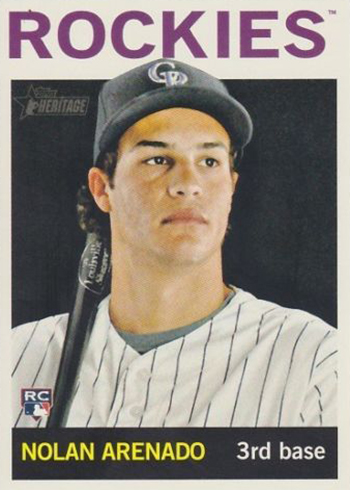 1. 2013 Topps Triple Threads Nolan Arenado RC #103 Auto Mem /99
The jump is a big one from Arenado's other rookies to this one. And for good reason. This is the only base card Arenado has that's autographed. It's the only one with a piece of memorabilia. Surprisingly, it's the only one that's serial numbered — and to just 99 copies.
Even with all these things, the 2013 Topps Triple Threads Baseball Nolan Arenado might not sell for as much as you might expect. With a handful of autographs dating back as far as 2009, these earlier cards take away some of the intrigue once the official rookie cards roll around.
Buy: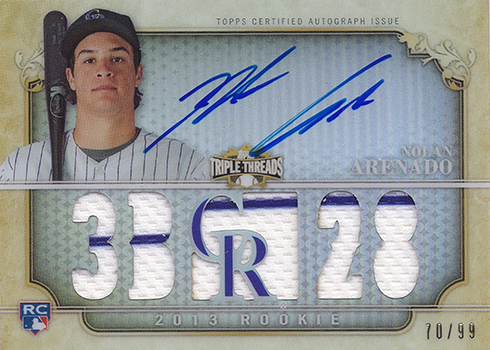 It's worth noting that Panini included an autographed memorabilia book card of Arenado on the 2013 America's Pastime checklist numbered to 99 on their checklist. It appears as though that card wasn't, in fact, produced and has been left off this list.
Beyond Rookie Cards — Early Nolan Arenado Cards Worth a Look
In today's hobby, rookie cards aren't always the top cards for a player. With that in mind, here are some early Nolan Arenado cards that don't carry the RC tag but are still important.
2009 Donruss Elite Extra Edition Signature Turn of the Century Nolan Arenado #6 /844
Although his rookie cards didn't come out until 2013, Nolan Arenado's first cards go all the way back to 2009. Among them is an autograph in 2009 Donruss Elite Extra Edition. This one has a couple of pros and cons to the Bowman Chrome autograph that came the following year. First, this one is obviously earlier. It's also serial numbered, something only Chrome's Refractors have. And while the sticker may be a detraction to some, this card also has an earlier and slightly more legible version of Arenado's signature.
Buy: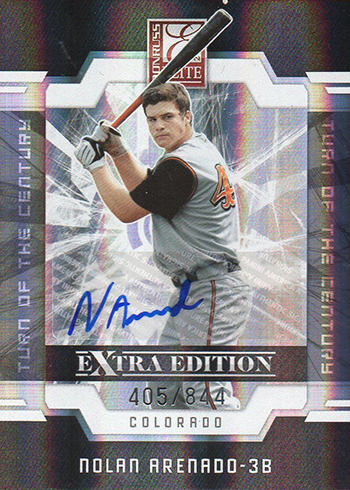 2010 Bowman Chrome Prospect Autographs Nolan Arenado #BCP91
No, the 2010 Bowman Chrome Prospect Autograph Nolan Arenado doesn't carry the RC tag. By definition, it's an insert. But in today's collecting landscape, it's viewed by many as the key Arenado card to get. The base version is more valuable than any of his actual rookies. And there are a bunch of Refractor parallels on top of that. If you're not on a tight budget, most would say this is the Nolan Arenado card to get.
Buy:
2010 Bowman Chrome Prospects Nolan Arenado #BCP91
Not everyone can afford an autograph. Or maybe it doesn't fit with what they like to collect. Much more affordable for obvious reasons, Nolan Arenado's first Bowman Chrome card is also his first card in a MLB uniform. Like the autograph, it's an insert by technicality and not a rookie. Still, you won't get into too many arguments over why this is a key card for the 2015 National League home run leader.
Buy: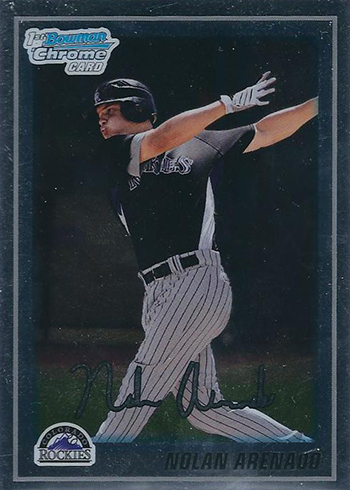 2010 Bowman Sterling Prospects Nolan Arenado #NA
Just like his 2013 Bowman Sterling rookie, the key to this card isn't so much the brand but its rarity. This is much tougher to find than Arenado's only other standard card from 2010, Bowman Chrome.
Buy: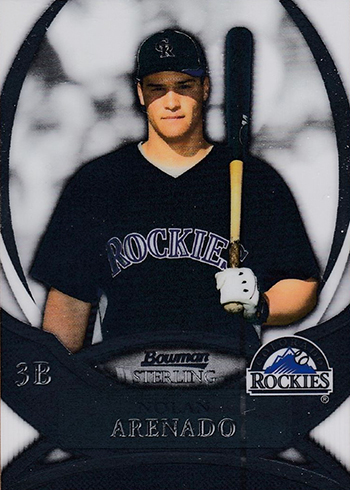 2012 Bowman Platinum Jumbo Relic Autograph Refractor Nolan Arenado #NA
This is the first autographed memorabilia card for Nolan Arenado. However, it's not that much given his stature. This is likely due to the fact that the card is in that limbo spot where it comes after his first autographs but before his actual rookie cards.
Buy: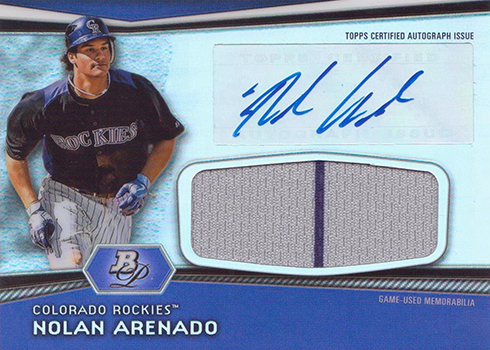 2013 Finest Rookie Jumbo Relic Autograph Nolan Arenado #NA
With, arguably, only one premium rookie card, collectors need to look to inserts to find rookie autographs of the Rockies star. Amazingly, he doesn't have a lot of them. The 2013 Finest Rookie Jumbo Relic Autograph is one of them. All versions, including the most common, are done on Refractor stock. The autograph, done on a sticker, is paired with a large memorabilia swatch.
Buy: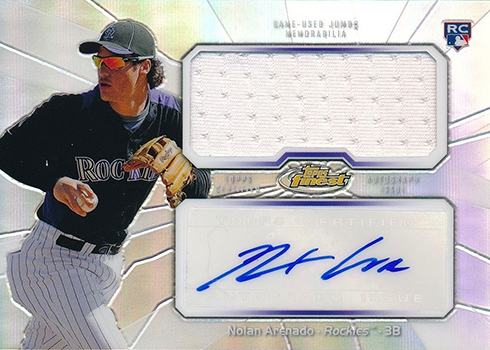 2013 Topps Chrome Rookie Autographs Nolan Arenado #78
If you want an Arenado rookie autograph but don't want the sticker, there are only a couple of options. This is the more common one. It uses a different image than his 2013 Topps Chrome base card. However, it still has the Refractor parallels to go with it.
Buy: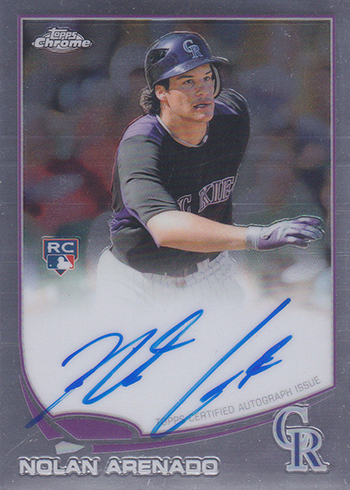 2013 Topps Heritage Real One Autographs Nolan Arenado #HN
Here's the other Nolan Arenado rookie autograph that's signed on-card. As far as values go, it may be the one to go with. It was included as a redemption in the online-exclusive High Number factory set. Even with the product's larger print run, it doesn't make this card an easy find. In fact, it's anything but. Combine that with the popularity of Heritage as a whole and the Real One Autographs and you've got one of the top Nolan Arenado cards from his rookie year.
Buy: