This Noah Syndergaard-en Gnome Beats 99% of Bobblehead Giveaways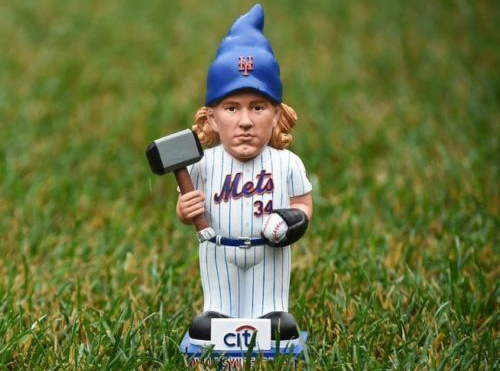 By Ryan Cracknell | Hobby Editor
Watch out bugs, weeds and other garden pests of the New York area. The Mets struck a blow to them all — at least in intimidation — with a Noah Syndergaard gnome giveaway last weekend. Or is it a Noah Syndergaard-en Gnome? In the process, they outdid virtually every other MLB stadium giveaway this season.
Handed out to those attending their April 30 game against the San Francisco Giants, the statue is like a mash-up of Syndergaard and the Travelocity mascot with a small side of Thor. Taking from the pitcher's nickname, the gnome is holding Mjolnir (Thor's hammer to those not familiar with the Norse and Marvel hero).
A total of 15,000 Noah Syndergaard gnomes were produced for the promotion. It came in a box that pictures both the pitcher and the statue.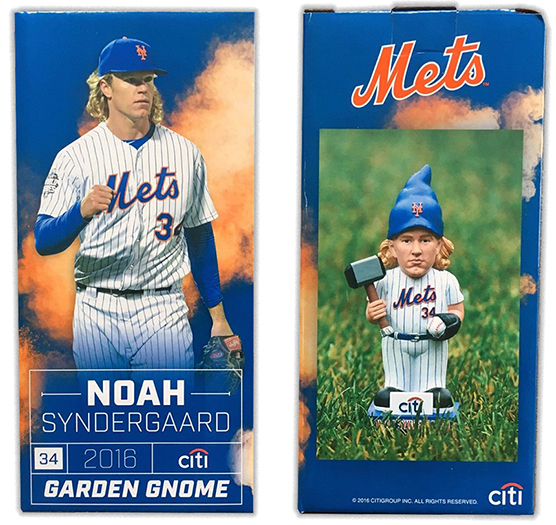 They're proving to be popular on the secondary market. On eBay, the Syndergaard gnomes are currently fetching anywhere from $80 to $100.
Over the past few years, garden gnomes have grown in popularity as a go-to stadium giveaway. They're similar to bobbleheads except for the fact the heads don't move and gnomes come with a pointed hat. But the more lighthearted statue approach is definitely there. A lot of teams are doing them now, just not quite as frequently as the more established bobbleheads.
The next Mets bobblehead giveaway is scheduled for July 31. It features Mike Piazza and is part of a weekend-long series of promotions focused on his Hall of Fame induction and the Mets retiring his number.
Comments? Questions? Contact Ryan Cracknell on Twitter @tradercracks.