No, the Topps Now Bernie Sanders Isn't the New Project 2020 Griffey Keith Shore
The print runs for the Topps Now inauguration cards are out. The nine cards sold a combined total of 167,130 copies during their one-week sales window. Individually, every card sold more than 6,000 copies, which is a big number for anything Topps Now (Garth Brooks was the lowest with 6,303 copies). Clearly, though, there was one that stood out. The cozy jacket and mittens-clad Topps Now Bernie Sanders sold 91,169 copies.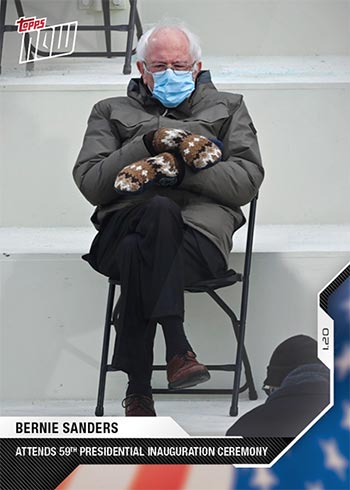 91,169.
That's 8,831 less than 100,000.
If it sounds like a massive number, it's because it is.
It also smashes the previous Topps Now record set by the 2020 Topps Now Baseball Dr. Anthony Fauci. That card sold a then (and still) jaw-dropping 51,512 copies last July for his first pitch to kick off the delayed start of the season. The Topps Now Bernie Sanders beat Fauci's record by 39,657 copies.
The highest print run for a Topps Now card with a baseball player? Vladimir Guerrero's MLB debut in April, 2019 drummed up just 19,396 copies.
While there are lots of analytics one could do comparing Topps Now print runs, let's look elsewhere. Within moments of Topps posting the print runs for the Sanders card, I saw multiple people likening it to the Topps Project 2020 Ken Griffey Jr. Keith Shore, which sold 99,177 copies. That's more than the Sanders but in a similar ballpark, especially when you're thinking about a more nebulous "big."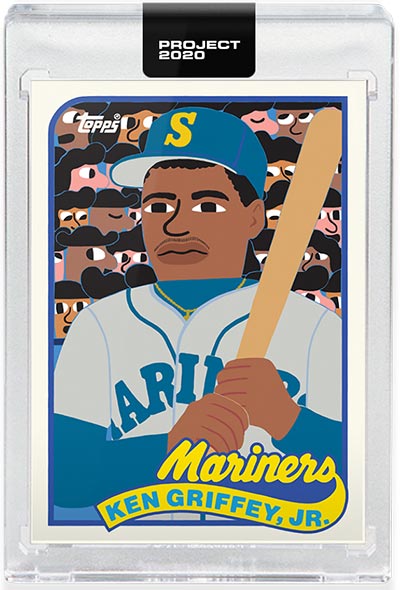 As far as what to expect on the secondary market, the Topps Now Bernie Sanders is not another Griffey Shore. Here's why.
Don't Believe the Hype
At this moment, I can buy the Topps Project 2020 Ken Griffey Jr. Keith Shore for under $5 from multiple websites. And it's not one or two copies. It's dozens. That's not to say that things won't eventually change, but if it does, it's probably going to take a while.
The reasoning is simple. Supply far outpaces demand. The card was massively overprinted.
But there was a reason that it sold 99,177 copies and it didn't happen overnight. It was a culmination to a couple of crazy weeks. The first batch of Topps Project 2020 cards were met with trepidation. The idea of mixing art at that level with baseball cards hadn't really been done at that scale. Collectors didn't have them in hand. And there was that $20 per card price tag.
However, once the cards started getting in peoples' hands and more heard about the set, momentum began to grow. And then snowball. All of a sudden, those early cards and their small print runs were selling for massive amounts. People were making hundreds off of a card before they were even delivered.
Few things draw people in like the concept of easy money. And for a couple of weeks, that's what Topps Project 2020 was.
Those early print runs of 2,000 and under became 10,000, then 20,000, then 30,000. I'd go to bed with singles selling for one price then doubling by the time I'd woken up. It was a locomotive running at full speed.
Topps Project 2020 print runs hit a crescendo with the Griffey Shore. But it is really just a symbol of the larger issue of speculation. On the same day, Joshua Vides' Nolan Ryan sold 64,629 copies. Topps Project 2020 cards #87-93 are all among ten highest sellers in the 400-card set, each with print runs of more than 35,000.
Simply put, it's safe to say that the Griffey Shore is a product of hype and speculation. People bought it, and other cards around the same time, thinking there'd be large amounts of easy money to be made.
That's what drove the demand.
Moments Are Meaningful
In the grand scheme of things, Bernie Sanders trying to stay warm before a Presidential inauguration isn't a big deal. But in modern meme culture, it suggested a mood and gave off a vibe. Describing it can be tough, but it's a visual that makes a lot of people smile in a pure and simple way. It's goofy and harmless.
I can't say why people bought the Topps Now Bernie. When more than 90,000 are sold, there are likely to be a lot of reasons. That said, even with the massive numbers, I don't expect I'll be able to buy them for a fraction of what they originally cost (singles were $9.99, although bulk orders brought the price down to $4 per card).
The reasons for the print runs are different. With the Griffey Shore, I suspect there were a lot of people buying large numbers. That's what you do when you're looking to profit. You need stock.
The Topps Now Sanders had the benefit of mainstream press coverage. And not only was the card on the news and in newsfeeds, the picture and thousands of variants made their way through social media feeds enough to become a story unto itself.
It's that spontaneity that sets the two cards apart. There was no build up for it. It just happened. Sure, some bought more Sanders cards than they needed for themselves. And they will probably profit from it. But I'd venture to say that the vast majority of them are people who casually collect cards and thought that it was funny, cute or a combination of the two. They just wanted something to commemorate the moment and a trading card is an easy way to do so.
What Does This Mean for the Topps Now Bernie Sanders?
The Topps Now Dr. Fauci is one that we can look at. Even with more than 50,000 copies, it's still going for $30 and up several months later. That's a likely sign that not only did people want to capture the moment, but more have learned about the card in the time since.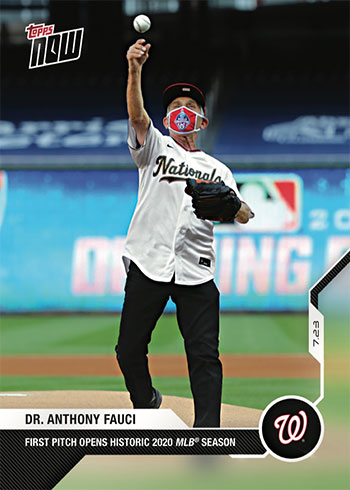 There's a big jump going from 50,000 cards to 90,000, but I suspect that the Topps Now Bernie Sanders will be more like this rather than becoming the meme fodder the Griffey Shore has become.
The audience for the Sanders is much greater than the Griffey. Even with the hobby growing and expanding the way it has over the past couple of years, it's still a niche when you compare it to the mainstream the Sanders reaches.
One could make a strong argument that the Griffey Shore — and every Project 2020 card — could eventually tap into a larger art-based audience. That would help the set as a whole, but there's still the sense of excess that comes with the card and others from the sales peak.
I can't predict where secondary market prices on the Topps Now Bernie Sanders is going to settle at. Since the initial pre-sale closed, several have sold for $12, although it's early still to see what kind of patterns there are now that the print run is out. However, another consideration here is that by setting the record, you're probably going to hear about the card more on the news, likely resulting in some people learning about it who missed out during the initial news cycle.
I think that its print run is much healthier in both the short and long term as I suspect the vast majority of cards are either heading directly into the hands of those who will enjoy it for what it is rather than a play for easy money. There's more meaning and staying power behind a story, which the Sanders represents no matter how light, than a speculative bubble like the Griffey Shore and the other Project 2020 cards surrounding it.