No blues for this Dodger — Matt Kemp is on fire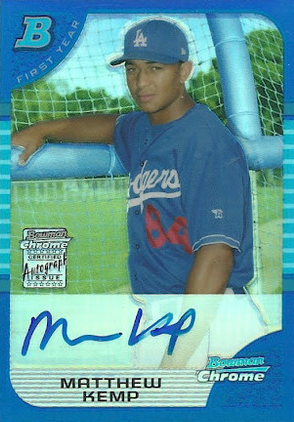 By Chris Olds | Beckett Baseball Editor | Commentary
Matt Kemp's torrid start is one that simply can't be missed right now and that's easy to justify simply by looking at the stat sheet — and sales of his baseball cards.
He leads the majors in batting average at .449. He leads the majors in home runs with 10. He leads the majors in RBI with 23.
But that's not all. He's also powering his way into a rather prominent place in the hobby as the unquestioned franchise player for the first-place Dodgers — something that's easier said than done. After all, a breakout season last year that saw him come up one homer short of the 40-40 Club and finish second in the NL MVP race really didn't get noticed all that much when it came to his cardboard.
"Kemp is on fire right now, not only on the field, but in hobby as well," said Beckett Baseball Senior Market Analyst Brian Fleischer, who tracks sales of cards daily for Beckett Media. "His 2005 Bowman Chrome AU RC has doubled in value over the past couple weeks, and its parallels have tripled in some cases. While that is far and away his key RC, his 2005 Topps Chrome Update card has tripled in value from $10 to $30, while most of his other Rookie Cards have doubled in value." (Need a Matt Kemp checklist or OPG? Click here.)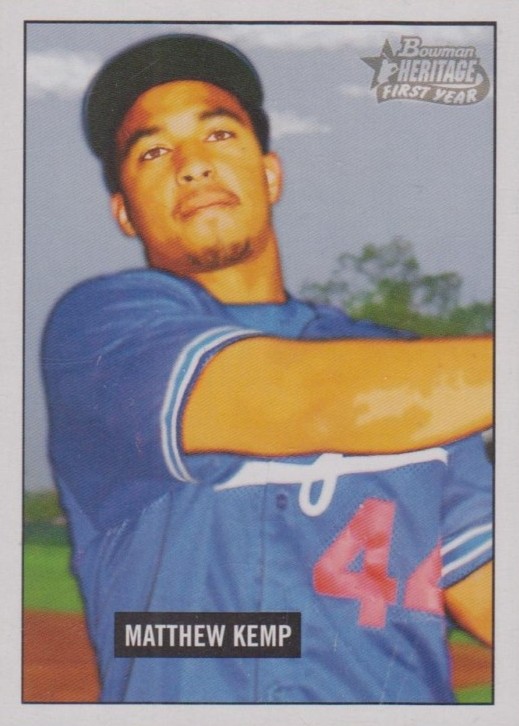 In all, Kemp appears on 1,548 cards in the Beckett.com database valued at more than $11,000. In all, he has just seven Rookie Cards from the 2005 season — all from Topps — and only one will cost you more than $20, the Bowman Chrome autograph. The rarer versions of these cards are, like Kemp, in full Beast Mode.
For example, a Gold Refractor limited to 50 in BGS 9 grade recently sold for $2,225 on eBay, while another sold for $1,899. Meanwhile, the big money isn't even going for the rarest versions as the beloved Blue Refractors — seemingly appropriate here — which are limited to 150 copies are commanding good cash, too. In many cases, they have been well beyond their current book prices. (Look for that to change very soon.) A lot of four recently sold for $2,200, while two raw copies recently sold for $699.99. Meanwhile, a BGS 9 copy of the card sold for $700 and another for $600. Meanwhile, a BGS 9.5 copy of the card sold for only$501 last month. Clearly, he's heated up.
But it's not just those rare Rookie Cards that are selling well, either.
"Even his 2006 'Rookie Logo' cards have been  strong sellers, having jumped two pricing levels in the Price Guide," Fleischer said. "His certified autographs have all been bumped up at least one level, while his base cards, parallels and inserts have jumped from Semistar to Unlisted Star status. While those cards aren't selling as well as early issues and certified autographs, they are getting close to approaching 'listed' status in the Price Guide. Barring injury, I'd suspect that he'll be listed in the Price Guide [as a full-on Star] sometime this summer."
We didn't ask Tommy Lasorda, but something tells me he — and all of the others who bleed Dodger Blue — already feel Kemp is there.
How long will it take for the rest of the baseball card-buying public to notice, though? That's the question now.
Chris Olds is the editor of Beckett Baseball magazine. Have a comment, question or idea? Send an email to him at colds@beckett.com. Follow him on Twitter by clicking here.