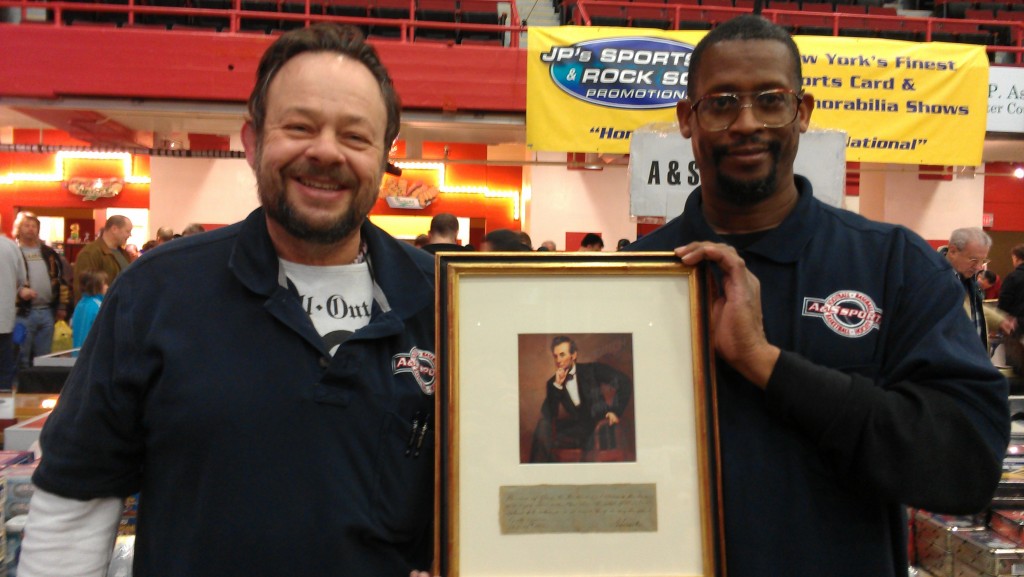 By Dan Good | Contributing Writer
White Plains, N.Y. — Stanley Fishburne wasn't ready to leave.
The Trenton, N.J. resident and his girlfriend spent a recent afternoon hanging out with longtime friend Seymour Bernzweig, who owns A&S Sports in Westbury, N.Y. Fishburne opened a box of 2013 Press Pass Platinum Cuts Inscription Edition, with each box featuring one cut signature card.
Fishburne's box included a signature of Basketball Hall of Famer Cliff Hagan – a nice card for a hoops fan, but not the kind of pull to elicit hobby buzz.
Fishburne left the store. He returned five minutes later.
"I want to open one more box," he told Bernzweig. Fishburne peeled open the pack and looked at the card inside.
"Lincoln," Fishburne said.
Lincoln as in Abraham – a redemption good for the 16th U.S. President's signature, the pull of a lifetime.
"Stanley didn't say too much because he's soft-spoken, but I was jumping up and down," Bernzweig said.
Fishburne received the framed signature in the mail Thursday, and he brought it to this weekend's White Plains Sports Card Show, sharing his story at the A&S Sports booth. The signature is from a sheet signed in August of 1852. Lincoln served as a lawyer then. The White House was less than a decade away.
Fishburne is thinking about selling his historic signature.
"I'm not sure yet if I'll do it through eBay or an auction house," he said. "I'd like to sell it for at least $10,000."
Some of the product's marquee cards have already reached the online auction block, including cut signature cards of Clark Gable, Marilyn Monroe, Jayne Mansfield and Honus Wagner.
Given the right circumstances, Fishburne's benchmark seems reasonable. A military appointment signed by 'Honest Abe' recently fetched $7,500 on eBay. Steven Spielberg's film "Lincoln" is a best picture favorite at this year's Oscars, bringing extra attention to the president's life and career.
And Fishburne currently holds a piece of that legacy – all because he needed to open one more box.