The cultural importance of Michael Jordan goes beyond the scoring titles, six championship rings and endless loop of highlight reel dunks. It's impossible to ignore the bottom to show how Jordan got to the top. And by bottom, we're talking sneakers. The Air Jordan brand is synonymous with MJ's legacy. Of course, there are cards for that. It's not a lot, but Nike Michael Jordan cards do offer a direct hobby connection to the Air Jordan line.
Nike Michael Jordan Cards Primer
1985 Nike Michael Jordan
Nike released one of the first Michael Jordan cards period. And it's filled with MJ iconography. It's got the classic Jumpman pose that's synonymous with both Jordan and shoes. It's a classic photo that also showcases the original Jordan 1 sneakers.
The card is part of a six-card promo set that also has some other Nike athletes at the time like John McEnroe and Dwight Gooden. All are over-sized, measuring a little more than 3″ x 5″.
Although not an overly rare release, prices have taken off in recent years. This shouldn't be overly surprising given that it predates his 1986-87 Fleer Rookie Card.
Buy on: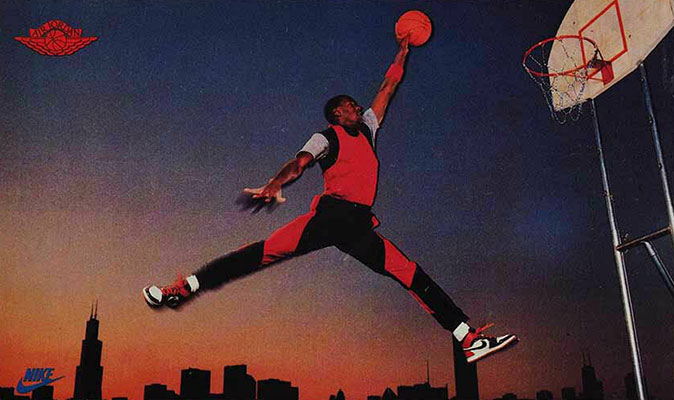 1991 Nike Michael Jordan/Spike Lee
Another promo release, this set focuses entirely on the groundbreaking ad campaign starring Jordan and Spike Lee who played Mars Blackmon, a character he actually played in his 1986 film, She's Gotta Have It. Lee also directed. These series of commercials and accompanying print ads are some of the most memorable sneaker ads ever and helped further push the Air Jordan line's cultural significance.
This six-card set recreates several of the print ads in a shrunken form. They capture the style and make for a fun set. Bonus points have to be given for the Little Richard cameo as well.
Buy on:
1993 Nike/Warner Michael Jordan
For those who grew up after Michael Jordan retired, there's a good chance they're more familiar with him in Space Jam (and the Crying Jordan meme, which does not have a card). The movie didn't hit the big screen until 1996. But it wasn't the first time Jordan teamed with Bugs Bunny. A few years earlier, the two teamed up for a commercial that aired during Super Bowl XXVI in 1992.
It spawned another ad in 1993 before eventually inspiring Space Jam.
This set of Nike Michael Jordan cards is another promo release. Although it totals 12 cards, they were distributed in a pair of six-card releases. They double as stickers as well. Jordan isn't on all of them, but even the ones that don't are fun.
Buy on:
Upper Deck Exquisite Signature Kicks
Not every Michael Jordan card with a Nike connection is a promo card. 2013-14 Exquisite Collection Basketball and 2019 Upper Deck Goodwin Champions have Exquisite Signature Kicks cards of Jordan that add a super-premium twist. The cards start out with an Air Jordan sneaker piece. Although not game-used, the swatches come from different parts of the shoe. While many have plain pieces, others have things like patches, tongues, heels, logos and even laces. They're joined by an on-card Michael Jordan autograph.
These are on the scarce side and don't come cheap.
Buy on: