Real-life Nike MAGs auction takes us 'Back to the Future' for a cause: Which company will buy a pair?
[youtube]http://www.youtube.com/watch?v=pxQQV-XukRc[/youtube]
By Andrew Tolentino | BSCM Editor
Unless you've been hiding under a rock for the last 24 hours, you've probably caught wind of a certain self-lacing shoe making worldwide headlines.
On Wednesday at a Nike-hosted media event in Los Angeles, the company corroborated buzz caused by rumors and a certain YouTube video that featured Marty McFly's vault-like closet filled with the futuristic kicks. Complete with glowing LED panels and an electroluminescent brand name on the straps, the 2011 Nike MAGs are doppelgangers in design and (basically) in function. But in fact, the future is here for a greater cause.
Supporting The Michael J. Fox Foundation (whose figurehead appeared last night on "Late Show with David Letterman"), Nike will be auctioning off 1,500 pairs of its real-life MAG model in a 10-day eBay auction.
Between Sept. 8 at 8:30 p.m. CST and Sept. 18, the company will list 150 pairs per day on eBay's fashion vault. With the help of a $50 million match grant, all net proceeds will be doubled and directly donated to The Michael J. Fox Foundation for Parkinson's Research.
As the video above explains, this is an epic experiment that has already garnered the star power of Kevin Durant, Bill Hader, and Christopher Lloyd as Doc Brown himself. Just as the auction went live, the campaign became centered around Back4thefuture.com, where Nike directed readers to learn more about the shoes, the scope of the project and even donate to the cause.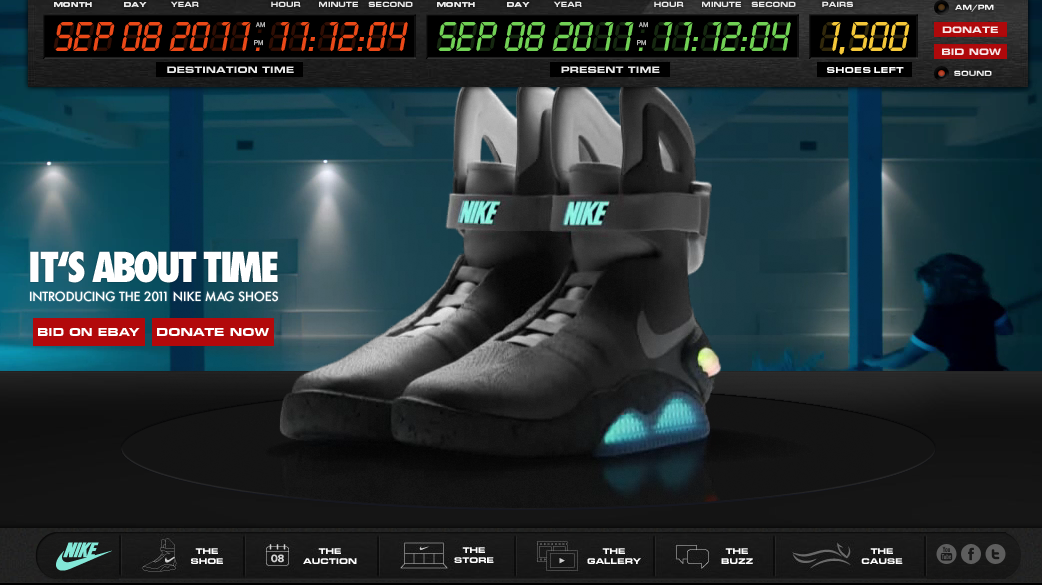 For collectors who know a thing or two about limited quantities and the law of supply and demand, the next 10 days of bidding should be a sight to behold. Unless somebody has a copy of Doc's Flux Capacitor, we can only guess as to how much the first pair will go for, which celebrities will stock up on new sneakers — or, in more collector-relevant terms — which manufacturer might have the gumption to turn them into memorabilia cards.
Be sure to take the poll below and see more Nike MAG media after the jump.
Loading ...
[youtube]http://www.youtube.com/watch?v=eihSPj9lSMw[/youtube]
[youtube]http://www.youtube.com/watch?v=PZ6SkdkXjAQ[/youtube]
[youtube]http://www.youtube.com/watch?v=liI1E_ZZV5w[/youtube]