NHL Rookie Card redemptions in Artifacts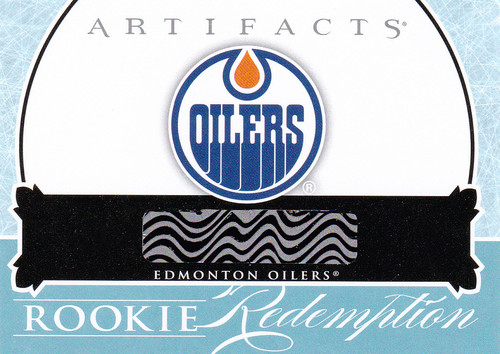 By Susan Lulgjuraj | Beckett Hockey Editor
With the NHL in a lockout, card companies look for creative ways to get rookies into product.
But without games, there are no rookies. However, Upper Deck has already released 2012-13 NHL products and NHL rules state a player cannot appear on card until they have been in an NHL game.
See the problem.
So, Upper Deck is utilizing Rookie Card redemptions in 2012-13 Artifacts for specific teams – which is a concept used in Artifacts previously. The cards feature a team logo on front with "Artifacts Rookie Redemption" printed. But the exact player is not known.
There are also autograph rookie redemptions, which are designated by Roman numbers on the front. The players associated with these cards will likely be announced when the rookie class finally comes together.
So far, one of the most popular redemption cards has been for the Edmonton Oilers with the assumption that top draft pick Nail Yakupov will be that rookie once the season gets underway.
Even though the cards are normally used in Artifacts, this could give collectors an idea on how rookies could be handled in forthcoming products such as Upper Deck Series 1 with the ever-popular Young Guns.
Susan Lulgjuraj is an editor of Beckett Hockey. You can email her here with questions, comments or ideas. Follow her on Twitter here.